Die Meistersinger von Nürnberg, Glyndebourne Festival Opera |

reviews, news & interviews
Die Meistersinger von Nürnberg, Glyndebourne Festival Opera
Die Meistersinger von Nürnberg, Glyndebourne Festival Opera
Classy Wagner from the great Sussex house, but the shoe doesn't fit all singers
So the world didn't end yesterday as predicted, and Wagner's divine comedy about the meaning of art has weathered the ironic apocalypse following Hitler's misappropriation. Bayreuth reels, but we Brits are lucky to have two stagings in under a year which take the humanism at face value. Scaling it down for Glyndebourne's intimate summer paradise, given director David McVicar's knack of finding a plausible historical setting, should have offered a viable alternative to Richard Jones's hallucinogenically wonderful Welsh National Opera production. Often it did. The problem was that several singers were a size or two too small, one way or another, for the shoes cobbled by master craftsman Wagner.
It's a topsy-turvy Nuremberg - radiantly lit Biedermeier according to McVicar, with handsome designs by Vicki Mortimer and crucial sidelighting by Paule Constable, rather than gilt-and-timber Renaissance - where if I were semi-bartered bride-to-be Eva, I'd be more likely to give the song-prize to smug town clerk Beckmesser for his artistry, if not his composition, than to young knight Walter, and where if I were Walter, I'd prefer maid Magdalene to her mistress. But that was because the two singers who really stole the show for me, Johannes Martin Kränzle and Michaela Selinger, were so much more comfortable in their stage skins - and hence in their voices - than anyone else.
Which is not to claim that Gerald Finley as Wagner's most loveable character, the cobbler-philosopher Hans Sachs, doesn't do a much better job than most of us had anticipated. It was always going to be tough living up to the expectations set by titans Norman Bailey and, more recently in Wales, Bryn Terfel. And Finley does make Sachs his own - attractive, sympathetic and, in the third act, stuck longer in the slough of despond about human folly and failed love even than Terfel, the depression of whose character's mid-life crisis had struck deeper in Jones's vision. But lacking, so far at least, those great singers' physical ease as stage animals, Finley's vocal production can be tense, the top a bit hit and miss, the unballasted if often beguiling dark sound a little unvaried in tone, most damaging when the wise man gives advice on youthful inspiration and the artistic discipline that comes with experience to protégé Walter.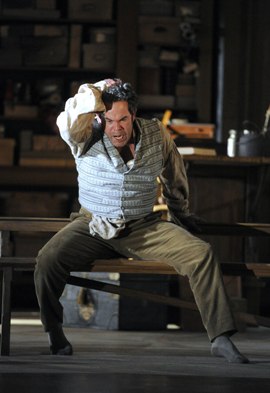 Yet at Glyndebourne, at least, he has the stamina to see this huge role through to the end, and Sachs's anger holds for much longer than in any other interpretation I've seen. The violent folly he berates in mankind is all the stronger for surfacing in his own behaviour (pictured right), and the instability spreads in a surprisingly tense final scene, bringing human dilemma to the fore once again in what can be a dangerously reinterpreted last-minute oratory about Germany's need to defend itself (through its culture, though - never let it be forgotten that Wagner was saying that, and crucially in the 1860s).
What a pity that Sachs is flanked by two much weaker young people. His adored Eva, Anna Gabler, is pretty as a picture; all the more disappointing, then, that she has neither Amanda Roocroft's naturalness of movement in the WNO production - Selinger upstages her through her sheer economy of gesture - nor Felicity Lott's former long-breathed radiance. Walter for once looks young and handsome enough to be the one she'd fall for, especially in his aristocratic finery, despite her impressionable time spent growing up under Sachs's influence, but Marco Jentzsch has little presence beyond his useful height and, worse, no eloquence of phrase at all in what's a rough-and-ready piece of prize-singing; neither voice nor youthful spirit soar. Last night he gave up completely on the second of his arching lines in the crucial Quintet, unmoving despite the complexity of human feeling McVicar brings to the staging as all five characters sit on a bench in Sachs's cluttered study with its balance of shoeboxes and books (much as in Jones's production, though pride of place here goes to a portrait of Goethe, while Terfel's Sachs had Lenya and Weill to look at on his shelves).
There's stiffness too, though greater sonority, from Alistair Miles as Eva's goldsmith father Pogner. Neither his long Act I monologue nor apprentice David's ennumeration of the mastersingers' rules to newcomer Walter blossom. Topi Lehtipuu must quickly have discovered that David is too tough a sing for a lightish lyric tenor. He has character, but the Hoffmannesque eccentricity of his physical gestures doesn't read well. It's about as appealing as the aggressive, over-charted movements for his fellow apprentices, and no substitute for the marvellous visual illustration of the song tones with which Jones in Wales got around the problem of too much tedious, if necessary, exposition. Here we're back to a first act which is slow to kindle, despite the atmospheric appearance of the Nuremberg church on curtain-up: brilliant light in the foreground, stylish vaulting, pretty costuming for the 19th-century churchgoers and a suggestion of darker things beneath the surface with Dürer's semi-grotesque painting of Christ among the teachers on the back wall.
It takes time, too, for Vladimir Jurowski, conducting the unfaltering London Philharmonic Orchestra, to accumulate depth and breadth. Maybe that's the point of his workmanlike Prelude, the antithesis to what he so profoundly makes of its Act III counterpart. It's in much better overall shape than it was in the Festival Hall concert preview a couple of weeks ago, but the sidewise manuscript of Wagner's opening bars which forms the forecloth screams down "sehr gehalten" ("very considered" might be one possible translation) on a brisk account. It's a question of shining a metaphysical light on tradition, of giving a sense of the daylight enormity of things to come, which Lothar Koenigs injected from the start at WNO. But Jurowski finds luminous tenderness for the amatory nocturnes of the Midsummer Eve activity, and Act III is a miracle of pace and variety; by the end, he and the orchestra have won their laurels. So, inevitably, has an expanded Glyndebourne chorus, though there was a first-night co-ordination problem in the great outburst that greets Nuremberg's beloved Sachs.
I only wonder whether McVicar checked the look of his culminating song contest (pictured left: Gabler's Eva entering on the arm of Miles's Pogner) from all points in the house. Friends and colleagues viewing it from above had none of the problems I experienced sitting in the centre stalls. From there the cramming down the front of the stage - surely the whole thing cries out to be set in a broad green meadow - simply seemed messy; whereas the night-time brawl makes a vigorous virtue of limited space, here circus acts distract from Wagner's clear delineation of the different guilds. Eva, as adjudicator, should be seen at all times - from my viewpoint, she was blocked by the competitors - and you need to keep in play the reactions of all three of her suitors. Finley was too far downstage left to register to many members of the audience in the stalls, and I had to deliberately focus on Kränzle's Beckmesser (pictured below) to notice he was wiping a tear or two away after his self-inflicted humiliation.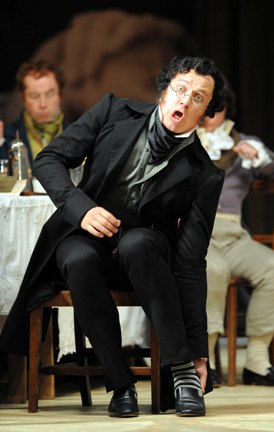 But this is in any case a riveting interpretation, pure Malvolio in the trajectory of humourless self-importance brought low, and McVicar certainly helps out his vivid mime scene when Beckmesser stumbles across the manuscript of Walter's song text in Sachs's study. The Act II serenade is perhaps the most straightforwardly beautiful singing of the evening; the garbled competition entry in Act III comes with an unexpectedly hilarious parody of bass-baritonal solemnity. That was the revelation of the evening for me, but it's impossible not to be seduced by the perfection of Glyndebourne on a dazzling afternoon. The pleasure was compounded, incidentally, by the spirit of delight in Grayson Perry's programme-book cover design (though I was thankful not to be sitting behind him and having the view somewhat obscured by his sticky-out big bows). And thanks, above all, to Jurowski's dedicated balance between orchestral detail and support for his singers, you do come away joyously applauding what matters - the unflagging and carefully unfolded genius of Wagner's long but sublime and very human comedy.
Explore topics
Share this article