AUKSO Chamber Orchestra, Penderecki, Barbican Hall |

reviews, news & interviews
AUKSO Chamber Orchestra, Penderecki, Barbican Hall
AUKSO Chamber Orchestra, Penderecki, Barbican Hall
More musical burglary from Jonny Greenwood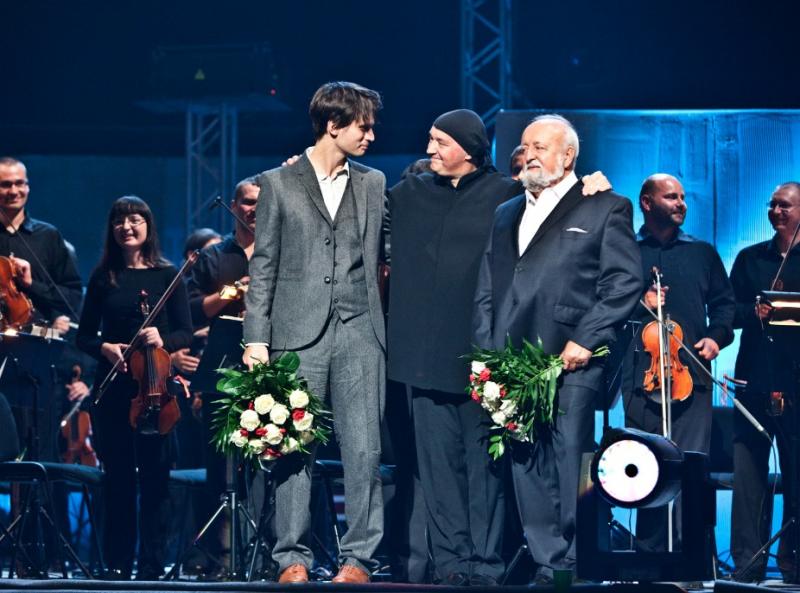 Left to right: Jonny Greenwood, Marek Mos and Krzysztof Penderecki
I don't much like aspirational music-making. I like my classical classical and my pop pop. Give me Boulez over Bernstein, Britney over Radiohead, any day. Having said that, I'd heard a piece by Jonny Greenwood at Reverb last month that had gone some way to winning me over. For a brief moment, Greenwood dropped the avant-garde pose that he's adopted for most of his other classical compositions and indulged in a bit of tender-hearted Romanticism that was nothing if not charming.
This kind of honesty was not much in evidence in his team up with Penderecki last night at the Barbican.
It's one thing to know about and like contemporary classical music and another thing to actually write it. Greenwood clearly likes Penderecki. He likes the Pole so much he's pilfered 90 per cent of the composer's thoughts on colour and clusters for the two works that we heard last night. So, Popcorn Superhet Receiver (2005) and 48 Responses to Polymorphia (2011): homages or stolen goods? It's a finer line in music than in other art forms. I guess, in his defence, Greenwood would point out that Krzysztof Penderecki was there last night. Would Penderecki have turned up if he'd thought he'd been plagiarised? Do little-known classical composers have much choice?
The impressive, energetic playing couldn't quite mask the age of Penderecki's music
No matter. Greenwood had the beret, the brushes, the wooden palette. To work! Popcorn overflowed with avant-gardist posturing (circa 1961): ad libbed scrubbings, harmonics and glissandos. He had a language but no clear idea how to shape coherent sentences from it. So, like an enthusiastic sixth-former, he simply winged it. A bit of this. A bit of that. Splodge, splodge, splodge. Splatter, splatter, splatter. It was a colourful, atmospheric and derivative mess.
Greenwood was adrift, until melody and rhythm came into play. At which point, he fleetingly became an interesting composer. The start of Popcorn has a passage in which a Penderecki-like haze of high sounds is juxtaposed with a Saint-Saens melody on the double basses. But then, as if embarrassed by his knack for tune-spinning, Greenwood drowns all this in an avant-garde wave of noise. "I'm a serious composer," he's reminding us, twiddling his moustache and re-arranging his cravat.
That he's clearly not a serious composer is revealed in his sudden embrace and repetition of a "La-Cucaracha" rhythm. Even the lights appeared embarrassed by this dad-on-the-dancefloor-like moment and span themselves around in shame. 48 Responses to Polymorphia (2011) is an up-front homage to Penderecki - specifically to his 1961 work Polymorphia. Of his supposedly 48 responses, I heard only two: one cloudy, one stiffer - a Stokowskian Bach pastiche - both of which are repeated ad nauseam.
This was all in spite of some spirited playing from the AUKSO Chamber Orchestra. The two Penderecki pieces received the more loving attention but no one can say the Greenwood was sold short. The difference between the ersatz (Greenwood) and the echt (Penderecki) could be seen in the conducting styles of the two baton-handlers. Penderecki was in charge of his work and delivered it without fuss, without beating time in fact, without anything but a few jabs here and there. Marek Mos, on the other hand, lavished the most Baroque baton-work over Greenwood's thin score. Every ostentatious arm swing was deployed with the aim of reminding you that Mos was a Conductor - capital C - and don't you forget it.
Penderecki's Threnody for the Victims of Hiroshima and Polymorphia couldn't fail to make an impression under the composer's watch. Each and every texture rang out. But the energy couldn't quite mask the age of the music. They're 50 years old, these works. And they sound it. Penderecki's early period was no doubt an important beginning and bridge in postwar composition - they have punch and economy - but do they bear repeated listening? One couldn't help but feel that these works have found their home accompanying apocalyptic 1970s American movies.
The evening was repetitious (we had essentially heard the same piece four times) and long (even though it was short). Normally with contemporary classical music, the complaint is that there's too much variation, too much chopping and changing of style, too few signposts. Last night, you couldn't get lost if you tried. Lights, films, programming and music all conspired to guide and explain, to reassuringly hold your hand: Do you get it? Do you get it? Do you get it? Do you get it? And you? And you? And you? Are you still getting it? Are you sure you get it? Do you get it? (as Bob Wilson would have put it). I get it, Jonny. You like texture. Can we move on now?