Ruby Wax: Losing It, Menier Chocolate Factory |

reviews, news & interviews
Ruby Wax: Losing It, Menier Chocolate Factory
Ruby Wax: Losing It, Menier Chocolate Factory
Funny, warm and illuminating show about the comic's experience of mental ill health
Thursday, 24 February 2011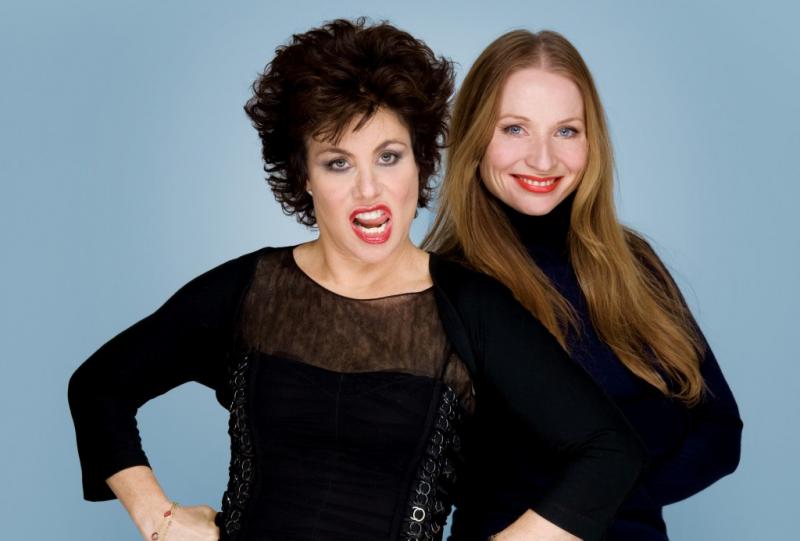 Ruby Wax and Judith Owen: charting a journey to a mental breakdown
Ruby Wax has packed a lot into her life - writer, actor, stand-up comic, television interviewer, to name a few. But possibly her greatest professional achievement will be her work in mental health, prompted by her own experiences of depression, which has led to a BBC series about the subject and her current studies for an MSc at Oxford.
And now she has devised a theatre show with musician Judith Owen that's funny, warm and inventive and takes as its starting point the fact that one in four of us suffers a mental-health problem at some time in our lives.
But once a comic, always a comic, as Wax sets the scene by introducing Owen as "The other woman in my one-woman show". The two performers have been doing a version of this at various mental-health institutions and first did it at Priory centres up and down the country - "It's a franchise," says Wax, "like Burger King." And she should know, having been taken to a Priory when she suffered a major breakdown at her daughter's school sports day a few years ago. As she describes the episode in a hilarious anecdote, it was the insufferable chitchat about somebody's lovely frock among the yummy mummies present that sent Wax over the edge.
Owen, who sits at a piano and has a hauntingly beautiful voice, provides musical interludes and backdrops to Wax's descriptions of her experiences as someone trying to keep her anxieties under control, but who eventually found she couldn't cope when she became famous. Fans of the comic's previous live work will be familiar with her back story; Wax is the daughter of - let me choose my words carefully - eccentric Mittel European parents who emigrated to the United States and who simply didn't understand their talented but (to them) unattractive daughter. In order to be loved and popular, Wax decided to become famous and when she tells us that she came to this country to find a little sanity, you realise how skewed her world view was...
Wax describes the passage to her breakdown and, in the show's most affecting scene, she tries to recreate the endless burbling in her head, a repetitive refrain of negativity, "the Devil with Tourette's", while at the same time Owen is singing a song prompted by her own experience - "I'm no ordinary girl, with ordinary needs". Previously I had thought that it's impossible for those of us who haven't suffered the same fate to imagine it, but after this I think we could make a good guess.
Then Wax tells us how, through a combination of medication and various in-patient therapies - including, for some bizarre reason, salsa dancing - she is at last experiencing some kind of emotional equilibrium. She also posits some suggestions as to why she suffers from mental illness and others do not - is it nature or nurture, or a combination of the two? - and of her keenness to "normalise" mental ill health by talking openly about it.
The evening is illuminating for those who have no experience of mental ill health and affirming for those who have
After the interval Wax and Owen sit on stage for a Q&A, which everyone, I'm told, usually stays for. Last night someone thanked Wax and Owen for bringing mental-health issues into the open, others talked about how their condition affects them, and one question from the audience divided the two women. Wax would eradicate depression from the human condition if she could, while Owen agreed with a bipolar man who posed the question that she felt her dark episodes helped her creativity.
Losing It, directed by Thea Sharrock, has a few weaknesses; there are one or two (admittedly very funny) unnecessary diversions about Wax's pet hates, including celebrity magazines and the inequality of marital roles, there's an awkward jump from her talking about mental ill health to a riff about the ravages of old age, and I would have liked more of Owen's songs. But for the most part the evening is illuminating for those who have no experience of mental ill health and affirming for those who have.
It's fair to say that in her TV heyday Wax was a Marmite performer but I suspect that even her fiercest critics would concede that a softer, warmer and more humane individual has come to the fore, and I can't help but wonder how much better an interviewer she would be nowadays, considering how good she was to start with. For goodness' sake, somebody give Wax a chatshow right now.
Watch an excerpt from Losing It
When Wax tells us that she came to this country to find a little sanity, you realise how skewed her world view was...
Explore topics
Share this article