Antony to curate the 2012 Meltdown Festival |

reviews, news & interviews
Antony to curate the 2012 Meltdown Festival
Antony to curate the 2012 Meltdown Festival
New York artist follows Ray Davies to curate this summer's event at the Southbank Centre. But who is he?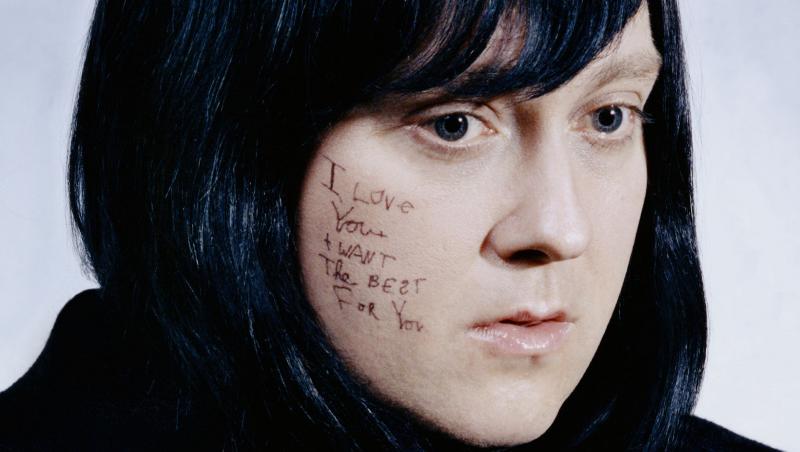 Antony: the new Nina Simone?
The Southbank Centre has announced that musician/visual artist Antony will be curating the 19th Meltdown Festival this August.
The avant-garde performer and lead singer with Mercury Award-winning Antony and the Johnsons follows in the footsteps of previous directors including Jarvis Cocker, Robert Wyatt,
Laurie Anderson,
Patti Smith, Ornette Coleman, David Bowie and, most recently, Ray Davies.
The artist who emerged from the New York underground art scene of the early 1990s will curate 12 days of music, debate and performance that reflect his interests, influences and passions. Issues close to his heart - ranging from environment and spirituality to gender politics - will be among themes explored through the festival.
Antony comments:
"I want to create a kind of paradise. I want to walk through that forest (left, pictured in forest) and see and hear the hardcore beauty and strength in art and music that makes sense to me. The weather is changing and everybody knows it. I want to participate. What is my relationship and responsibility to the world around me? Frontier expressions of emotion and beauty can be fantastic tools with which to enter that discussion."
Antony's last high-profile concert was In late January this year, when Antony and the Johnsons performed the Rough Trade album Swanlights commissioned by the Museum of Modern Art to a sold-out crowd at Radio City Music Hall. This one-off performance event featured a 60-piece orchestra. The New York Times lauded the performance as "gorgeously appointed cries from the heart, crashing like waves".
I wrote the following when he won the 2005 Mercury Award:
Antony launched into the melancholic "Hope There's Someone" (see video, below) at the Mercury Awards ceremony, a meditation on mortality, and time seemed to stop. A friend at the Awards told me, "The place was full of music business suits being aggressive, but when Antony came on there was complete silence – and his win was very popular. Nearly everyone was hoping he would win it." Even watching it on TV, his quavering, untrained, soulful voice produced a rare pop moment that gets the hairs on the back of your neck to stand up.
He's an unlikely pop star. Built like a rugby player and over six foot, he's often dressed as a camp diva and has the most extraordinary new voice we've heard in pop since Björk, with the raw soul power of a Nina Simone or an Otis Redding. While the chords of his songs are fairly standard, his use of unusual harmonies and double-tracking is highly distinctive. New York performance artist Laurie Anderson, one his earliest champions, says, "I call him a Viking – but listening to his voice is like hearing Elvis for the first time; two words and he has broken your heart…when he sings it is the most exquisite thing you will hear in your life." Another New York singer, Diamanda Galas, says "Every emotion on the planet is in that gorgeous voice."
Born Antony Hegarty in Chichester (which made him eligible for the Mercury), the son of an engineer and a photographer, he moved with his family to San Jose, California when he was 10. He discovered Boy George and Mark Almond in his teens. "George was really the first reflection I saw I saw of myself in the world," Antony explained. "I saw him and thought, 'OK, that's what we do when we're like this – we become singers.'" At 19, he ran away to New York, and became a fixture at alternative clubs like the Pyramid and the Kitchen. These days, he's seen in New York as part of a group of new artists like CocoRosie and Devendra Banhart who reject polished production and embrace sincerity and have been dubbed "freak folk".
Over 20 years after discovering Boy George, George was one of the guest stars on Antony's album I Am a Bird Now. George now says, "Antony's vulnerability is so honest and so powerful, and that is what makes a true star. I've seen live audiences twitching when he performs, because some people get very uncomfortable with such raw vulnerability. I love it. It's what we need now."
I came across Antony a couple of years ago when I interviewed Lou Reed for the Daily Telegraph (the first mention, as it happens, of Antony in this country). Reed was doing his usual interview persona - grumpy and monosyllabic. Yet he slowly warmed up, and ended up raving about Antony as the "heir to the sublime Jimmy Scott. I knew I was in the presence of an angel". Despite describing music writers as "assholes", Reed left me to talk to Antony for a piece he was writing for Andy Warhol's Interview magazine. Reed ended up taking Antony on tour with him.
My one suspicion after talking to Reed that Antony might be a rather knowing, ironic and possibly bitchy queen, but what is disarming about I Am a Bird with its tender tales of heartbreak and gender confusion is its absolute undefended lack of cynicism. Speaking as someone who writes about many types of music, it's rare to find a pop record that can be unequivocally recommend to people, but as soon as the advance copy of the album arrived, I played it to everyone. While female friends tended to be more circumspect, even the straightest male friends seem to adore Antony's emotional openness. While different models of what it is to be male are on offer (we are now supposed to be caring types like Chris Martin of Coldplay, also nominated for the Mercury), they all different straightjackets. Not that I'm about to invest in a frock and spangly make-up, but both Antony's voice and persona seem so much more liberating than the vision of maleness presented by Coldplay. Underneath the moving songs, Antony taps into the humour of the theatre of gender roles we all have to play.
The New York Times magazine ran a feature which had its writer amazed by burly types in Belfast singing along to songs like "You Are My Sister" or "For Today I Am a Boy", with its lyrics about "One day I'll grow up to be a beautiful woman" (the key line actually is "One day I'll find the power within me"). Like all great artists, Antony universalises from where he finds himself. In the end, the album is about transfiguration, compassion and forgiveness, which is why (apart from some great tunes and his wonderful voice) the album resonates way beyond the hip, alternative, gender-bending crowd of New York he comes from.
If the purpose of awards like the Mercury, and one of the main functions of music critics, is to present great, inspiring new music to the public, the Mercury did its job. There was a very strong field of contenders this year, but they got it right. And maybe we can all agree to finally forgive them for giving the Award to M People.
Explore topics
Share this article