Alex Horne, Soho Theatre |

reviews, news & interviews
Alex Horne, Soho Theatre
Alex Horne, Soho Theatre
High-concept show about the average human lifespan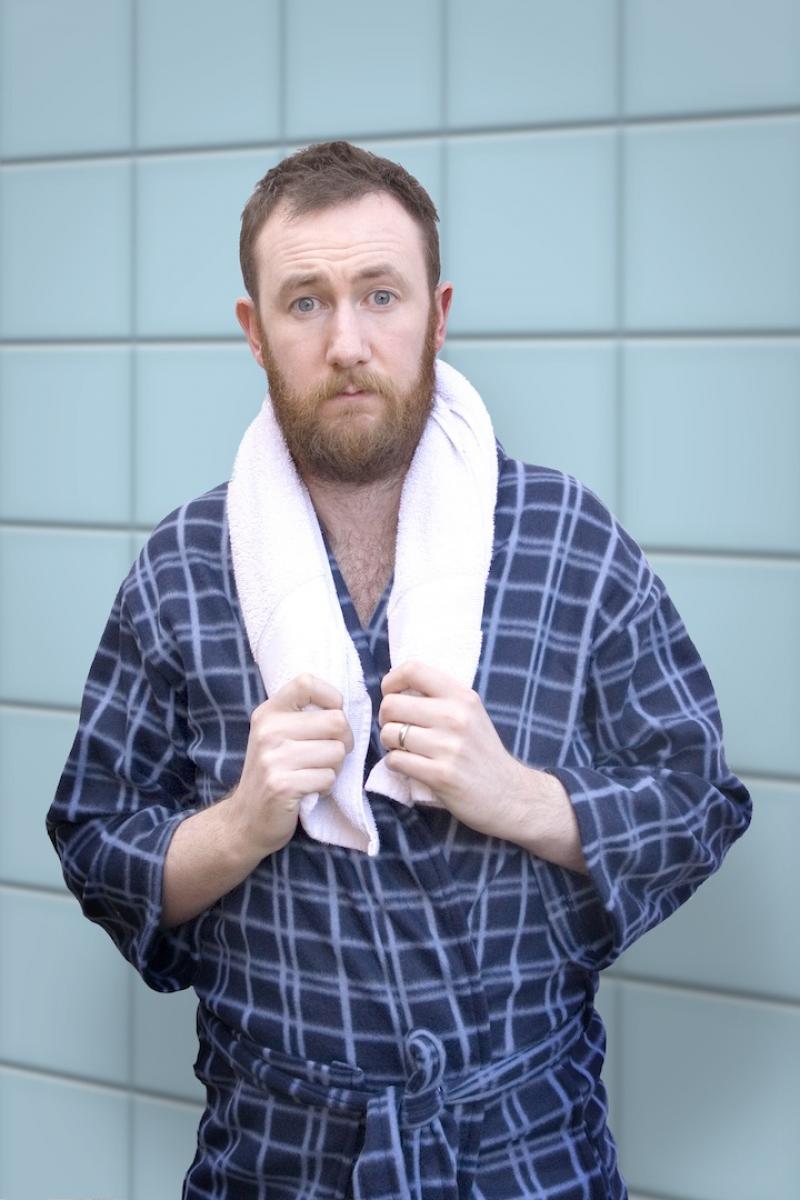 Alex Horne spends seven years in the bathroom
In Seven Years in the Bathroom, which he premiered at last year's Edinburgh Fringe, Alex Horne attempts to shoehorn the average man's 79-year lifespan - in which he says a remarkable seven years is spent in the bathroom - into an hour's comedy. It's certainly high-concept, and there's an awful lot of comedy to be mined from the subject.
Horne comes on stage dressed in a bathrobe, and a neat costume gag follows. The sand in a large egg-timer placed on a desk on stage, which is strewn with several other props, flows away as Horne runs through a bunch of statistics while cleaning his teeth, eating a burger and interacting with a furry animal. All the while, there's a PowerPoint representation of facts and stats on a large screen, which also has a clock running down, and at several points in the show Horne randomly breaks into jingle-like songs to form or answer a question. Anybody who has watched Horne on the BBC's We Need Answers, with fellow comics Tim Key and Mark Watson, will be familiar with the seemingly amateurish format.
Paying customers weren't that eager to don silly hats, hide a jar of Marmite or give Horne a marital kiss
Running through the hour is a story about Horne's uncle Joe and his pet ostrich, which has a rather poor payoff, and a script that attempts to tell us some universal truths but actually doesn't. In a show that's not only high concept but has a complicated set-up, several payoffs were rudely interrupted by a bell marking the end of each life segment.
This is a show that relies heavily on audience participation and on the night I saw it paying customers weren't that eager to don silly hats, hide a jar of Marmite or give Horne a marital kiss to play out some life segments while he carried on with business on stage or changed costume off it. It could be, however, that at other performances people are jumping to his polite requests for involvement, as Horne is an engaging stage presence who never humiliates his audience, but here the pace suffered terribly from a lack of keenness on their part. And to be fair, I have seen Horne be a terrific master of ceremonies in his other current show, The Horne Section.
Horne says at the top of the hour that it's going to be fun and it's certainly that, in being playful and inventive. The only problem is that there are very few jokes and, while the concept is clever, the show isn't nearly funny enough.
Alex Horne is at Soho Theatre, London W1 until 17 March, then touring until 14 July
This is a show that relies heavily on audience participation
rating
Explore topics
Share this article