Opinion: 3D is as revolutionary as the talkie |

reviews, news & interviews
Opinion: 3D is as revolutionary as the talkie
Opinion: 3D is as revolutionary as the talkie
It's not just Hollywood who should be embracing 3D technology
Blue movie: Has James Cameron predicted the future of cinema or just upped the Hollywood ante?
Tainted by its origins and association with the pulp cinema of the 1950s (classics like Bwana Devil, It Came from Outer Space and House of Wax were pioneers of stereoscopic technology), 3D cinema has remained the province of entertainment cinema, a novelty no art-house auteur would touch.
Spin
The Hurt Locker
's shock Oscar win in 2010 any way you want, it made an emphatic statement about the value the cinematic academy placed on technological advancement. For that was surely the terminal problem with
Avatar.
A thrilling visual spectacle, it harnessed its innovations to a recycled plot and a shoddy script – a beautiful, brainless jock of a movie.
Yet, limitations aside, Cameron's film came close to starting the most urgent conversation to not quite emerge from this technology. It is surely no coincidence that his 3D epic takes virtual and alternative reality as its subject – an unusually self-reflexive gesture for a Hollywood heavyweight, and one shared by 1982's TRON. As we follow the (rather too symbolically) disabled Jake Sully on his remote adventures, we, the viewers locked in our own darkened pod, find our cinematic experience mirrored and our reactions implicated and thematised. Call the film a parable about eco-responsibility, about how, according to Cameron, we "interact with our fellow man", but at issue is surely cinema itself. Avatar is a meta-narrative on the condition and possibilities of the 3D experience.
Too busy playing with the funny glasses, gearing up for Alice in Wonderland (pictured right), Toy Story 3 and a spate of comic-strip and horror movies, we were all much too preoccupied to stop and ponder this – film-makers most of all. The fact that post-production 3D (in which a film originally shot in 2D such as Clash of the Titans is artificially enhanced into 3D) has emerged as a phenomenon, speaks to the widespread attitude that still considers 3D a gimmick, a decorative effect to be draped artfully over a film without materially changing it. What Cameron inadvertently proved in Avatar, and what Hitchcock explored in rather more calculated fashion in the ill-fated 3D Dial M for Murder (pictured below), was that this technology has the potential to change not only the way we package cinema, but the way we perceive and construct it.
Consider the basic paradigm shift from 2D to 3D cinema and the implications it carries with it. From a position outside the frame, observing a narrative both finite and hermetically sealed, we viewers have been invited in, past the proscenium. No longer pressing our noses up against the window we find ourselves in the room, witnesses no longer but co-participants in the action. As director Scott Derrickson has explained of forthcoming 3D adaptation of Milton's Paradise Lost: "It's not something you watch, it's something you're in… the impact it can have on storytelling, it's unfathomable." The politics of the gaze, the contingent and troubled relationship between observer and art that has long occupied literary and film theorists, here become compounded: an issue no longer simply of a gaze but also of a stance.
In practical terms the impact on our viewing experience of, say, Gnomeo and Juliet or Justin Bieber: Never Say Never is fairly limited. But what if instead we were to watch Irreversible or even Saw 7 in 3D? From a position within the frame, implicated not only voyeuristically but fundamentally in the action, doesn't our attitude to this material change? Shouldn't it?
The social and moral arguments that now come to bear are all familiar from the world of computer games. Here, issues of identification between gamer and sniper/assassin/flesh-eating creature have long attracted debate and concern. Yet the parallel is not exact; we still consume games in a very different way to cinema – the role-play element is fictive, incomplete, its limits self-consciously framed by the screen and the flattened graphic planes. The world where both film and computer games are surely heading, that of immersive, virtual reality, will, however, see them converge. It will be the final turn of the moral screw.
When as powerful a figure as Werner Herzog begins to experiment with the 3D format it seems only a matter of time before margins give way to art-house mainstream
While moral issues are doubtless the most emotive to emerge from 3D film technology, it is the artistic ones that are the most interesting. If we look for a parallel for the current 3D advancement in cinema we might consider the move from silent to talking pictures, the shift from black and white to colour – changes which altered not only the experience of film-going but also the aesthetics of film-making. Each advance has seen film move closer to mimetic reality, closer to its own death as art. 3D is surely the final convulsion of a genre in crisis, a genre evolving to the point of extinction.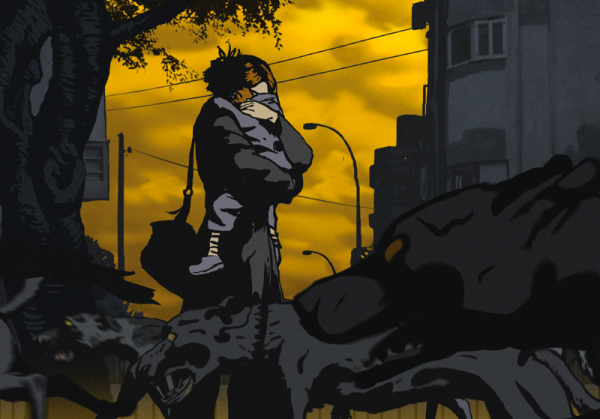 Potentially comparable in its impact to that of photography on 19th-century visual arts, 3D cinema will force conventional film-making to reassess its priorities. While art-house film has long since moved beyond mimesis, its narrative and fictional processes will be drawn even further into question by the alternative format of 3D. Flattening and framing images will become an aesthetic choice as well as an ideological one. Just as animation has gradually become a valid format for serious film-making (thanks to such works as Waltz with Bashir (pictured right) and Persepolis), so 3D films will provide another aesthetic platform and genre within which to work.
Perhaps the most encouraging signs of a shift in art-house attitudes has been the details of this year's Berlin Film Festival, released last week. Although downsizing in some areas, the festival will feature an unprecedented three 3D films, including an animation provocatively included in the competition line-up. While many high-profile directors such as Christopher Nolan and Michael Bay have voiced their suspicions of 3D technology, when as powerful a figure as Werner Herzog begins to experiment with it (his documentary, Cave of Forgotten Dreams, will also debut at the festival) it seems only a matter of time before margins give way to art-house mainstream.
Wim Wenders's 3D dance film about choreographer Pina Bausch, also showing at Berlin, represents another of the fastest-growing sub-genres within 3D: the performance film. Later this month ENO and Sky will beat the Royal Opera House to the draw, screening Mike Figgis's new Lucrezia Borgia (pictured left) as the first live 3D opera film. The Royal Opera's Carmen will follow as a 3D cinematic release in March. The advantages of such technology in translating these events to new audiences, privileging the viewer in a way that neither opera house nor theatre can ever achieve, are self-evident, though naturally throwing up their own debates among purists.
The conceptual, ideological and aesthetic impact of 3D technology on cinema is potentially vast. Once film-makers start conceiving films in 3D – integrating its philosophies as well as its processes into their work – the role of conventional 2D films will change forever. We ignore this technology, surrender it to Hollywood and Miley Cyrus movies, at our peril. This cinematic emperor has never been more fully clothed – we can either continue to mock or follow Hitchcock and Herzog into the film-making of the future.
The making of Alfred Hitchcock's Dial M for Murder 3D: