theartsdesk in Soweto: Strings Theory in the Townships
theartsdesk in Soweto: Strings Theory in the Townships
The inspirational story of young students from a South African music programme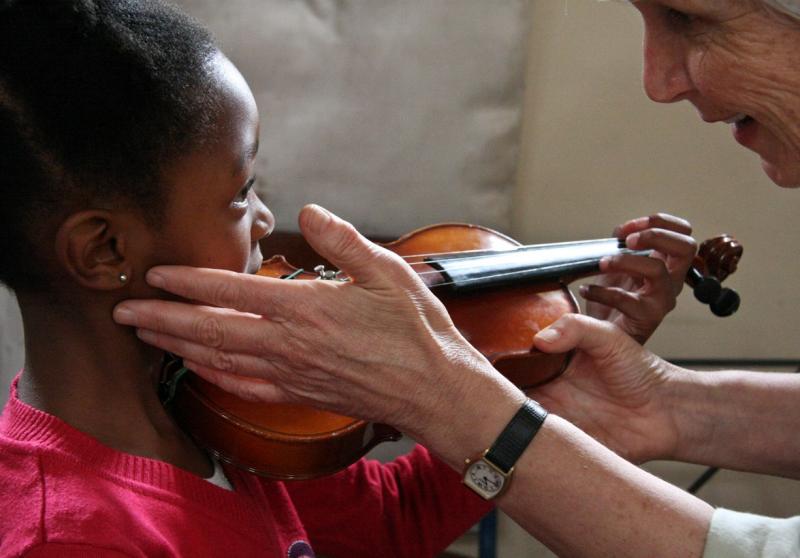 Taking a bow: Rosemary Nalden coaches a young pupil at Buskaid
Diepkloof, a suburb of the sprawling township of Soweto, is not the most likely of places to find a classical music school, but at the end of a dusty road in the grounds of a Presbyterian Church the haunting strains Dvořák hang above the corrugated iron roof-tops. The hall is home to the Buskaid Soweto String Project, a remarkable initiative which for over 15 years has given hundreds of township youngsters the chance to learn to a classical instrument.
Former students have gone on to become professional musicians and Buskaid's Soweto String Ensemble – recently voted one of the most inspirational in the world - has performed for presidents and royalty as well as taking the Proms by storm in 2007.
This week the founder of the project, British viola player Rosemary Nalden, will be in London accompanied by six senior Buskaid musicians. They will be talking about what they do at the TedX Festival of Ideas and will be joined by three other Buskaid musicians, currently studying at the Royal Academy of Music, to perform as the Soweto Chamber Ensemble.
The selection process is fairly random and not based on musical talent
Nalden was moved to action after hearing a Radio 4 programme about a struggling Soweto orchestra in 1991. Regarding it as "a cry for help", Nalden enlisted the support of 120 of her professional colleagues to raise funds for the orchestra. They took part in a simultaneous busk in 16 British Rail stations - hence the rather incongruous name. Nalden decided to take the money raised out to Soweto in person and visit the project. It was only a few years later when the project began to founder due to mismanagement that she became more involved.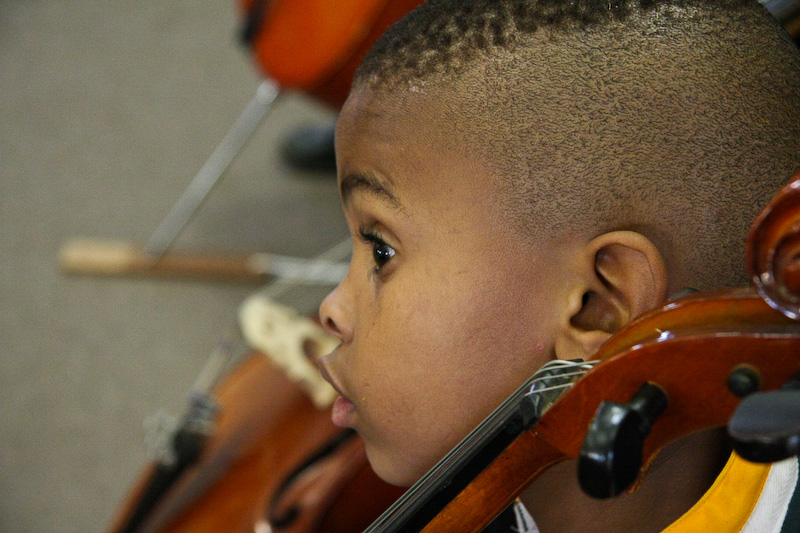 In 1997 she took the decision to spend more time in South Africa to set up an entirely new project which she herself would run. She started with just a handful of students playing in a tiny church office. The project is now housed in its own purpose-built music school. Built for 35 pupils, the school now boasts over 100 students ranging in age from five to 29. They receive virtually free tuition and each year dozens have to be turned away due to lack of capacity. "The selection process is fairly random and not based on musical talent," explains Nalden when I visited the school. "Any child who lives within walking distance of the music school and whose parents are unemployed, or are in impoverished circumstances, is given priority."
And in Soweto, home to over two million people and with unemployment rates topping 50 percent, there is no shortage of impoverishment. Whilst some districts of Soweto are still characterised by shacks made of plywood, corrugated iron and plastic sheeting, there are more salubrious areas. Diepkloof squats at the foot of mining slag heaps and is home to the 2010 World Cup centrepiece, the calabash-shaped Soccer City stadium. It is the largest suburb of Soweto and as such contains both a range of poverty and affluence. Close to the highway the music school is in a relatively "good" neighbourhood with extensive street lighting and paved roads although potholes remain a hazard. Many of the houses are four bedroom homes made of grey concrete known locally as ''matchbox houses" which were built to accommodate migrant workers in the 1950s and 60s. It is common to find extended families living in them sleeping at night on the floor, side by side on foam mattresses.
But despite the hardship the atmosphere in Soweto bristles with vitality and colour. People take pride in their homes and their neighbourhoods. Young people regard themselves as being on cutting edge of South African style with Kwela music and Kwaito – South African hip hop, created in the township – played everywhere. Musicians at the Buskaid school are free to mix these contemporary and traditional musical styles alongside their classical training.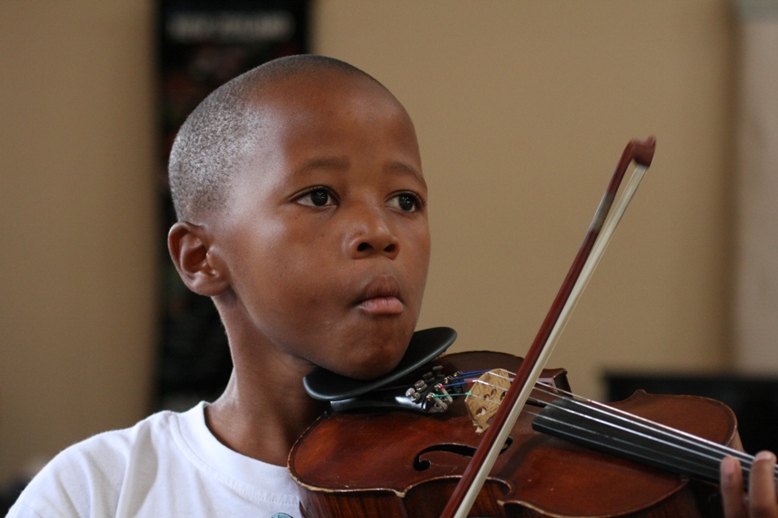 The Buskaid project runs a Learnership Programme which enables advanced students who wish to become professional musicians to study their instruments intensively every weekday morning at the music school. More experienced are encouraged to teach the juniors and children who have been at the school only for a year or two are involved in helping new pupils. This not only ensures that there are enough teachers but also instills a sense of responsibility among the student-teachers. According to Nalden, who was awarded an MBE in 2002, it is also very instructive. "You learn a huge amount about your own playing when you teach" she says.
For students, being part of Buskaid demands commitment and sacrifice. Those on learnerships practise for four hours each week day and teach for up to three hours each afternoon. Orchestral rehearsals occupy a further four hours every Saturday. Although several of Buskaid students have gone on to study music in the some of best music schools in the world, Nalden insists that it is still too soon assess how many of the students will become professional musicians. "Buskaid has only been running 15 years and incredibly, that's not a long time in the life of a serious string player". But the aim of Buskaid is not merely to churn out professional musicians. "The patience and discipline required to learn a string instrument is hugely demanding," says Nalden. "But it is a skill that stands people in good stead whatever they choose to do in their life."
The music school offers more than just a place of learning. It also acts as a refuge for many of the students who face difficulties associated with township life including extreme poverty, violence and exposure to drugs. "Many of them have chaotic and unsettled home lives and we offer them a structure that they otherwise lack," explains Nalden. "Some years ago I went into one of the practice rooms and found two sisters there who had the attended their mother's funeral that morning. The school is the place where they felt safe."
As well as teaching their charges to be disciplined, Nalden and Sonja Bass, who is Buskaid's cello and bass teacher, also try to instil in their students the same passion that they have for classical music. Nalden's teaching is rooted in her own background as an early music specialist but she also encourages the students to express their personalities and play popular Western and African music. Sir John Eliot Gardiner, the conductor in whose orchestra Nalden still sometimes plays for, describes her achievement as remarkable. "What could have been a dismal failure given the very difficult conditions became something astonishing," he says.
Despite an ongoing struggle to find sufficient funding, Buskaid's story has nonetheless been one of triumph against the odds and of the power of music to transform lives. Three years ago Simiso Radebe (pictured above right: photograph by Stefan Simanowitz), born six days before the release of Nelson Mandela, was living in Soweto, sleeping a foam mattress and dreaming of becoming a professional musician. Thanks to Buskaid Simoso, who will be playing with the Ensemble this week, is now studying at the Royal Academy of Music and is well on his way to turn his dream into a reality.
The Soweto String Project performs at

St Marylebone Parish Church on Monday 12 March. The programme will include Biber, Boccherini, Bartók and Gershwin, as well as township Kwela, arranged and composed by the students themselves
Explore topics
Share this article