A Spoonful of Sugar: Robert Sherman, 1925-2012 |

reviews, news & interviews
A Spoonful of Sugar: Robert Sherman, 1925-2012
A Spoonful of Sugar: Robert Sherman, 1925-2012
Remembering the older and gruffer of the brothers who wrote soundtracks children still sing
Julie Andrew rejected the song which Bob Sherman replaced with the Shermans' brothers most famous lyric
Robert Sherman, who has died at the age of 86, was three years older than his brother Richard, and much quieter.
Indeed, on the two occasions I interviewed the songwriting brothers – once in person, the other time on the phone from California – his personality felt intriguingly at odds with the benignity of their songbook, mostly consisting of the cheery children's anthems they wrote for the likes of
Chitty Chitty Bang Bang
and
Mary Poppins
,
The Jungle Book
and
The Aristocats
.
When they first began working on Poppins, Pamela Travers, whose first set of Poppins stories were published in 1934, was still famously putting noses out of joint. Bob Sherman, then 81, was roused to describe her as "a bombastic, prejudiced ****". Not that his brother Dick stepped in with a denial.
Unlike other American show-tunesmiths, the Shermans were not household names over here - curious given that they wrote so capably in the English idiom. Their grandfather Samuel was court composer and conductor for Emperor Franz Josef. Their father Al father was a popular American songwriter. "He used to give us the three Ss," said Dick. "Simple, singable and sincere. And be original. Many people say, 'That's corny, that's the old-fashioned way.' Well that's the way we write."
That's one song that's been overdone. But our statements on it are huge
The Sherman brothers cut their teeth penning rock'n'roll, country and hillbilly songs in the 1950s. But they got their big break when Walt Disney signed them to write Mary Poppins. Though they were contracted to Disney for the whole of the 1960s, Cubby Broccoli bulk-hired as much of the Poppins team as he could get for his flying car musical. He got Dick Van Dyke but not Julie Andrews, and he got Dick and Bob Sherman to head straight back to Edwardian England, the setting for their first hit.
"Dick and I are anglophiles," said Bob, who recalled listening to Noël Coward and Ivor Novello in his youth. "We do have an English sensibility. We find that a lot of the stories that we've been involved with have been English." Dick added more volubly that "the English language when spoken correctly is such a joy to listen to. The words are so pristine when said well. We'd go to the movies and you'd hear these wonderful accents. Cockney is a charming sound to an American ear. We used to listen to these old vaudeville songs by Flanagan and Allen and Harry Champion and George Formby. They were not like American songs at all. They had a lilt and an esprit to them. We've written pure Americana [the jazz scores for The Aristocats and The Jungle Book], but the English stuff has been very very successful and it's very flattering to us to know that the Brits accept our songs." Indeed they were accepted all over again when Chitty and Poppins were both revived for the West End.
The sound of locomotion
The Shermans were perhaps also less well known because, unlike Rodgers and Hammerstein and Kander and Ebb, they always stuck to family entertainment. Nobody dies in their truly scrumptious musical universe. Thus Sherman songs are big in theme parks. Where "Supercalifragilisticexpialidocious" is a skilful confection, their cloyometer occasionally malfunctioned – lucratively in the case of the nauseating "It's A Small World (After All)", which is apparently the most translated song in the world. "That's one song that's been overdone," said Bob. "But our statements on it are huge." (Pictured below, Bob Sherman on the left with Dick, plus car.)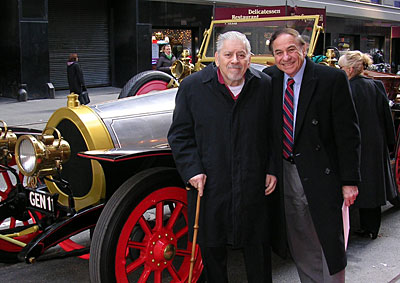 Deep into old age they were still working together at each other's houses, while keeping their social lives separate. Dick tended to write more of the music. I asked them how long it took to conjure up a song like "Chitty Chitty Bang Bang". "At least a day," replied Bob, tersely. "Both of our lifetimes," added Dick. "It takes years to learn what not to write."
As for perhaps their most famous song, Bob Sherman recalled how 40 years earlier they were asked to replace a ballad which Julie Andrews had rejected. After two weeks they were still looking when his eight-year-old son came home from school. "I said, 'How was school?' He said, 'Fine. We had our vaccine today.' I said, 'Oh, did it hurt?' 'Oh no, they just put a drop of medicine on a lump of sugar.' The next day I said, 'Dick, what do you think about a spoonful of sugar makes the medicine go down?'" The next day they sang it to Walt Disney who was just down the hall in the animation building. He said, "Yeah, that'll work, finish it up."