Carolina Chocolate Drops: Leaving Eden and Moving On |

reviews, news & interviews
Carolina Chocolate Drops: Leaving Eden and Moving On
Carolina Chocolate Drops: Leaving Eden and Moving On
The Grammy-winning string band on their new album, rejigged line up and working in Nashville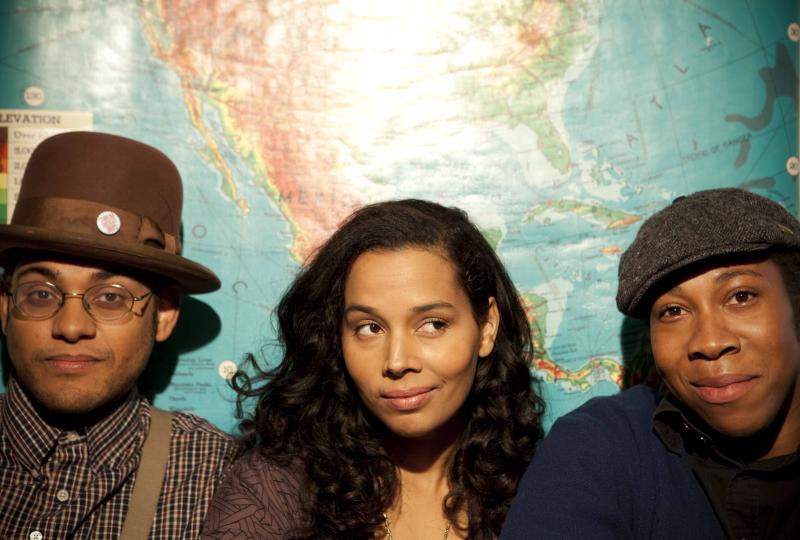 Carolina Chocolate Drops, 2012-style: Dom Flemons, Rhiannon Giddens, Hubby Jenkins
Something falls with a clatter from one of Dom Flemons's pockets. The Carolina Chocolate Drops's banjo player, guitarist and all-round picker and plucker has a lot of pockets. Earlier, he'd produced a pipe from one, a tobacco pouch and tuning pipes from others, but what has just dropped on the table are his bones. His musical bones. The ones whose rhythms are rarely far from the heart of his band. "You never know when you're going to need them," he says. "Sometimes you just get bored."
This is the cue for the Chocolate Drops's newbie Hubby Jenkins to get his bones out, and the pair begin rattling off staccato phrases. A couple of days later their bone-shaking results in them being asked – along with bandmates Rhiannon Giddens and Leyla McCalla – to leave a King's Cross pub.
They're supposed to be concentrating on promoting their fourth album, Leaving Eden. After winning the Best Traditional Folk Album Grammy for their 2010 record Genuine Negro Jig, you might think their edges would have become a little more polished. But no, all that counts is the music.
"There's so much great music out there that's fabulous, that's under a rock," says banjo and fiddle player Rhiannon Giddens. "We're a group who likes traditional songs, who plays traditional music. It can be very narrow, the perception of what string band music is. Leaving Eden is a good example of what a string band can do. There's some unexpected things. We have beatbox, bones, cello, fiddle, all these things, instead of the standard form."
"A lot of people think we're bluegrass," notes Dom. "But on the new album we've got 'Leaving Eden', which is a great country-pop number. 'Mahalla' is a south African piece. We have two minstrel tunes in there, a blues, an old-time number. 'Boodle-de-Bum-Bum' is rearranged from an old song. I wouldn't want to go too far from that [style]. If I were a listening to a traditional group and started hearing a bunch of original songs, it's not quite the same."
Carolina Chocolate Drops draw from the string band tradition that puts the banjo to the front, trading lines with the fiddle. Home-made instruments also figure, alongside ad hoc percussion. The mix-and-match approach is in keeping with their source influcences, as is their name - a humorous yet charged nod to the 1930s black trio Tennessee Chocolate Drops. Fast-picked, the banjo became part of the (white) bluegrass menu, but the many black string bands of the era also used an instrument whose roots lie in west Africa.
The three original members - Dom, Rhiannon and Justin Robinson - met at North Carolina's first Black Banjo Gathering in 2005, and formed the band shortly after (pictured left, Carolina Chocolate Drops with Justin Robinson centre). There has recently been a change in personnel, with Hubby replacing Justin in 2011. "Justin went back to school," says Rhiannon. "He's in school full time. Forestry, that was his main interest. It's not that compatible with being in a band on the road. He'd make a stop, pull over and collect specimens. It's amazing he lasted on the road as long as he did."
Justin's replacement was already close to the band. "I was friends with Dom," says Hubby. "He'd crashed on my couch for a couple of days in New York. I was doing solo stuff, country, bluegrass, blues, and I got a call from Dom asking if I wanted to join. I thought, I don't know if I can hang with these guys, they're really good musicians. They're so good looking. I have a friend Peter Stampfel, and he said, 'Go for it, you're the kind of musician that can play anything put in front of you.'" On stage, the remodelled line-up is joined by long-time collaborator, cellist McCalla.
'Leaving Eden'' is produced by Buddy Miller, whose credits include Solomon Burke and Robert Plant

Explaining the band's approach, Rhiannon says they "started with the idea of switching instruments, being able to be flexible. The main thing that has allowed us to continue as a group is Hubby and Leyla's ability to do different things. Hubby's got five instruments". Dom plays banjo, guitar, harmonica, bones and kazoo. Rhiannon plays fiddle, banjo, and kazoo. Both are mean dancers. All of them sing and play percussion.
This openness influenced Leaving Eden, which is produced by Nashville's Buddy Miller, who has toured and recorded with Robert Plant, Solomon Burke and gave Shawn Colvin early exposure. He's also played with Steve Earle, Emmylou Harris, Linda Ronstadt and Gillian Welch. Miller's own albums are also consistent award winners. Leaving Eden was recorded at his home studio in Nashville, both inside and on the outdoor porch. "We wanted it to be recorded live," says Dom. "To have the feeling of live performance."
Of Miller's home town, Rhiannon says "when you think of Nashville, you think of the sequins and the big hats, but there's quite a few people there that aren't doing that. That's where Buddy fits. There seems to be a backlash against pop music in big hats."
"There's an underlying Americana scene in Nashville," says Dom. "We're closer to that. It's not full-on Music City Nashville. We've kept up with that scene a little bit, but we played at the Grand Ole Opry five or six times. We came in to Nashville through that."
The sense of Carolina Chocolate Drops being on a journey is also apparent in how they all arrived at the music of America's southern states. Rhiannon is the only band member born and brought up in the south. "If I heard southern music growing up it was bluegrass, but I didn't have a connection with it. When I wanted to sing, I went for opera."
McCalla also came to the band from a similarly unlikely musical place (Cellist McCalla pictured right with the band). "I had no conception of what southern music was until the last five years," she says. "My family is from Haiti. Stevie Wonder, the Jackson 5 and Earth, Wind and Fire are the things I grew up listening to. I lived in west Africa when I was at school and started playing west African grooves on cello. I started to understand how music travels. When I first went south, playing the streets in New Orleans, I was playing Bach".
Hubby's grandparents had moved from North Carolina to New York, where he was brought up, although he did spend summer holidays in North Carolina. Dom, meanwhile, is from Arizona. "I didn't have a sense of southern music as I was growing up," he says. "I really got into country-blues, honky-tonk, Ray Price and Hank Williams. Then Dylan, Carl Perkins, Chuck Berry, Fats Domino - and that got me to Charlie Patton, one step at a time, collecting records. Then I went to the Black Banjo Gathering, that got me to old-time music".
Which is where Carolina Chocolate Drops began. With Leaving Eden they've become a different band, yet Dom says it's still all about "searching for the old numbers and trying to make them live. The fundamentals haven't changed".
Watch Carolina Chocolate Drops perform "Leaving Eden"
Their bone playing results in them being asked to leave a King's Cross pub
Share this article