The Diamond Queen, BBC One |

reviews, news & interviews
The Diamond Queen, BBC One
The Diamond Queen, BBC One
The Queen doesn't explain and doesn't complain while Andrew Marr waves his arms about
Tuesday, 07 February 2012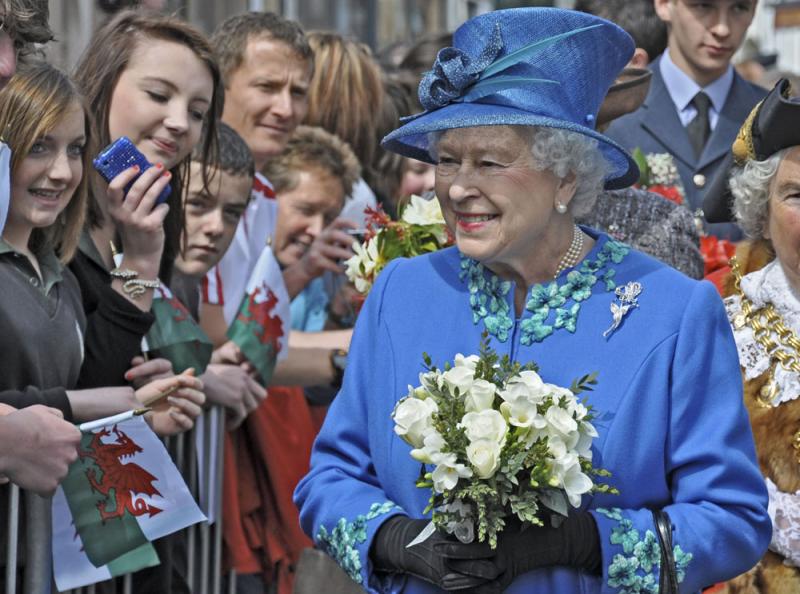 The very remarkable Elizabeth II: 60 years on the throne and now trending on Twitter
I can never quite work out Andrew Marr. Serious political journalist? Wannabe arts correspondent? Failed actor? Celebrity superfan? Anyway here he was, following the Queen around the world on a variety of exotic junkets, shouting at the camera and waving his arms about as if he'd been standing in the sun too long.
From time to time he'd try to drive home some poetic or rhetorical phrase by ladling on a bit of thespian over-emphasis, like somebody doing Larry Olivier at the News & Current Affairs Christmas party. If he hadn't been protected by his camera crew, it would have been enough to get him (pictured below) arrested on a charge of absurdity .
This was the first of Marr's three-part series in which he "chronicles the life and reign of Elizabeth II". It's the perfect adjunct to his book The Diamond Queen - Elizabeth II and her People, published before Christmas. The paperback edition will be out in May, immaculately timed for the Diamond Jubilee celebrations in June. Forgive me if I can't take the notion of Marr as dispassionate, analytical observer of Her Maj's extraordinary reign terribly seriously.
The best bits were the chunks of archive footage used to illustrate the young Princess Elizabeth's background and early life. Hailing from an era before YouTube or when everybody in every crowd was shooting their own video on a smartphone, the jerky, grainy, monochrome sequences of the leonine George V seemed to have been beamed in from that strange lost universe when Britannia ruled the waves and Britons still died gratefully for their country. There was no sound, so they couldn't answer back in any case.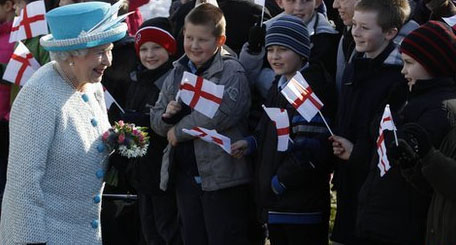 It was Marr's contention that George V, having (unlike several other European monarchies) survived the Great War, got on the front foot, got the monarchy out and about and started the process of giving it some sort of populist appeal. This was continued by his son, Colin Fir... er, George VI, whose stoicism (along with that of his wife, the former Lady Elizabeth Bowes-Lyon) during the Blitz and throughout World War Two was a salutary lesson in hereditary dutifulness to the future Elizabeth II. Some colour home movies of the king and his family delivered a powerful emotional jolt sadly missing from the latter half of the programme. The yang to George VI's yin was the despicable Edward VIII, who tried to invent the Me Generation about three generations prematurely.
What was ultimately exasperating about Marr's mission to HMQ was the way it appeared to have access all areas, only to have the priceless platinum laminated pass snatched away just as the going might have been about to get interesting. It was infuriating how the right people popped up to be interviewed, then were snipped off after a couple of sentences. Prince William seemed all geared up to be frank, forthcoming and informative, but we only saw him in abbreviated flashes.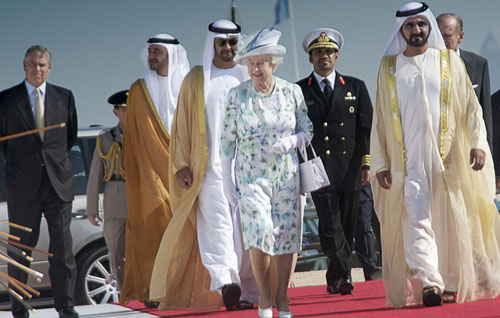 Prince Edward, formerly a byword for sour-faced petulance back in the ghastly Fergie-and-Andy era, was jovial and relaxed, but Marr only got a fairly pointless anecdote about the bureaucratic chaos of the 1950s Buckingham Palace out of him. Even Prince Andrew was prepared to stop and chat, but only to surreptiously reinforce his own status as roving trade ambassador by burbling on about the importance of visiting the Gulf as frequently as possible (Prince Andrew and his mum in the Emirates, pictured above right).
Much of the running time was taken up by Marr trying to explain how inexplicable the Sovereign is. "She moves people just by turning up," he sobbed, when not gushing about her apparently supernatural ability to work a crowd. Trying to unpick exactly why the Queen's wildly popular overseas visits actually matter to the UK, he somehow contrived the notion that she is "our slightly mysterious Department of Friendliness". However, we did learn that she probably didn't hate Margaret Thatcher after all, and might have felt manipulated by Anthony Eden over Suez, though we were given no inkling as to how. Anyway, anything she discusses with Prime Ministers past or present is more secret than Pink Floyd's Saucerful of Secrets locked away in an especially secret vault, and nothing was officially confirmed or denied. Just remember, though, that while the Queen may be an adornment, she is not an ornament. Andy delivered this line with particular emphasis.
It was infuriating how the right people popped up to be interviewed, then were snipped off after a couple of sentences
Share this article