The Nutcracker, Birmingham Royal Ballet, O2 Arena |

reviews, news & interviews
The Nutcracker, Birmingham Royal Ballet, O2 Arena
The Nutcracker, Birmingham Royal Ballet, O2 Arena
The perfect production is left high and dry with X-Factor pixie Joe McElderry as baffling warm-up
Wednesday, 28 December 2011
Ride a white swan: Clara's teenage dreams are gorgeously realised in Sir Peter Wright's production
It would always be a risk putting such a gossamer Christmas charmer as The Nutcracker into a gargantuan Mammonite cavern like the O2 Arena, where magic only counts if it rings loudly in the coffers - car park £25! programmes £10! As with the Royal Ballet's Romeo and Juliet last June, Birmingham Royal Ballet have put up a cinema screen to enable thousands of viewers far away to catch what looks dolls-house-sized in real view.
But where that other ballet is all about action and plot, this is a ballet about atmospheres and dreams, needing most delicate weaving into its setting.
If you sit in a £72 seat on the upper side close to the stage, as I did for 10 wretched minutes last night, you will see about a third of the scenery, virtually nothing of the big screen, and not a scrap of what the production can deliver. Fortunately for me, if unfortunately for BRB, there were many unoccupied spaces to enable a quick move to better positions, which rescues my review from a wholesale protest to a half-cheer.
A fullhearted cheer should be due for southerners at last having a view of this spectacularly designed Birmingham production, of sumptuous costuming, gripping visual atmosphere, and a normally fabulous transformation for the Christmas tree into an awesome corner of a giant's pine forest, emitting fiery smoke like dragon's breath while toy soldiers battle desperately with rats for possession of young Clara's dream world. But if you don't sit square on, much of the punch of the designs is pulled in the arena adjustments.
No wonder BRB want to share this 21-year-old production by BRB's former director Sir Peter Wright. It puts up all the dramatic questions that a child could ask for - will the rats eat all the toys? Is Dr Drosselmeyer a wizard? is the Nutcracker broken for ever? - and answers them all in picturesque and satisfyingly mysterious ways. We get proper magic tricks, King Rat is well caged and locked up by the soldiers (pictured below, photo Roy Smiljanic), the Nutcracker turns from a broken doll to a wounded young man whom Clara heals.
Clara's world of fantasy is poised with tremulous attractiveness between childhood and adulthood - just as the music swings violently from cataclysmic forces to most delicate lullabies and tinkling charms, so the production pits a 16-year-old sister against a 10-year-old little brother who is purest nuisance, keeps wanting to snatch and break her stuff, slugs and snails and puppy-dogs' tails. Perfect. As is the balance of all the ages at the Act 1 party, from tinies to old gramps, all with beautifully crafted and individualised dances by clever Wright.
Drosselmeyer too is perfect, the handsome godfather in a magnificent cloak who makes Christmas decorations hover miraculously in air and summons a swan to fly Clara to her Act 2 dreamland, where in among all the flowergirls and exotic maidens she identifies with, are men with big muscular thighs and Byronic hair, pouncing at the girls with ardent hurdling jumps, the acme of a teenage girl's fantasy.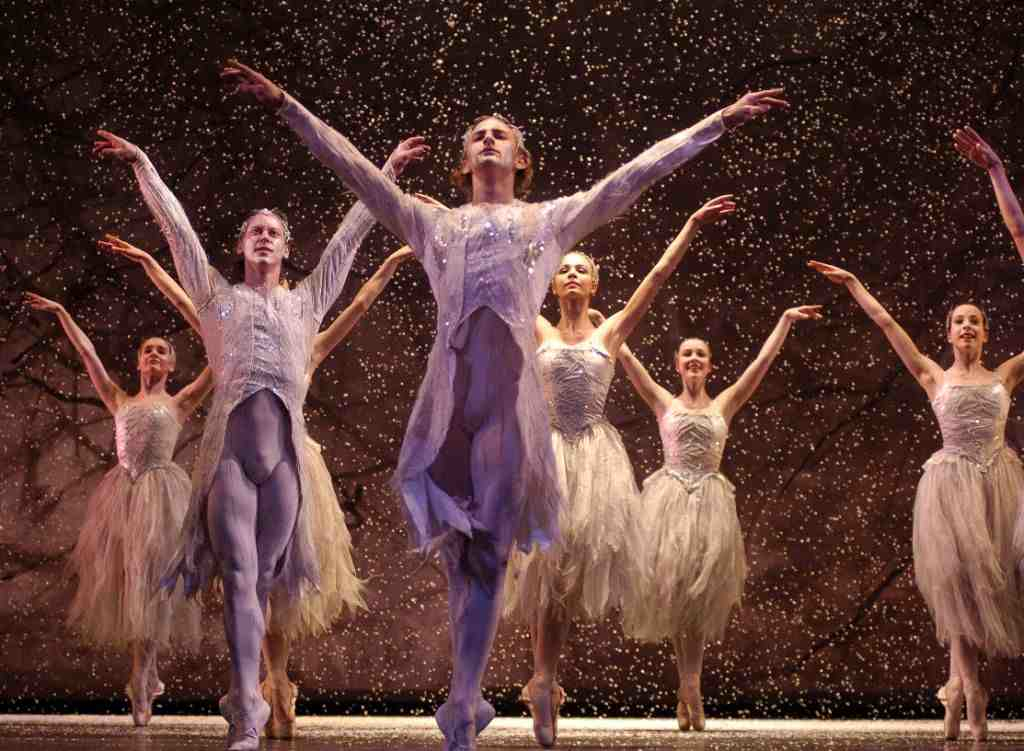 All of this is romantically theatrical - for balletic purposes - and also psychologically sensitive. It is one Nutcracker that seems to hold and delight a very wide age range from small innocents to worldly Blackberry-addicted ladettes, on my observation of audience reactions the many times I've seen and loved this production.
However, the cheer freezes in the throat because of the considerable damage done to the stage experience - which was conceived with utmost care for the Birmingham Hippodrome - by transporting it to an arena of such alien sightlines and impersonality. There will have been people last night who paid a lot and saw little of the magic that this production is famous for. Another dropping eye for the baffling presence of X-Factor pixie Joe McElderry as warm-up act - walking lonely onto the vast black stage to sing us three carols in his soft, sugary voice and promote his new Christmas album, to get us in the mood for the imperial Russian classical ballet that is about to follow. A curious marketing message - you bought McElderry, so you'll love the Nutcracker trapped in perpetual adolescence in a wooden body?
I concede that this is all likely to be more disappointing for someone who is familiar with the production staged at its best than for a newcomer. Some qualities do survive, or even (surprisingly) emerge. The much larger stage caused the dancers of both sexes last night to urge themselves to much less polite and more thrilling jetés than they give in Birmingham - almost Russian attack. The fine Royal Ballet Sinfonia under conductor Koen Kessels beamed all Tchaikovsky's musical jewels into the space spiritedly, cleanly and, in the right places, movingly. And the further back I moved to sit, the more the toy theatre effect of the distant view enhanced the very great extraordinariness and esoteric difference of classical ballet language and the lithe appeal of its performers. Which newcomers to ballet too may have sensed. But could they smell the sweet, pine-scented, fire-heated magic of the ballet The Nutcracker?
At such distance, only unusual vividness or articulacy can stand out - Robert Parker's Drosselmeyer and James Barton as his assistant had the first, Nao Sakuma's Sugar Plum Fairy (pictured right by Steve Hanson) showed the latter in the grand pas de deux with Cesar Morales. But the whole company gave an ebullient account and, if nothing else, I'd love to see them take this refreshed, larger-scale O2 momentum in their dancing back home.
It is one Nutcracker that seems to hold and delight a very wide age range from small innocents to worldly Blackberry-addicted ladettes
Share this article