I Am Slave, Channel 4 |

reviews, news & interviews
I Am Slave, Channel 4
I Am Slave, Channel 4
The dramatised story of a Sudanese girl sold into slavery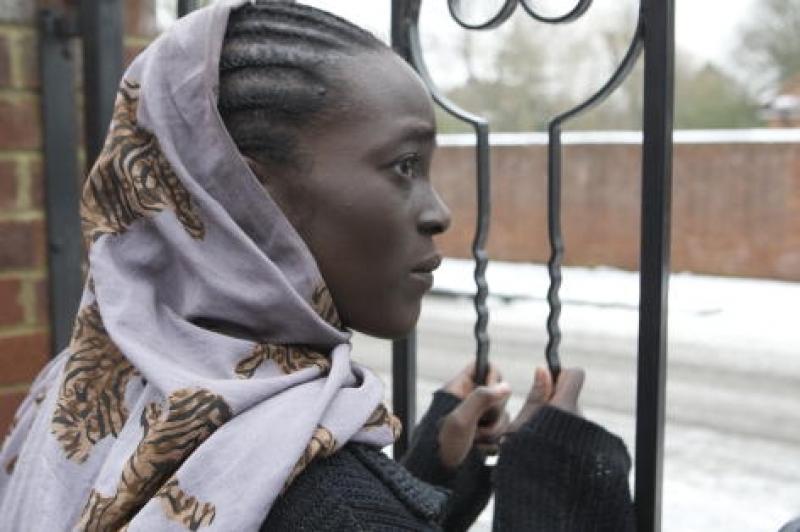 Incarcerated in London: Wunmi Mosaku in 'I Am Slave'
Television seeks out the stories thrown up by real life. On the one hand there is the obsessive interest in the private lives of the great and good (and not so good) from Margot Fonteyn to Tony Blair. Other dramatists eagerly accept the responsibility to hold a mirror up to society in all its ills from the Ipswich murders to the travails of 19th-century lesbians. But the task that all writers have to face, whoever's story is being told, is to make the narrative dramatic.
A tale of contemporary slavery ought not to struggle there.
It's taken seven years for the awful story of Mende Nazer to be adapted for television. It was originally recounted in Slave, a book which told of a young tribal girl from rural Sudan who was abducted by traffickers and sold into domestic slavery in Khartoum. Six years on, she was taken to London to work unpaid and imprisoned for a wealthy Sudanese diplomat's family. After several months she managed to escape and eventually persuaded the British to grant her asylum.
They're not exactly bare bones. Jeremy Brock's script had one small structural issue to conquer. Malia, as she was called here, didn't say a lot. "You don't talk much, do you?" said the diplomat's friendly chauffeur. Slaves generally don't. When buying her, the Arab housewife in Khartoum inspected her tongue as if Malia was any of those Africans coming ashore in Alex Haley's game-changing story, Roots. Her tongue was the one part of her body for which she had no use. She may have been a tribal princess back in the Nuba Mountains. "To them", the chauffeur explained, "you are nothing."
To make something come of nothing, Brock turned Malia's story into a more complex weave of flashbacks - to an idyllic and deliberately idealised childhood, to the terrifying raid on the village, and her enslavement to an Arab housewife. Alongside he told a parallel narrative of her father's fruitless efforts to find the daughter snatched from his hands. One pivotally dramatic scene, which presumably never happened, was even reminiscent of the end of Dr Zhivago, when from a Khartoum shop window she spotted her father (Isaach De Bankolé, pictured right) working as a binman in the streets, but was forcibly held back from claiming his attention.
The drama carefully detailed the humiliations of modern slavery. In Khartoum she was forced to sleep in a comfortless outhouse and whipped at the slightest hint of independent thinking. At 18 she was trafficked to London, where it was made clear to her that she was a prisoner of a well-appointed suburban household where she was forbidden to leave the premises or even answer the door. There were hints that the brutality of the woman she worked for, herself a chattel who was beaten and abused, was being passed down the line. Efforts to escape were met with threats of death to her family. In one punishment Malia was deprived of the lightbulb in her room, locked inside and immured in darkness.
Grim stuff, it was compellingly acted by Wunmi Mosaku. Occasionally you heard the creak of offstage machinery as Brock bent life into dramatic shape. "My cousin is nagging me to get help," her Khartoum tormentor almost certainly never said when sending her to the UK. "She can have you." Malia also had what felt like much too normalised a relationship with the two little Sudanese prep-school boys she was charged with looking after in London.
But director Gabriel Range also introduced telling felicities in a tale that strived for a kind of Homeric simplicity. When Malia was taken into slavery, she and other children were driven cross-country in the ribbed frame of an open-top truck. Later her father was seen hurling rubbish into the same kind of truck. Eventually she contrived to escape. The climactic moment, when she was connected by phone to the father who had spent six years looking for her, was beautifully acted and profoundly moving. However, not every woman sold into slavery manages to gain asylum and find her voice. The closing credits advise that there are thought to be 20,000 Sudanese working as slaves, and 5,000 somewhere in London. On all our doorsteps.