Money: Who Wants To Be a Millionaire? BBC Two |

reviews, news & interviews
Money: Who Wants To Be a Millionaire? BBC Two
Money: Who Wants To Be a Millionaire? BBC Two
A fur coat, food from Tesco, oil wells and credit-card debt with America's money-making gurus and their British disciples
Wednesday, 30 November 2011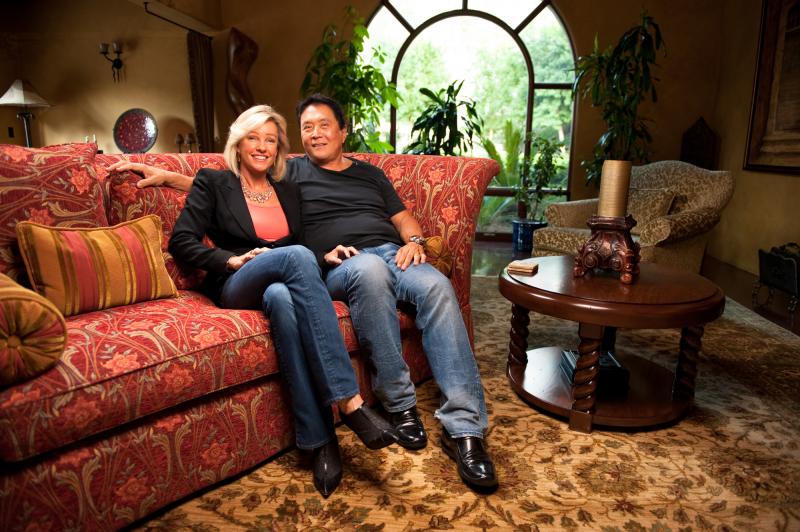 'Money's' Robert T and Kim Kiyosaki. Asset? Liability? Asset? Liability? Ker-ching
It's not long until we're told, "There is enough money in the world to make everyone in the world a millionaire." And if everyone was? Utopia and freedom might not be inevitable. Inexorable price rises would restore some sort of balance. Or a crash might follow. But as this extraordinary look into what's been inspired by the American money motivators who've washed up on our shores showed: logic, be damned.
The king and queen of money motivators are Robert T and Kim Kiyosaki. They met in a TGI Friday's when he got an eyeful of her now-bejeaned legs. After they hooked up, he went on to write Rich Dad, Poor Dad, the bestselling book that's bedside reading for aspirational millionaires from – according to Robert T - the Czech Republic to Estonia. His real dad was the poor one, the one that stuck to ideas of hard work, education and all that stuff which requires time. The Rich Dad, his second dad, was the pots-o'-money dad of a school friend. Robert T now heads the Rich Dad company, which owns golf courses, hotels and oil wells. It's located on the wonderfully named Arizona street Stetson Drive. He also gives motivational speeches. Robert T and Kim define things as assets and liabilities. A car is a liability as it requires money to run it, but it becomes an asset if you hire it out.
The money motivators inspire their followers to 'create passive income'. Sit back and it rolls in
At an appearance in Docklands, the just-out-of-school Rees, an aspiring millionaire with a job at Homebase who's been inspired by his girlfriend Sarah, gets an eyeful of Robert T for the first time. "He's a lot taller and bigger that I thought he was," muses Rees. Limiting their liabilities, Rees and Sarah arrive at the conference centre with a bag of food bought at Tesco. They'd heard the stuff inside can be dear.
The money motivators inspire their followers to "create passive income". Sit back and it rolls in. There're scads of these mantras: "act in spite of fear"; "it's not about the money, it's about the mindset". The public events are given names like Wealth Propulsion Intensive. Obviously, their events - their persona, their credo, the following they inspire - are all quasi-religious.
The first in the three-part series, Money, Who Wants To Be a Millionaire? was deft and non-judgmental. Director Vanessa Engle has form, and was behind the benchmark 2010 series Women. Before that she looked at Jews, Lefties (one of this century's most important documentary series) and Art & the 60s. Each series has had three programmes, each examining a different aspect of the subject. Generally there is little of Engle herself, with presence limited to the odd snatch of question. In Who Wants To Be a Millionaire? she did ask, "Rees, do you think you've got what it takes?" with genuine compassion.
Janice is £4000 down on her credit card as a result of paying to attend motivational gatherings
Other disciples of the motivators included David and Shirley, doing quite well as second-generation motivational coaches themselves. They also draw income from property and gave the values of the properties overall as £4-4.5 million. From this, they make £36-40,000 a year profit. Generously calculated, that's one per cent, which doesn't seem much. But they do put money into the church. The sweet Janice works with young children and is £4,000 down on her credit card as a result of paying to attend motivational gatherings.
Some of Engle's subjects make it work big time. Maria had also followed the (rental) property route and lives in a stately home surrounded by endless open space, which she strolled through in a white fur coat. Her dining hall is meant to look like a medieval church - electrically lit chandelier and all. Can't say much for her partner's blues guitar, but she shone. "Life is just one long party," she declared.
The world of motivational seminars and the idea that positive thinking can bring what's desired has been gone into grippingly by the American journalist Barbara Ehrenreich, notably in Bright Sided and Smile or Die. Who Wants to be a Millionaire? brought this to life. Home, too. It's a fact that, generally, such aspirations are manifestly unachievable, however seductive the motivators.
But who can blame the seduced? They're not alone with their unachievable aspirations. Robert T Kiyosaki made his London appearance at the ExCeL Centre where, in April 2009, former prime minister Gordon Brown hosted the G20 summit. Subsequent events showed his aspirations for the global economy weren't fulfilled. Just yesterday, the Coalition Government announced that £30 billion was to be spent on infrastructure to boost the economy. Two-thirds of that sum is apparently to come from pension funds that'll be lining up to invest. Aspirations towards the manifestly unachievable in the world of money are everywhere.
Watch the video for Bruno Mars and Travie McCoy's "Billionaire" (warning: sweary version)
Maria lives in a stately home surrounded by endless open space, which she strolled through in a white fur coat. She declared, 'Life is just one long party'
Explore topics
Share this article