Remembering Charles Mackerras |

reviews, news & interviews
Remembering Charles Mackerras
Remembering Charles Mackerras
Tributes to the great conductor who died last week at the age of 84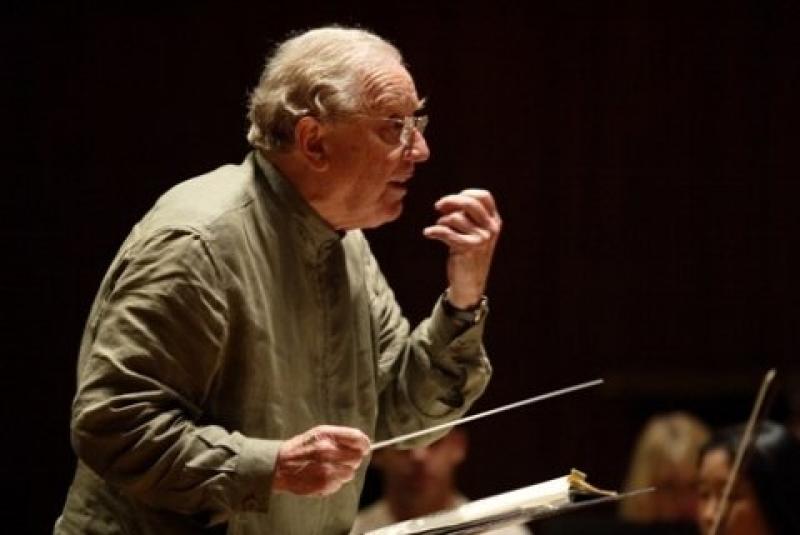 Sir Charles Mackerras: 'It was the nationalistic DNA in music that Charles was so quick to realise in performance'
Perhaps we can drop the "sir" here, as he preferred, though most of the contributors below only knew him in his knighted later years. No death of a musical great, at least since the departure of Mstislav Rostropovich, has caused such a flurry of tributes and reminiscences, even if many of us were long prepared for the end and marvelled at the way he soldiered on to give more great performances in his final year.
Tributes from
Kit Armstrong, Isobel Buchanan, Colin Currie, Sir John Eliot Gardiner, Edward Gardner, Linda Esther Gray, Roy McEwan, David Nice, Peter Rose
and
Edward Seckerson
.
If you knew the man and wanted to add anything, please don't hesitate to contact us by one of the e-mails on the contributors' page; see it as an infinitely expandable condolences book.
Kit Armstrong, pianist
Sir Charles was the first great conductor with whom I played and he was the last conductor with whom Alfred Brendel, my mentor, performed his final public concert. I played Beethoven; Mr Brendel, Mozart. There is a symmetry in this relationship with Sir Charles, then, that will always hold a prominent place in my memory.
Isobel Buchanan, soprano
I had the privilege of working with Sir Charles Mackerras on several occasions - most memorably in a production of Verdi's Simon Boccanegra at the Sydney Opera House when I sang the difficult role of Amelia. As a 25-year-old, I had everything to learn in this role which was new to me and I remember how instructive and helpful Charles was in this regard. His handling of that wonderful Verdi score was remarkable for he brought to it a classical, unsentimental and unfussy style, coupled with fire and energy which seemed to me to be the ideal approach for this difficult and complex opera. His Australian brusqueness and straightforward talk was, at times, a little daunting and one had to be well prepared and on the ball, so quick-fire was he, but having seen that you were, he was charming and fun.

I have two abiding memories. The first was when he couldn't wait to introduce Margaret Marshall and me to the orchestra at a rehearsal of Handel's Samson in the Festival Hall as "a brace of Scottish sopranos", something he found highly amusing. The second was when my husband and I were stuck in a plane on a snowbound runway in Prague with him and filled in the three-hour wait with stimulating conversation while downing the little bottles of wine brought to appease us. Would that he were still around to repeat such an experience, but, even more, that he might continue to enlighten us with his uniquely remarkable performances.
Colin Currie, percussionist
I will miss Sir Charles Mackerras. Only saw him once live, doing Janáček's Sinfonietta. It was wonderful. A true and rare musician.
Sir John Eliot Gardiner, conductor
Charles Mackerras was that rare bird among distinguished conductors, one who was prepared - and seemingly glad - to impart his knowledge and wisdom to his colleagues and to share his passion for music with other conductors (why that should be unusual I've never been quite sure, but sadly it's often the case).

I was lucky to know Charles for over 40 years and in that time grew to admire not only his generosity of spirit, but also his immense learning, his curiosity and unquenchable enthusiasm, and to value his friendship and trust. He was generous with his time and expertise, and never too proud to phone to discuss an interpretive query - whether in Bach, Schumann or Berlioz. I owe him a huge debt - not least for singling me out right at the start of my career and entrusting me to conduct (without any rehearsal) two performances of The Magic Flute at the Coliseum for Sadlers Wells Opera in 1969. I don't know whether Charles really knew this at the time, but I had never conducted Flute before and I'd not even been in an orchestra pit before; but he was willing to take the risk, and even asked me back to do several performances of Die Entführung in 1971.

Over the years we had many long conversations, poring over scores of works by composers as different as Handel, Mozart, Beethoven, Verdi, Puccini, Dvořák, Martinů and of course Janáček. Every time I was due to conduct an opera by Janáček, I would call him up and he would invite me over to Hamilton Terrace for what he would call a "driving lesson". Out would come his annotated scores and facsimiles of Jenůfa, Katya or The Cunning Little Vixen, and with them his matchless knowledge of all the problematic passages, the ambiguities of notation and valuable caution as to what to look out for. It is to him I owe the seeds of my love for Czech music, and I am especially pleased to be conducting the Czech Philharmonic at this year's Proms in what will be a farewell tribute from them, and from me, to Charles.

I suppose that if one had to focus on the main thing that singled him out among conductors of his generation, it would be his musical integrity. Nothing was allowed to interfere with that - in fact his whole professional conduct and all his actions were geared to achieving the most honest and truthful account possible of any score he happened to be conducting at the time. What more could one ask?
The final scene of Janáček's The Cunning Little Vixen directed by Nicholas Hytner with Mackerras conducting the Orchestre de Paris and Thomas Allen as the Forester:
Edward Gardner, conductor
Charles Mackerras was an extraordinary musician who was much loved and respected by everyone he worked with. Amongst all his amazing work Charles did an immense amount as Music Director at ENO and before it Sadler's Wells Opera. The breadth of repertoire that he championed was incredible. His stylistic interpretations of Mozart and Handel were like none before. He was renowned for his Strauss and Wagner and one wonders if anyone would be playing Janáček outside of the Czech Republic if it wasn't for him. He continued to support the work of ENO right up to his death including most recently extraordinary performances of Britten's The Turn of the Screw in Autumn 2009.Everyone at ENO will miss him terribly.
Linda Esther Grey, soprano, author and teacher
My main memory of Sir Charles is that when the ENO production of Carmen was televised and I was singing Micaela, having him in command in the pit was invaluable. Suddenly the role and her music made perfect sense. I had not rehearsed with him until the moment of the dress rehearsal but his musicianship and ability to understand both the orchestra and the human voice was so great that we all performed as one to bring Bizet's music to life. A fond memory of a great musician.
Roy McEwan, administrator, Scottish Chamber Orchestra
Sitting listening to Charles' s recording of Beethoven's Fidelio two days after his death, I'm struck by how much it shows of his extraordinary abilities: his huge knowledge of opera and his instinct for it, the rhythmic clarity, intensity and drive he brings to the music and the sheer honesty and integrity of his approach. Although he is often recognised for his trailblazing championing of the music of Janáček , his command of Beethoven, Haydn, Mozart, as well as the baroque masters - Handel and Bach - along with towering performances of Brahms, Elgar, Dvorak and Mahler, demonstrates what a great musician and very special conductor he was.

For us at the SCO he was a master of baroque, of Mozart, Beethoven, Schumann and Brahms and much more - and so much of it enshrined in lovely recordings with us. He was also much more though, he was a warm and humorous friend, a constant champion of the Orchestra and an artists of such commitment and lack of pretension that he will always be part of the SCO and its history and remembered with huge admiration and great fondness.
Mackerras conducts Mozart with the Scottish Chamber Orchestra: a short documentary about his award-winning recordings:
David Nice, Classical/Opera editor, The Arts Desk
Visiting Sir Charles – or plain Charles, as he insisted – at his home in Hamilton Terrace always made me feel like a student again. At our interview sessions, I felt like I was imbibing the wisdom and democratic friendliness of the great university professor I never really had. Each touched on a specific subject: Beethoven's Leonore, Martinů's The Greek Passion, the creation of his Sullivan-potpourri ballet Pineapple Poll, Britten's Gloriana, Mozart's Magic Flute and Cosi fan tutte. Fact and insight mingled with anecdote and gossip, though never unkind or harsh. He was always ready to come to the phone to clear up an overhanging question, and sent me a few easy postcards which I treasure (I've included one of them in my blog tribute).

I guess I was aware of his talents first in the form of a record cover: our local library for some reason had two copies of Pineapple Poll. Later, with awed respect for his immortal and unsurpassable Janáček recordings under my belt, his was the first concert I ever heard at the then-new Barbican Centre (conducting the English Chamber Orchestra in Walton and Strauss's Bourgeois Gentilhomme Suite). Wasn't it at the Welsh National Opera production of Tristan und Isolde that the general buzz at last hailed him as one of the true master conductors?

That was a long time in coming, since many of us had always thought his Mozart perfect in its tempo relations like no-one else could manage, and thereafter it never faded. Least of all in his incredible final year when, once I'd got over the shock of Lady Mackerras telling me of his terminal illness, I reeled at his Wagner and Beethoven. Never did make the last visit to Hamilton Terrace to get him to sign my Pineapple Poll LP and his wonderful new edition of the full score of Janáček's Katya Kabanova, but I'd had my visions. I don't feel sad now, only a bit regretful that even more of what he had lined up in his unceasing schedule could never be realised. And what a lot we have to remember him by.
Peter Rose, bass
There was never a dull moment working with Charles. He was always challenging, and paid enormous attention to detail. He was also such fun, with a wealth of anecdotes and amusing stories. I shall miss him a great deal.


Edward Seckerson, contributor, The Arts Desk
Charles was one of music's great stylists. He was the first to make me aware that "period performance practice" was a term that stretched way beyond the 18th century to embrace the whole of musical history. The way music was sounded, inflected, characterised was precisely what made French music as distinct from Czech music as English music was from American or Russian from German music. It was this nationalistic DNA that Charles was so quick to recognise and realise in performance.

How did he do it? Well, he often spoke of his "emanations" both in rehearsal and performance and given that, by his own admission, he couldn't always find the words to express precisely what he meant this might explain how musicians seemed instinctively to know what was required of them. This stylistic versatility is what made him special. And besides any musician who loved and understood Gilbert and Sullivan as completely as he did was, in my book, complete. I met Charles many times over the years and loved the fact that ours was instantly a
shared enthusiasm that no amount of scholarly analysis could define. His musicality, like all the best ones, was entirely instinctive.

I shall miss his slightly barbed charm. Like the occasion we did a Q&A at the Royal Opera House and someone commented on his tartan tie. He dutifully explained that it was an authentic family tartan, adding rather tartly that he wouldn't have worn it at all had he known that I wouldn't be bothering to wear one! That's what I loved about him - that and the amazing music-making, of course.
Share this article