The Merry Wives of Windsor, Guildhall School of Music and Drama |

reviews, news & interviews
The Merry Wives of Windsor, Guildhall School of Music and Drama
The Merry Wives of Windsor, Guildhall School of Music and Drama
Moonshine triumphs over comedy in Otto Nicolai's Falstaff opera
Tuesday, 15 November 2011
Threesome at Herne's oak: Sky Ingram (Frau Fluth), Barnaby Rea (Falstaff) and Sioned Gwen Davies (Frau Reich)
Theatregoers may be disappointed to read on and discover I mean Otto Nicolai's Die lustigen Weiber von Windsor, the only 19th-century Shakespeare-based opera in the German language to hold the stage. Which it did, and not just in Germany, until the arrival of Verdi's infinitely superior Falstaff. Is this that rare thing, German comedy in music between Beethoven's Eighth Symphony and Richard Strauss's Till Eulenspiegel that's actually funny?
Not really; Wagner's
Die Meistersinger
stands alone. But it's a piece which offers plenty of roles for student singers - with two leading sopranos, no less - and the essentially grateful choral writing comes into its own in a last act where Nicolai really is in his moonshiny element.
As he is in the overture, deservedly famous for its lovely colours and pretty ideas, though the bulk of the opera has to pass before we hear most of them again; conductor Clive Timms and the GSMD Orchesta put us in a good mood which slowly begins to crack through the determinedly jolly comic-opera duets, trios and ensembles of the evening's first half. Tom Rogers's fun costumes and ingenious sliding set of contemporary small-town life, moving between the Cath Kidston-fabricked Fluth household - for which read the Fords of Windsor - and a host of other adaptable locations, including the more coolly affluent Reich establishment, a bar, a tearoom and an office, keep us amused rather more than director Harry Fehr's looser work on character.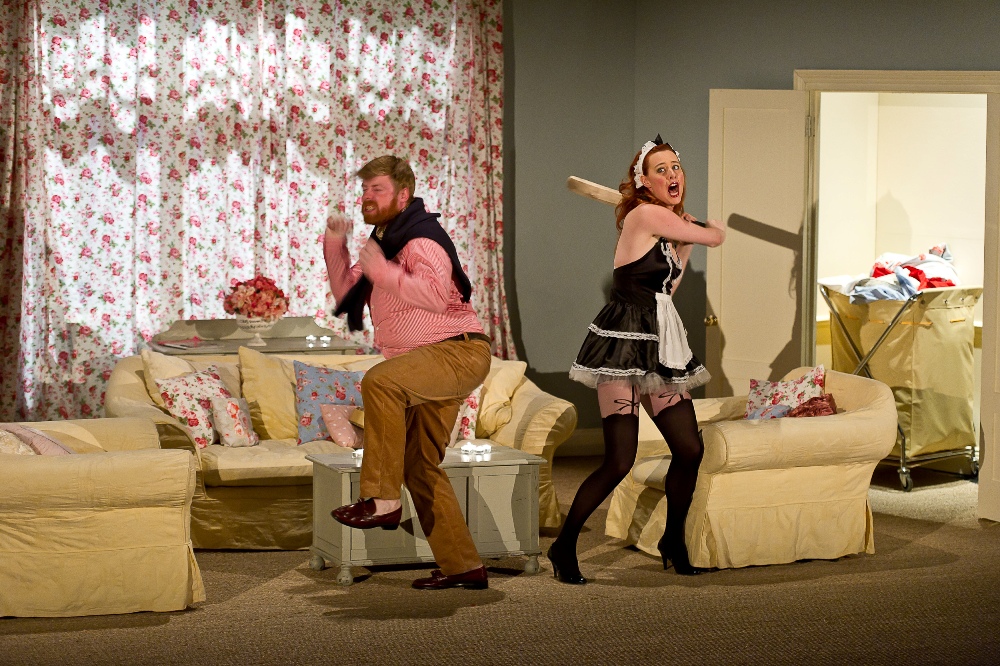 All the roles are well sung, an achievement on which the Guildhall can pride itself, but few are well defined. There's the glimmer of characterisation from Jorge Navarro-Colorado's gawky, bespectacled Spärlich, one of the two parent-approved suitors for the hand of Anna (Shakespeare's Ann Page, Verdi's Nannetta). Otherwise a bit too much laughter on stage in proportion to relatively little off is always a bad sign. Coaching of the German dialogue seems to have been rather well done, and all of it projects, but the only time I really chortled was at the second discomforting of Falstaff - Barnaby Rea, big voice and confidence but broad brushstrokes (pictured above with Sky Ingram's Frau Fluth) - when dressed up as the Fat Woman of Brentford (yes, it's funny to hear them sing about "Die dicke Frau aus Brentford"). Among the many jolly costume gags, this one evoking rather the Horsey Queen of Balmoral is to be relished. And the scene does end with a fun ensemble.
Otherwise, the best music after the overture comes in the second half. There's a decent romance for Fenton, with Luis Gomes as the right light lyric to tackle it, and a duet in which a solo violin interposes itself between the lovers as they coo through an elaborate cadenza in Windsor's Garden Tea Rooms - nice touch in the staging, this. Ellie Laugharne's Anna (pictured left with Gomes) has a freer, more easy top than Sky Ingram's Frau Fluth, though both are good and make the most of not very rewarding arias. Sioned Gwen Davies's Frau Reich gets a very German ballad about Herne the Hunter, and has fun in the forest as part of an incipient threesome.
Nicolai rather perks up, as any good Teuton should, when drinking, hunting and woods are the issues. The moonlit chorus, as the overture promised, is the loveliest thing in the score - another orchestral melody from way back never gets sung, alas - and the ensemble, splendidly attired in spooking carnival mode on a now opened stage complete with oak and giant full moon, gets not one but two originally textured Falstaff-baiting numbers. This is also where Ciprian Droma, as Herr Reich solemnly impersonating the "real" Herne the Hunter, comes into his own as a bass of promise.
For all the belated jokiness, you feel that Nicolai, constrained until the forest scene by a comic-opera mode which finds no pithy parallel for Shakespeare's earthy prose, can at last let his hair down in the company of Mendelssohn and Weber and take the supernatural seriously. Verdi, of course, does that, and all else, even better; but the time and dedication invested by these young performers does pay off in this rarity's final scene.
Nicolai rather perks up, as any good Teuton should, when drinking, hunting and woods are the issues
Explore topics
Share this article