Henry IV Parts One & Two, Shakespeare's Globe |

reviews, news & interviews
Henry IV Parts One & Two, Shakespeare's Globe
Henry IV Parts One & Two, Shakespeare's Globe
Shakespeare's greatest history plays defy summer downpours on the South Bank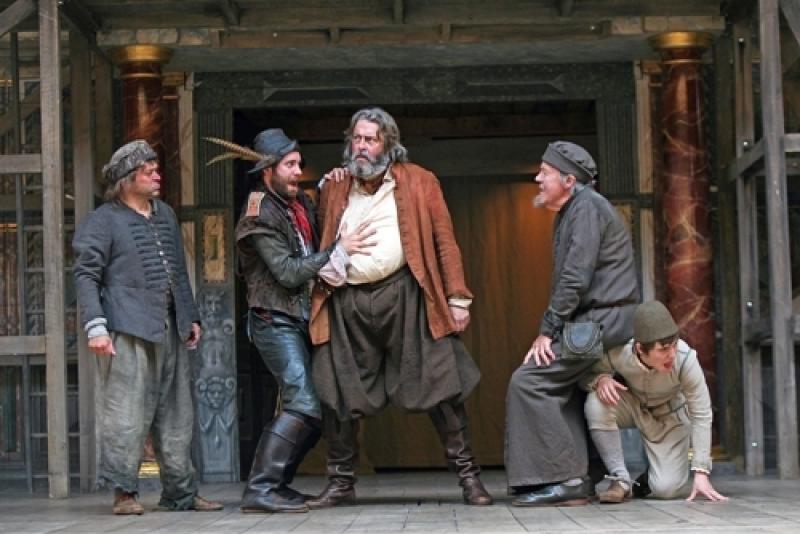 Good things abound through these six hours: Roger Allam as Henry IV's central figure, Falstaff
Shakespeare's two-part Henry IV cycle locks together the first modern plays in English. They strive for something quite new in drama, retaining a structural boldness and complexity seldom encountered in contemporary theatre. That's how "modern" they are (or seem).
And in reiterating what others must have said oft and better, I intend no abutment on that deadly phrase "early modern" into which historians, and most annoyingly many literary critics, now incorporate the word "Renaissance" - which
Henry IV
of course also magnificently is.
Dominic Dromgoole's new Globe production of both parts is strikingly set in the Renaissance - the costumes of court are all Tudor - which, vis-à-vis the historical events the plays represent, is inaccurate by about 150 years. Presumably this is to drive home the point that the middle of Shakespeare's second tetralogy is as much about his time - the need to unite an insurrectionary nation, how to remain in favour with your monarch, how to balance mercy and efficiency - as it is about that of those Plantagenet Henrys; perhaps, indeed, much more about his.
Falstaff is a pioneeringly Elizabethan figure, a supreme picture of the confidence and optimism of that queen's body politic, a man who knows few limits and can't say no, not unlike many of her famous courtiers and transatlantic sailors. He bursts with possibility, but also serves as a warning; personal misrule of his ilk will not - and this is the grim message of Henry IV part two - have its day. The Falstaffian venture is closed down by a reformed, security-conscious Hal, crowned king at the end of part two. The martial imperatives of Henry V are lethally pre-echoed in the brilliant prince's, "I know thee not, old man. Fall to thy prayers"; bombast and experimentation are to be banished from the certain world of the tetralogy's final work.
Henry V was the first thing I saw at the newly opened Globe and I remember thinking how ideal its throne-like but confining stage was for this declamatory, ritualistic and, Agincourt aside, largely still drama (Mark Rylance was the king). For the two parts of Henry IV, played back to back for the first time this week, the Globe has the effect of diminution: these late-16th-century experiments in form, not, it should be said, written for the original Globe, need expansion, spatial elasticity, something that allows their danger to breathe. The new Globe never does that for any play.
It certainly offers a unique weather risk. The downpours that drenched the groundlings in part one on Wednesday afternoon permitted Falstaff (Roger Allam) to stray edgily, cheekily, into a snippet of storm-scene King Lear: Great stuff. Allam is a compelling, swarthy Jack, but not in any convincing sense a fat knight. He is agile, a song-and-dance man of charismatic stature and rock-star grey locks. During part one's mock-interview (Act II scene ii) when Falstaff answers questions put to him by the "king", to evoke Hal's degeneracy, he grooves like a hippie, which got almost the loudest laugh of the afternoon.
The central performances are superb. Allam is so watchable and articulate (and, yes, funny) that you almost forget that Falstaff is a corrupted bag of toxins. Jamie Parker is lean, keen and ultimately, as he has to be, icily mean as Hal, and it's clear he and Allam have developed a rare chemistry. Sam Crane is brilliantly petulant as the emotionally oafish Hotspur, though less good - overwrought, underdone - as Pistol in part two. As Henry, Oliver Cotton is every inch the king, speaking thankless, though necessarily magisterial lines with gravitas and sonority.
Good things abound through these six hours - lovely detail in many of the tavern scenes, for instance, including in part two a vividly puking Doll Tearsheet; and a howlingly funny demonstration of vapid senility in Shallow and Silence (William Gaunt and Christopher Godwin respectively) later in the Gloucestershire scenes - but there's little here that's new. Dromgoole has played it safe, as the Globe stage's unyielding dimensions insist he must. But rather than a merely clean, faithful rendition, I want to see Henry IVs which burn with the excitement so evident in their pliable writing, which prove them to be the modern Renaissance masterpieces they are.
That won't be found in Southwark. Today, maybe it exists only in a reader or critic's head.
Allam is so watchable and articulate (and, yes, funny) that you almost forget that Falstaff is a corrupted bag of toxins
Explore topics
Share this article