La Traviata, Royal Opera |

reviews, news & interviews
La Traviata, Royal Opera
La Traviata, Royal Opera
It may be Gheorghiu's Ceausescu childhood, but her Violetta is extraordinary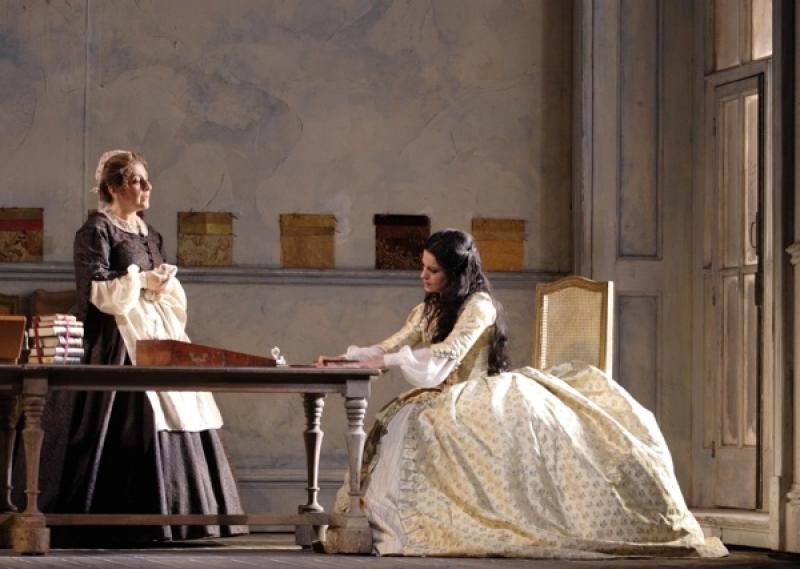 Devastating emotional power: Angela Gheorghiu (Violetta) with Sarah Pring (Annina) in 'La Traviata'
Of course she isn't now the watchful, learning 29-year-old who premiered Covent Garden's opulent, sensually loaded production in 1995, but Gheorghiu's varicoloured voice - a rainbow of tears, sobs, scoops, warbling runs and top notes that seem to rack her body with pain - has if anything added more colours since then (including a less fetching

>jeune-fille timbre in the middle that sounds as if it's hiding a problem). When in the overture the front-cloth loads its antique photograph of a plain, dumpy little girl with despairing eyes, and then fades to show Gheorghiu pensively sitting alone behind it, a dazzling picture in white, even if the faces don't match the thoughts do. This character is all cover-up on expenses, with memories she dare share with no one, and no other future she dare think about than the here and now.
Whether it's Gheorghiu's history as a Ceausescu child in a benighted Romania, she does drive the callousness of Violetta's story with a devastating emotional power, and it may be why her incarnation of Richard Eyre's production and Bob Crowley's almost fascistic set still feels so right 15 years later. The world Eyre and Crowley create is super-glamorous, it's magnetic, it's empty, it's an auction-house awaiting a prize object. That golden bowl of a salon at her place, that swirling, vertiginous red cardroom at Flora Bervoix's, these are places built for males to admire and buy women in, and the tricksier she is the higher her price. (pictured above, Gheorghiu in Act 1)

Sir Richard took a curtain call last night, and I wondered if he coached Gheorghiu in her febrile little gestures - the vulgar way she wiped her lips when she was kissed was one that caught my eye, and the way in "Sempre libera" she plucked at her gorgeous dress in something like disgust, the hint that Violetta, under her scintillating appearance, is used to quick changes of underwear. A great Violetta has a voice to register all those myriad collisions of fact and feeling, a voice etched with fragilities and secret worries, plus the iron technical strength to wring every last drop of pathos from all those textures, and for me it's Ileana Cotrubas, Callas of course, and Gheorghiu who stand out far from the armies of more golden, rational sopranos.

But her absorption in her own beauty has made the Romanian more calculating as an actress than the other two, and last night I frequently found myself shutting my eyes to close off her more-is-more school of eyebrow-dancing, and just soaking in that addictive, succulent voice which can be so affectingly sincere. And her timing is interesting too, wilful, even jazzy here and there in Act Two - giving the responsive Yves Abel in the pit quite a runaround in places - yet it's not theatrically uncreative. Her duet with the reproving father, Zelko Lucic, was sensational last night; he standing stolid and as full of male clichés as a Provençal wine-merchant, she the reckless young Parisienne with too little control over her emotions.
Still, there is also attention to be paid to her tenor, making his Covent Garden debut a few months after his Metropolitan Opera debut in this role, and with a big US singing prize under his belt that tells us that James Valenti, at 32, is being set up for a major career (pictured right with Gheorghiu in Act 3). He certainly stands out. For one thing he is 6ft 5in tall, and has a beaky modern face, like Christopher Ecclestone, quite priestly, and for another, this very unItalian-looking person possesses a warm, high and full tenor voice of genuine beauty and distinction, which he delivers with a nice sincerity, if not yet quite the full Italian striker emotional kit. Nerves must have played their part in sandbagging the final outcome of his Act Two double-whammy "De miei bollenti spiriti... O, mio rimorso! O, infamia!" after an excellent start. There is obviously an outstanding voice in the making here, though it's early days, and I'm not sure Verdi is his natural emploi unless he gets sharper Italian pronunciation and some welly in his ornaments and top notes.

The wardrobe-shaped Lucic may not look remotely genetically related to Valenti, but he gave a fine, reticent portrayal of a slowly melting Germont, despite not being much in tune with Eyre's naturalistic acting requirements. Good sounds and playing from Changhan Lim and Kai Rüütel, two Jette Parker Young Artists at the ROH, as Flora Bervoix and her patron, and Sarah Pring made an unusually impactful acting part of Annina, Violetta's maid.

Abel kept the evening well-sprung and swift on its toes from the pit, and made some great moments with Gheorghiu: in the juddering, heart-pounding pulse that he set for the dazed finale of Act Two, and in the last act, where the thread of sound that came from her throat alongside the sweet, lonely heedlessness of the violin sounds, as thin and wavering as a candle flame, the gentle valedictory of "Addio del passato", the gruff grunts of the horns under her dying song, "Se una pudica virgine", made the tragedy as piercing as it could be. I'm afraid I was in floods.
Explore topics
Share this article