David Michalek: Slow Dancing, Trafalgar Square/ Nederlands Dans Theater, Sadler's Wells |

reviews, news & interviews
David Michalek: Slow Dancing, Trafalgar Square/ Nederlands Dans Theater, Sadler's Wells
David Michalek: Slow Dancing, Trafalgar Square/ Nederlands Dans Theater, Sadler's Wells
The big screen throws up a thrilling new way of looking at dance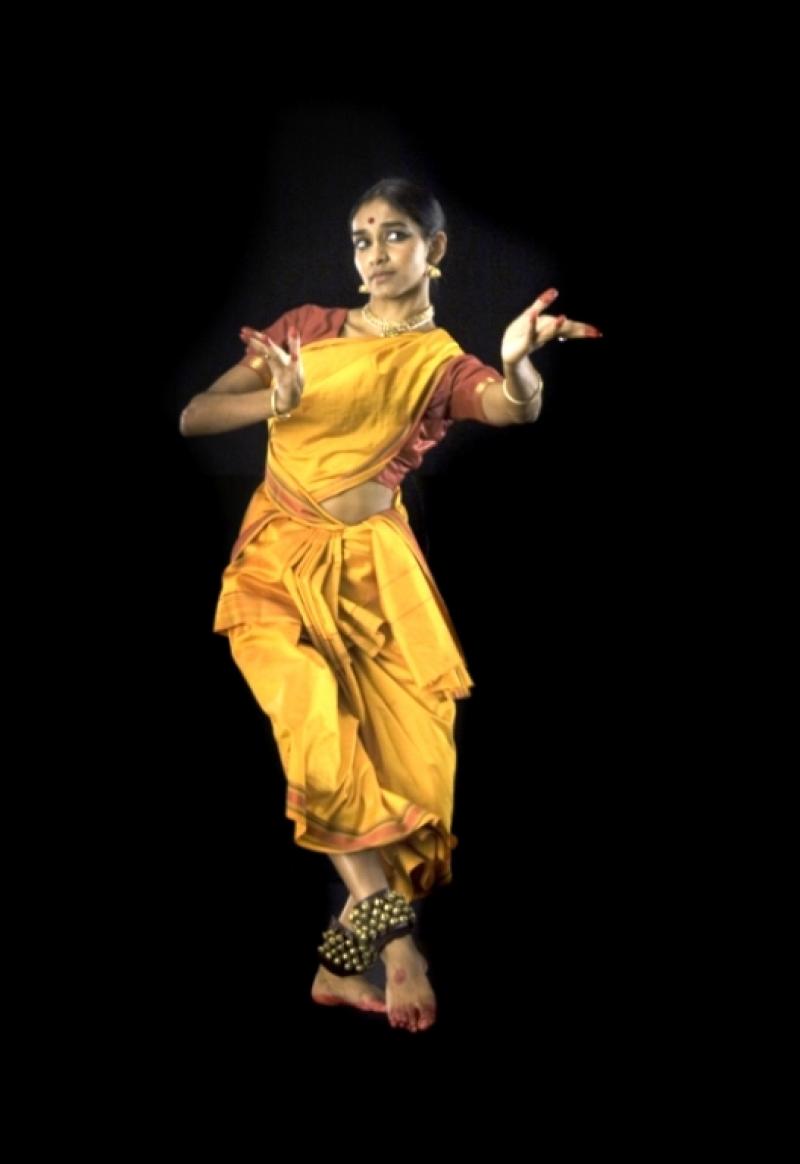 Shantala Shivalingappa appears in 'Slow Dancing' in Trafalgar Square
One of the most difficult questions to answer is what makes a great performer great? So much that happens on stage takes place in an eye-blink. Dancer A is "better" than Dancer B, but why? Critics talk about "line", about "extension", about how dancers use and shape space. But it is hard to see shapes in words. Now portrait photographer and installation artist David Michalek has, with one deft blow, solved this problem.
Plastered over three big screens in Trafalgar Square (and later in the month in Shoreditch), 50 dancers perform five seconds each of dance – five seconds that Michalek then slows down, recording at 1,000 frames per second, so that each five-second blast of movement lasts for 10 minutes.
Over 10 minutes, dancers from across the world and across the genres appear blown up on screen to giant proportions, and they appear, at first, to be merely vast posters. Then a gesture; a second; soon the viewers realise that they are watching the creative act itself: here is the essence of those two intangibles, art and technique, merging together to produce performance.
The styles and content vary wildly. There are dazzling technical virtuosi like American Ballet Theatre's Herman Cornejo and New York City Ballet's Wendy Whelan (pictured right). But there is also Allegra Kent, one of the great New York City Ballet dancers, now in her seventies, who merely bows (albeit more elegantly than one could imagine possible); Judith Jamison, one of the stars of the Alvin Ailey company, and until 1989 its director, also moves little, yet her presence looms large. Other performances are more idiosyncratic: Glen Rumsey, for many years a fine dancer with Merce Cunningham, also has an alter-ego as drag queen Shasta Cola, and here Shasta shows off a really great pair of legs. Whirling Dervish Emine Mira Hunter is breathtakingly focused, mystically serene, and kuchipudi dancer Shantala Shivalingappa (main picture, above) shows off her East-West fusion.

The three screens are programmed to cycle randomly, so at the same time the viewer might see an Indonesian dancer, a contemporary performer and a ballet dancer – or three dancers all from the same company, but over several decades. The connections and the dissonances are the viewers' to make. As well as the dance element, Michalek's profound photographic eye, and the slow speed, allow the more sculptural elements of both dance and photography to develop – the movement of fabric and skin alone is hauntingly beautiful, while the dense, lush, saturated colours reinforce and recapitulate the light and shade that create shape.

Trafalgar Square big-screen events have sometimes been a bit hit and miss, but the possibilities of installation art are only now being explored. With Slow Dancing, the central plaza has a winner. Not to be missed.


Meanwhile at Sadler's Wells, Nederlands Dans Theater is appearing as part of its 50th anniversary tour, with two programmes that recapitulate some of its history. The evening, however, is not really a celebration. While NDT's choreographers are consumingly interested in emotions, it is rarely the upbeat emotions that preoccupy them. For the most part, the world of NDT is angst-ridden, fascinating and sometimes exhilarating though that can be.
The first programme kicks off with Dissolve in This, choreographed by Johan Inger, once an NDT dancer himself, and then for many years director of Sweden's Cullberg Ballet. It is, unfortunately, a fairly standard piece of identikit Eurodance, with a lot of unresolved relationships and thrumming techno-sound (Ian Andrews' Ceremonial). As always, NDT's dancers are technically extraordinary – some of the best in Europe – but even they can make little of this.

Much more appealing is Subject to Change, by NDT's resident choreographers Paul Lightfoot and Sol León. Lightfood/León's work has a very recognisable, slick, accessible surface, and frequently there is meat as well. Subject to Change, to Mahler's rather strange arrangement of Schubert's Death and the Maiden (played in a shockingly tinny, variable-sounding recording), focuses on a central pair, the charming young Chiaki Horita and her partner Percevale Perks, who play out yet another tormented relationship across a red carpet, manipulated with Kafka-esque overtones by four black-besuited men. The core is slight, but the staging, as ever with this pair, is stylish in the extreme.

The final piece comes from Jiří Kylián, NDT's director from 1976 to 1992, the man whose work put NDT firmly on the map. Whereabouts Unknown (pictured above), from 1993, has some splendid ensemble work, for both a large women's corps, who produce a theme and variations on various primitive rhythms, and male soloists, who are given dazzling virtuoso steps which they perform with an almost insolent ease.

NDT, as always, produces an aesthetically smooth, technically and artistically adept evening. It just isn't much fun.
The possibilities of installation art are only now being explored. With Slow Dancing, the central plaza has a winner
Share this article