Beethoven Cycle, Concert 1: Leipzig Gewandhaus, Chailly, Barbican Hall |

reviews, news & interviews
Beethoven Cycle, Concert 1: Leipzig Gewandhaus, Chailly, Barbican Hall
Beethoven Cycle, Concert 1: Leipzig Gewandhaus, Chailly, Barbican Hall
Chailly's boyish spirit delivers a buoyant but perhaps slightly brash start to the cycle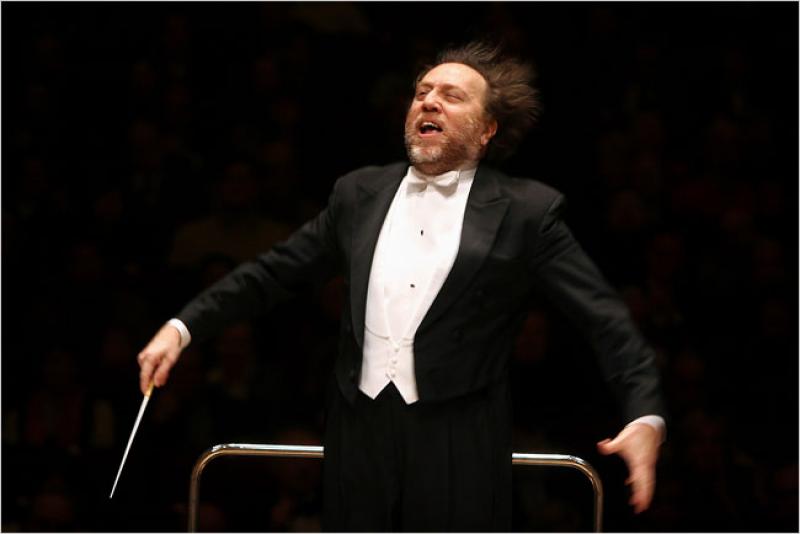 Conductor Riccardo Chailly: was his Beethoven Five too savage?
There are many ways of breathing new life into Beethoven. Carlos Kleiber used to do it through imagery. He once famously asked his Viennese double basses to play like monkeys during a rehearsal of Beethoven's Seventh. Riccardo Chailly's tactic for his Barbican Beethoven cycle with the Leipzig Gewandhaus orchestra appears to have been to become, if not monkeyish, then at least a bit of a mischievous teenager.
Consequently, his first concert saw him throw out the Classical niceties and fill the hall with impish dash and boyish extremes.
Beethoven's Second Symphony gained in stature. With a beefy mainframe and swift tread, the work began to knock on the door of the Eroica and the Fifth in terms of heralding the Romantic age. Chailly relished taking the bumps in the string fabric of the opening movement at speed, generating the most magical uplift and gusty tumbling as the line jumps up from its trilling tracks, then returns. The strings continued to show off in the Larghetto. This time it was their flexibility that was on parade.
Chailly's deliberately rushed and savage attack in Beethoven's Fifth didn't quite work
There was a lovely competitiveness to the pass-the-thematic-parcel of the Scherzo. And no one could have matched Chailly's rambunctiousness in the Allegro molto finale. But the movement also saw the start of a riotously, almost teenage brashness in tempo and texture, especially in the massy final downbeats. Chailly slashed through the musical furniture as if he were William Brown and he'd suddenly come into the possession of a meat cleaver. It was a sign of things to come.
But first, as with every concert in this series, we were offered a non-Beethovenian musical interlude and UK premiere: Carlo Boccadoro's effective single-movement work Ritratto di musico (2011). The piece is essentially a timpani concerto, around which clouds of brass and strings swirl up in angry squalls. An impeccable slice of Modernism builds itself up, one full of spectacular tempests and a scene-stealing col-legno dappled passage. Its lithe fury did something I thought I'd never witness; it upstaged Beethoven's Fifth.
Chailly's savage, deliberately rushed attack, particularly in the opening Allegro con brio, was no doubt thrilling. But it appeared to spotlight the crushing unity of Beethoven's Fifth over other aspects that might have been worth illuminating. Then again, the magical change of key ushered in by wary flutes in the Andante proved Chailly could do tenderness when required. And the way he brought out the piccolo line in places I never knew they existed in the Allegro finale and the cellos in the Allegro third movement showed this was in no way an unthinking performance.
Subtlety could be found. But mostly one was witnessing a noisy, modern brashness in the playing. The audience loved it. I loved it, when the fierce attack was deployed on the earlier symphony. But when applied to the Fifth, it shed little new light. In fact, coming to such a forcefully consolidated performance of Beethoven's Fifth after the lithe metric experimentalism of Rameau's Castor and Pollux made me wonder whether music hadn't substantially retrogressed with Beethoven's rewriting of the rule book. And I'm really not sure that the start of a Beethoven cycle is meant to conjure up such treacherous thoughts.
The lithe fury of Boccadoro's new work did something I thought I'd never witness; it upstaged Beethoven's Fifth
Share this article