Le nozze di Figaro, Royal Opera |

reviews, news & interviews
Le nozze di Figaro, Royal Opera
Le nozze di Figaro, Royal Opera
Colin Davis brings his habitual brisk elegance to Figaro. Pity the cast didn't get the memo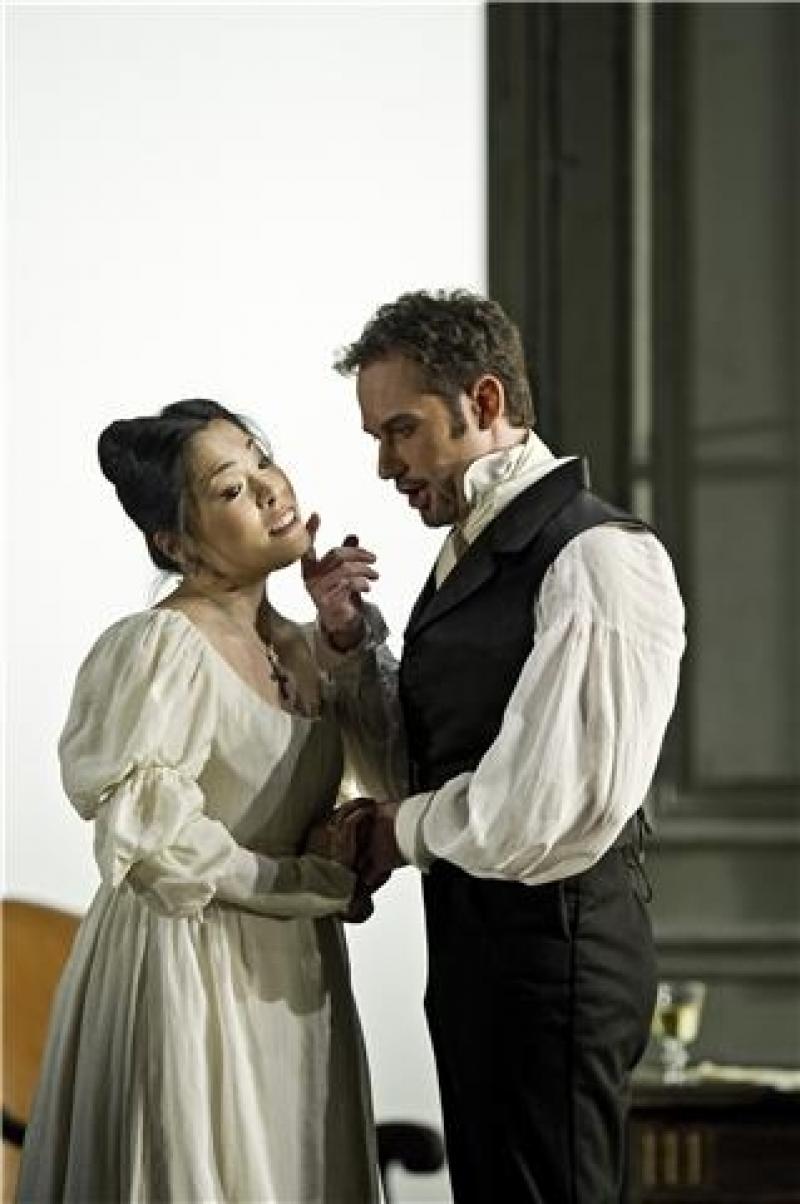 Mariusz Kwiecien (Count Almaviva) sets about seducing Eri Nakamura's fiesty Susanna in David McVicar's 'Le nozze di Figaro'
The opening night of Le nozze di Figaro was not so much an opera of two halves as an opera of two teams. In the pit we had Sir Colin Davis and the Orchestra of the Royal Opera House offering a crisply incisive rendering of Mozart's score; onstage we had the Royal Opera Chorus and a selection of soloists, most of whom seemed set on a rather different – and, in the case of the chorus, downright lacklustre – rendition of the score.
Now on its second revival, David McVicar's all-the-hallmarks-of-a-classic production should have the comfortable swagger of a sophomore, but it was the first-night nerves of an untried fresher which were painfully evident at last night's performance.
When the curtain rises on the overture it's not upon the polished and perfected scene of the Almaviva Château, but its off-duty backstage bustle. A platoon of strutting footmen and scampering chamber maids have taken over the house in their morning ritual of cleaning and preparation; crucially it is their world into which we enter, not that of their masters. The laughter and horseplay is in itself benign enough, but with further episodes of revolution ahead in this updated 1830s setting, the gang of uniformed servants takes on a rather more sinister subtext, crystallised in Figaro's "Se vuol ballare".

Much has been said of McVicar's decision to shift the setting fifty years later than the Beaumarchais original - yet in practice it's a gentle adjustment which does double duty, rendering costumes marginally less constricting and reinvigoraing the rather tired Figaro trope of the class war. Strangely, though, McVicar makes little effort to engage with the political ramifications of this new setting, and despite his expressed desire to "…guide the singers away from traditional comedy toward a more heartfelt, painful reading of the text", it's an aim that remains frustratingly unfulfilled.

Among the cast it is only the magnificent Erwin Schrott who returns to the production this time around (although Soile Isokoski will appear later in the run as the Countess). His Figaro is a swaggering rogue of a man, pitched just on the right side of brash, perpetually self-possessed and with just a touch of sadism. The naturalistic sung-spoken approach to recitative that he demonstrated on his last outing is still much in evidence, giving the dialogue passages an undeniable life, if occasionally risking unbalancing the more traditional approach of the rest of the cast.

More than a match for him dramatically was Polish baritone Mariusz Kwiecien, whose Count Almaviva was a deliciously nasty piece of work, trampling over the furniture with the same sense of entitlement as his wife and staff. It's hard not to miss the sheer venomous charisma of Gerald Finley in the role, but Kwiecien's warmth of tone and striding energy more than convinced.

With both Peter Hoare (a bizarrely camp Uriah Heep-like Don Basilio) and Robert Lloyd (Bartolo) also giving strong performances, it was the women of the cast who suffered by comparison. Along with many, I was charmed by Japanese soprano Eri Nakamura at last year's Cardiff Singer of the World, and enjoyed her capricious Musetta last year at the Royal Opera House. Expecting much of her Susanna, I was disappointed by a performance that got off to a very nervous start, suffering in all but inaudible diction and projection. Physically very slight, she has nothing like the natural vocal power of Annette Dasch (Countess), and has to work hard to match those around her. When all is functioning well – as it began to later on in proceedings, "Deh vieni" was beautifully sung – she reveals herself as feisty and convincing, yet the comedy that she brings to the role often feels rather forced; all the gestures and intentions are there, but still a little out of focus.

Rounding out the women was Jurgita Adamonyte as the lovelorn Cherubino and Dasch as an appropriately youthful Countess. More than a little uneven in both tone and pitch, Adamonyte failed to capture the energy of her role, bringing more sulky adolescent and less charming man-child. Dasch suffered initially with vocal control, but grew into a competent – if rather bloodless – Countess. Required to go from 0 to 60 mph for opening aria "Porgi amor" she made it to a rather pedestrian 45.

Declining the theatrical custom of having previews, opera productions tend to launch straight into a first night. As with so many recent ROH shows, this one could have benefited from some trial runs. The consistent lag between stage and pit and the disparity in vocal and instrumental interpretations signal a production that still needs to find its feet. Once it does it has all the makings of an intelligent and enjoyable evening out. One to revisit in a few weeks' time.
Schrott's Figaro is a swaggering rogue of a man, pitched just on the right side of brash, perpetually self-possessed and with just a touch of sadism
Share this article