The Playboy of the Western World, Old Vic |

reviews, news & interviews
The Playboy of the Western World, Old Vic
The Playboy of the Western World, Old Vic
Witty and lively production of Irish masterpiece
Wednesday, 28 September 2011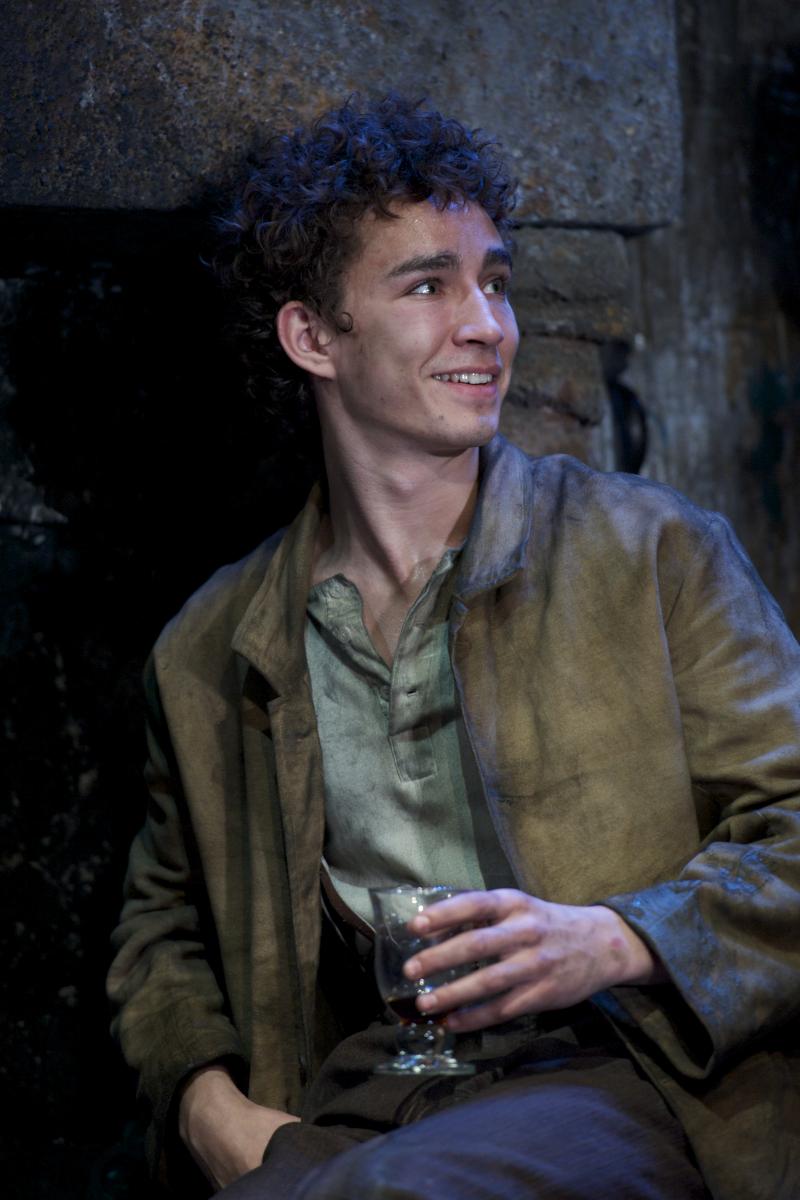 Robert Sheehan makes an assured stage debut as Christy Mahon
It's difficult for modern theatregoers – in or beyond Ireland – to understand the extraordinary furore The Playboy of the Western World caused when it was first performed in 1907 at the Abbey Theatre in Dublin.
Protesters, who believed the play was a slur on the Irish people, gathered at the theatre and drowned out performances with their shouting, and there were even cries of "Kill the author".
JM Synge had committed the cardinal sin of holding up a mirror – albeit a mirror that distorts for comedic effect - to his native land. In a country that was gaining confidence in all things Gaelic (although had some years to go before becoming an independent nation), a play that appeared to mock Christian virtue, make comedy out of parricide and have fun at the expense of Irish peasants and their distinctive manner of speaking English was going too far. And when its writer was a member of the Protestant Ascendancy, well, that was beyond the pale.
But good sense eventually prevailed and Playboy - a masterpiece of both the Irish theatre and the English-language canon - is now viewed as a truly great dark comedy, and one that Artaud saw as a precursor of the theatre of cruelty. But you don't have to understand its historical or political context to enjoy what is a fabulously written and neatly plotted drama.
John Crowley's lively production at the Old Vic tells the story with great wit and assurance. Set in a small coastal village in County Mayo (deep in Cromwell's "To Hell or to Connaught" territory), The Playboy of the Western World tells the story of the gormless Christy Mahon, who turns up late one night in Michael James Flaherty's pub, claiming that he has killed his brutal father by splitting his head open with a loy (spade).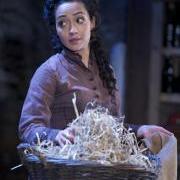 The unprepossessing fellow goes from zero to hero as the villagers admire his daring. In telling his tall tale he has suddenly gained a strange kind of glamour, and two women - the landlord's feisty young daughter, Pegeen Mike (played by Ruth Negga, pictured right), and the man-eating Widow Quin – vie for his attentions.
Then his father – with a bandaged head but very much alive – comes into the tavern and the villagers turn against Christy, and he is brutally rejected by Pegeen Mike as she realises her longed-for romantic hero turns out to be nothing of the sort.
Scott Pask's set - a tiny two-room stone cottage - neatly conveys not just the limits of Pegeen's life, but that of everybody in the village, for whom the land beyond is called "the big world". The Mayo accents, with one or two exceptions, are spot-on but I heard mutterings around me that some were struggling to understand every word.
Robert Sheehan (of E4's Misfits) makes an assured stage debut; despite his obvious good looks he manages to convince us of Christy's disbelief at suddenly being a catch, and the scrawny, curled-up wretch of the opening scenes literally grows in height throughout the play as Christy's self-esteem increases.
Negga plays Pegeen with a distinct steeliness, although her delivery of the closing words of the play - "I've lost him surely. I've lost the only playboy of the western world" - is heartbreaking. Niamh Cusack is superb as the calculating Widow Quin, who may not get her man but drives a hard bargain in the meantime, while great support is given by Kevin Trainor as Pegeen's cowardly suitor Shawn Keogh and Frank Laverty as her father.
The Playboy of the Western World is at the Old Vic, London SE1 until 26 November
Despite his obvious good looks Sheehan manages to convince us of Christy's disbelief at suddenly being a catch
rating
Share this article