The Metamorphosis, Linbury Studio Theatre, Royal Opera House |

reviews, news & interviews
The Metamorphosis, Linbury Studio Theatre, Royal Opera House
The Metamorphosis, Linbury Studio Theatre, Royal Opera House
Dance version of Kafka majors in black slime and comedy, but fails in the wider tragedy
Thursday, 22 September 2011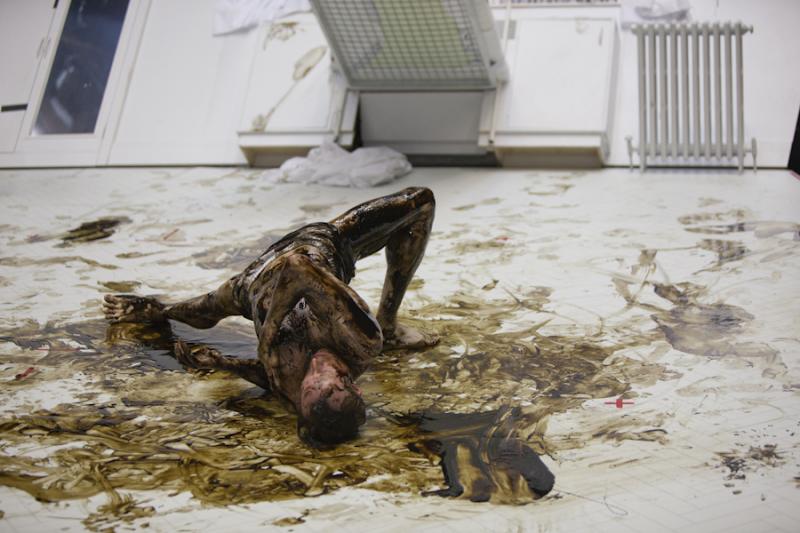 21st-century insectoid man: Edward Watson as Gregor in The Metamorphosis
My acid test for whether a show's worth going to is, specifically, whether it was worth driving 27 miles into town and 27 miles back, spending, say, three or sometimes four hours travelling to see something 80 minutes long. Not often is it worth that. But if it was on in a theatre near you, it would be worth picking up. And so I say for Arthur Pita's The Metamorphosis.
If I lived in London I would not be malcontented to have gone to see it, since Pita is a distinct theatrical talent, rather in Matthew Bourne's mould, with a showman's feel for the stage and a considerable skill in entertaining details. But The Metamorphosis, meaning Franz Kafka's story about a man who finds himself turning into an insect, needs decisions made about what its effect is to be.
Pita's "re-interpretation" is very enjoyable in many ways, particularly in its tragi-comic observation of doomed Gregor's family, and also in performers and collaborators who could hardly be bettered. But in human significance, in telling you what this story means to him, and what you or I should read from this man's agony, this family's shock, this diabolical event, it comes nowhere near literature's ability to take you to both the outside and the inside views.
Still, lots to commend. The set by Simon Daw is spectacularly simple yet clever, an all-white island encircled by the audience, like nosy neighbours listening into Gregor Samsa's home, his bedroom one side, the cramped family kitchen the other. The interior and exterior walls are invisible, yet made unarguably visible through Frank Moon's brilliant soundscore and Guy Hoare's equally inspired lighting. There is knocking on doors everywhere - invisible doors, invisible walls, which spring into absolute presence with Moon's sounds and Hoare's lighting.
A bravura opening lays out with amusing exactitude the characters - it's almost the cleverest part of the 80-minute evening. Three typically repetitious days in the life of the Samsa family, conjured on a two-minute loop of movement (roughly), describe hardworking Gregor the fabric salesman, his dance-crazy little sister, his sick mother, his irascible father, and the oppressive, conformist society that they live in.
The transformation of Gregor into an insect is predicated on Edward Watson's hyperflexibility and his genius for otherworldly characterisation. In fact the whole show is probably predicated on Watson, a Royal Ballet star with some very unRoyal Ballet extras in skills. His alteration into the insectoid state is horrifyingly well done. His limbs fly into the air as he lies quaking on his bony back, an upended beetle. Even his toes quiver (they're unusually prehensile toes, as long as children's fingers). The problems begin, to a large extent, there.
Once Watson has become physically trapped in his insect state, while one gawps at his ability to tie knots in his own limbs, we entirely lose touch with his mental condition, and from then on have no idea at all whether his mind remains entirely conscious and repelled by his grotesque entrapment (as happens with, say, people suffering fatal disease) or whether he is rendered inhuman metaphorically by his own choice (as with people who adhere to an unpopular, anti-social cause or tendency).
There are copious emissions of black fluid around the stage, which add revolting bonuses for those who like mess - but apart from feeling repelled, I couldn't sense whether this mess was about Gregor's choice or his doom. Each of these distils a different type of tragic response. I was left admiring Watson's virtuosic disgustingness, but emotionally distanced from sympathy or fear.
More emotionally attractive is the star performance by the teenaged Laura Day as Gregor's little sister. Obviously a very well trained ballet student, which she demonstrates as her character's story is developed in little snippets, she's also a remarkably confident and compelling actress. Her part of the story becomes more absorbing than her brother's, as she moves in exact choreography from his innocent defender to more worldly fury with him for being different, to the potential to betray him. Her story is the most political content of the piece.
Around her the parents are marvellously enacted: elegant Nina Goldman as the tense, docile mother who evidently can't show her emotions (strong shades of her longstanding identification with the Queen in Bourne's Swan Lake - Bourne being Pita's longtime associate and mentor too), but as remarkable a performance (with less material) as the testy, tested dad, from Anton Skrzypiciel, a veteran who nails the complexity of living in a compromised society with perfection.
Equal laurels to the versatile Bettina Carpi, who switches from the Samsas' voluble cleaner (the only person who sympathises with the cursed Gregor, someone used to clearing up people's messes) to oily black nightmare creature to curvaceous kiosk coffee-girl in a trice, all with great comic aplomb. These three performers between them summon up the oily, corrupt, fearful world that they live in, and as Pita credits his performers with co-choreography, it may be that they deserve the bouquets.
I'm picking out much to praise - why do I say, it wasn't quite worth the journey? Because in the end, this must be about Gregor, the man in the transformation, his feelings, his shock, his trauma, his story, our story. And while Watson does more than anyone alive could probably do to animate him, Pita hasn't given him enough scope to tell us, in the end, what the story was.
His alteration into the insectoid state is horrifyingly well done. The problems begin, to a large extent, there
Share this article