Interview: Martin Amis on 'The Whole Book-To-Film Department' |

reviews, news & interviews
Interview: Martin Amis on 'The Whole Book-To-Film Department'
Interview: Martin Amis on 'The Whole Book-To-Film Department'
Quake that Money maker: why Martin is harder to adapt than Kingsley
Not Mel Smith or Gary Oldman: John Self, slob anti-hero of 'Money', is finally incarnated by Nick Frost
Martin Amis always had his own idea of who should play John Self, the anti-heroic slob narrator of Money. "The only regret I have in the whole book-to-film department," he told me, "is that Gary Oldman never played John Self. We had a meeting with Gary and he was so unbelievably good, and so instinctively got the character and made me laugh so violently when he did it, that I thought that was a great shame." Oldman was even prepared to go the extra mile.
"He said, 'I'm going to give up smoking and take up drinking and put on the weight.'" That version never happened. But
Money
has finally been made.
Yes, the much-vaunted novel, still regarded as the game-changing peak of Amis's writing life, has finally got the green light. This, to recap, is more than any other the book which taught a generation of laddish votaries to inflect their prose with triple-decker epithets, street-lexical flashiness and varieties of high-wire swerve and swirl. It now finds itself acted out as a drama in two parts. The role once earmarked for Oldman and any number of other actors has gone to Nick Frost, whom you'll know as Simon Pegg's sidekick in Shaun of the Dead and Hot Fuzz.
It's kind of apt that the ur-novel about movie pre-production spent forever in development hell: 29 years, in fact. Writer after writer took one look at the signature twang and snap of Amis's wrought style and backed right off. Patrick Marber was asked to do a script but thought better of it. Jez Butterworth, the author of Jerusalem, was on the case for a while. The job eventually found its way to his brother Tom Butterworth in tandem with scriptwriter Chris Hurford. Hurford's big credit is Ashes to Ashes, which fits, as Money is as integral a portrayal of the Eighties as The Bonfire of the Vanities.
Is the TV version any good? That is to be decided shortly. But while we wait, it has to be said that the runes don't augur well. The truth is that, while it's always been a struggle for Amis adaptations to happen, whenever they have happened they probably shouldn't have.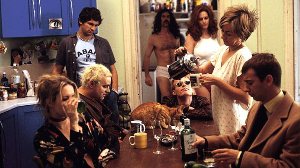 Take Dead Babies (pictured right). For those readers who thrilled to what its author ruefully calls its "sicko exuberance", there was good news in 2000 when after 25 years Amis's second novel, about a lost weekend of Olympian hedonism, became a film. But with a title that was repugnant to the bland taste buds of the multiplex behemoth, the movie gained access to only three screens nationally. It shared the novel's unreconstructed stance on leering at, for instance, tits. Its cynicism proved indigestible. Amis also thinks they shouldn't have updated it from the 1970s.
"I do think they should have made it a flared-trouser film," Amis told me. "A period piece. That would have relaxed the audience. Because I'm sure present-day decadence is very far developed beyond that. Dead Babies does try and have it both ways. It exults in the decadence and deplores it at the same time. But you can't retroactively clean up your past. So it just has to stand."
The one thing it caught beautifully was the main casting. Andy Nyman played the stack-heeled little tubster Keith Whitehead, the prototype of the luckless Amisian troglodyte. Paul Bettany embodied that other stock figure in Amis's purview, the tall blond Narcissus who always turns out to be in the grip of some climactic psychosis. It's not just the problem of translating prose into pixels. You wonder whether movie-makers just don't want to visit these themes as often as Amis does.
The tussle between erect sapient Aryan and thwarted saturnine dwarf would seem to be some kind of internalised Jekyll-and-Hyde chessboard butch-out, eternally enacted between the author's ego and id. On the one hand there is Amis's brash babe-slaying super-confidence. On the other, his narratives reek of anxiety about lack of inches and rotting teeth, both traditionally associated with limp dicks and bedroom defeat. The themes are variously re-run in Success and The Information. There was a runty little Keith in London Fields, and there's another fronting the new one, The Pregnant Widow. All these Keiths, it would seem, amount to Amis's very own Zuckerman.
And then there's Money (pictured left), where the two Amisian archetypes are slobby commercials director John Self (Frost), who gets a shot at the big time thanks to American producer Fielding Goodney (Vincent Kartheiser).
Dead Babies followed The Rachel Papers (1974), his first novel, which took 15 years to become a film. Amis concedes it was "a bit soft". Several more of Amis's novels have spent time in or out of option stasis. There's been a Nicholas Roeg script of Night Train, unfilmed. A lapsed Orthodox Jew from film school in New York had a stab at Time's Arrow, the backwards-travelling tour through Auschwitz. The Information, a portrait of literary jealousy assumed - despite the author's denials - to riff on his on-off friendship with Julian Barnes, has no doubt found a buyer, but there's no news of a film.
If, at the current chronological rate of production, each novel takes 10 years longer than its predecessor to reach the screen, by my calculation Night Train will appear in 2072. But Amis knows they won't all get made. "You're nuts to build anything on these. I don't follow it because I don't want to get my hopes up. I know just how flukey the whole thing is."
Let's face it, his dad Kingsley's more linear novels have often glided effortlessly from page to small screen, while Martin's stay trapped in the starting blocks. He has even had a go at script midwifery himself. His own adaptations of The Rachel Papers, which was due to star a young Rowan Atkinson, and Dead Babies, were written and rejected in the 1970s.
There was one short, starring Adrian Edmondson and Rik Mayall, called Mixed Doubles, of which he is quite proud. "It was a role reversal number where the boys behaved like girls and the girls behaved like boys. It went out with The Stud. No, it went out with The Bitch. Even better." He wrote Saturn 3 (1980), a sci-fi fantasy that crashed and burned. Not a lot of people know that it was Amis who, long before Tim Burton clambered aboard, was approached to write a script for Mars Attacks! "All I was given was the title really. And I wrote what I thought, and still think, was a very good script. It was adjudged 'too hip for the house', said the producer."
Film has thus been more profitable for Amis as a source of inspiration for his fiction. Career Move, a short story in which poets are the new superstars, was inspired by his entanglements with Hollywood when writing Mars Attacks! Christopher Coy, the director who was all set to make Dead Babies in the 1970s, "gave me quite a bit of inspiration for John Self. He's one of those people whose body language is very amusing and who, at that stage, was rather rash generally with himself. I don't think he'd be too appalled to hear that." Lorne Guyland, the ageing film star in Money obsessed with stripping off, is based on Amis's experience of Kirk Douglas on Saturn 3. "Kirk had a thing about being in the nude."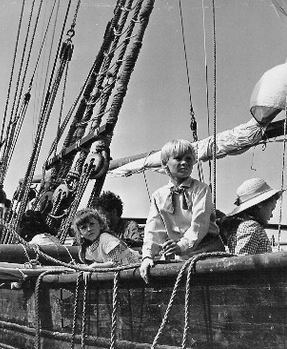 Amis had an early exposure to movie-making. As a 14-year-old he was cast in High Wind in Jamaica (pictured left) when its director Alexander Mackendrick happened to mention to Kingsley over Sunday lunch that they were desperate to cast a teenager. He has written about the experience in his memoir, Experience. He flew to the Caribbean with his mother.
"I was quite excited, yeah. There was one Rada guy as well, but he had a cockney accent. I was the right age and had the right voice, but the voice turned out to be a disaster because it broke in the middle of filming. As a friend of mine said, 'You looked as though you were heavily bribed to do everything you did.' It was 50 quid a week. I bought all sorts of things with that - drum sets and cars." He played chess with Anthony Quinn on set. Did he win? "I think I did. But he was playing two other games simultaneously. He lost those as well."
His only other acting gig was doing a screen test for Money with Mel Smith. In a previous life, Smith was a possible for John Self, and Amis played himself in that tricksy post-modern scene where the author meets his protagonist. "We did the scene in a caff in Westbourne Grove. It was that conversation about 'Do you want to be a winner in the evening or in the morning? You can't be both.' We did it and I felt the same paralysing self-consciousness I'd felt as a 14-year-old."
Watch a Money clip


The tussle between erect sapient Aryan and thwarted saturnine dwarf would seem to be some kind of internalised chessboard butch-out between the author's ego and id
Explore topics
Share this article