Ashes to Ashes, BBC One |

reviews, news & interviews
Ashes to Ashes, BBC One
Ashes to Ashes, BBC One
All, more or less, is explained
A farewell to arms: Gene Hunt and Alex Drake enjoy one final shoot-out
After the final episode of The Prisoner was aired in February 1968, Patrick McGoohan had to go into hiding after being besieged at home by viewers demanding an explanation about his teasingly obscure (and, I think, rather brilliant) ending.
It's unlikely that Matthew Graham and Ashley Pharoah will have similar problems after last night's send-off to
Life on Mars/Ashes to Ashes
- after all, these days you can delve into the limitless speculation of the internet to compare their interpretations, maybe even read Graham and Pharoah's Tweets on the matter.
And, anyway, the creators of BBC One's time-slip cop show fantasy only really had two routes open to them - the medical and the mystical - and it's a fair bet that after five series, diehard fans wouldn't have been happily fobbed off with a neurological explanation. So instead we had DCI Gene Hunt as a sort of guardian angel looking after the souls of dead coppers.
To be fair, it was well done; even a casual imbiber like myself could appreciate the eeriness, not unlike Alejandro Amenabar's ghost film The Others, as one by one, Shaz, Ray and Chris were revealed to be dead people. The whole station turned out to be some sort of purgatory (yes, that old one - at least it wasn't all a dream), where Hunt wrestled over their souls with the diabolical DCI Jim Keats. And it was no great surprise that Keats turned out to be the devil in disguise, he always was a bit creepy - as if the spirit of Dennis Hopper had taken over the body of Rodney Bewes.
There was an attempt at a stand-alone plot, involving Dutch gem smugglers, phony air hostesses and dead gangsters dangling, in time-honoured fashion, by their feet in a railway-arch lock-up, but like DI Alex Drake (Keeley Hawes – looking more fetching than early Eighties fashions perhaps deserved), all we wanted to know was the real identity of Gene Hunt, and whether or not he had killed Sam Tyler. And would John Simm make a special guest appearance?
This led to a deserted farm house in Lancashire, where Drake discovered a scarecrow wearing a police tunic, and bones buried beneath. But the mouldy warrant card didn't belong to Sam Tyler, but - ha, ha - Gene Hunt. Seems the non-spectral version of Hunt had been a scrawny young copper with his head full of Gary Cooper westerns, who had surprised a pair of villains at this farmhouse during the Queen's coronation celebrations in 1953, and been shot dead. At this point the writers played a little joke on us, by way of Gene Hunt, when Hunt revealed his name was really Nigel Perkins – and then revealed that it wasn't.
Chris, Ray and Shaz's respective deaths were revealed to them on VHS tapes (cue, inevitably, a topical discussion on the relative merits of Betamax), before the understandably shocked trio were enticed to a new department at the other end of a bottomless lift shaft. Could Drake and Hunt save their colleagues' mortal souls by appealing to their coppers' camaraderie and their respect for the guvnor? Well, yes, it was a happy ending, although Hunt's much advertised farewell kiss with Drake was a curiously perfunctory meeting of lips, and frankly Hunt looked more stirred by the demise of his beloved Audi Quattro, shot up by the aforementioned Dutch gem raiders.
Ah, yes, the Audi Quattro. You knew that Life on Mars/Ashes to Ashes had entered the national psyche when that Labour election poster depicting David Cameron as Gene Hunt, snakeskin boots and all, and leaning on the bonnet of a Quattro, appeared with the words "Don't let him take Britain back to the 1980s". What a spectacular own goal that was for Labour, for there is probably a large section of the voting public who would want nothing better than for Britain to return to the 1980s, and a fair few of those were probably watching Ashes to Ashes.
Cameron himself was quick to pinpoint another appeal of the show, when he remarked about the poster fiasco, "I think there are millions of people in the country who wish it was the 1980s and that police were out there feeling collars and nicking people instead of filling in forms." Certainly Gene Hunt (Philip Glenister in a role of a lifetime) emerged as the unlikely hero - the casting of John Simm (who didn't reappear last night) in the original Life on Mars suggesting that we were supposed to identify with the touchy-feely modern policeman and not his unreconstructed Seventies counterpart.
So back to the finale. Everyone except Keane and Hunt, whose war would continue on the astral plain, retired to the pub – a celestial version of the Railways Arms, with Nelson (the barman from Life on Mars, not the one-eyed admiral) as St Peter, a gatekeeper ushering the coppers into what was lit to suggest an eternal happy hour (heaven forbid). Was Alex to be reunited with her daughter in the 21st century, or will she forever be drinking Eighties measures of pub wine with Shaz, Chris and Ray? Who knows - although I'm willing to allow that I might have missed something. Anyway, these things are better left open-ended - so much better to get those internet chat forums buzzing.
The last word was given to PC George Dixon, a copper who went home to his tea, not a lock-in down the boozer. Dixon's late entry on the scene meant that Life on Mars/Ashes to Ashes had encompassed just about every era of post-war policing. The British TV cop show has finally eaten itself - every single last scrap of it.
THE MANY SIDES OF KEELEY HAWES, DRAMA QUEEN

Ambassadors, BBC Two. Mitchell and Webb and Hawes pack their bags for Tazbekistan to star in a diplomatic comedy drama
Identity, ITV1. Keeley Hawes and Aidan Gillen on the trail of ruthless cyber-criminals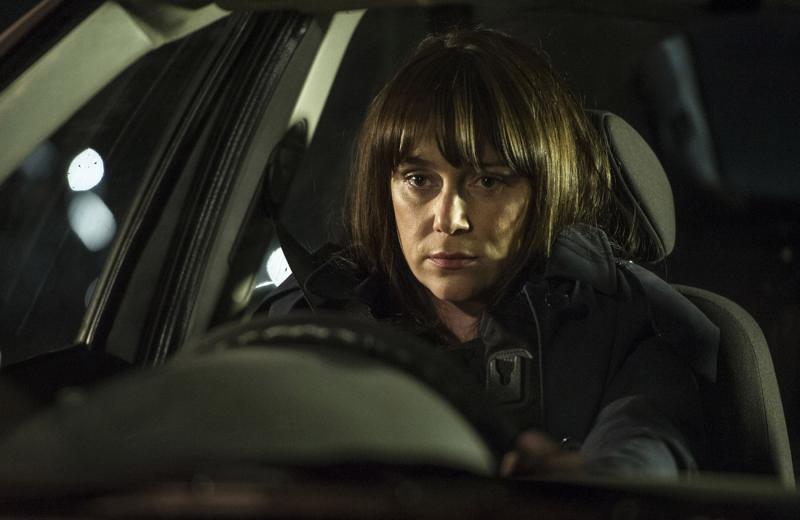 Line of Duty, BBC Two. Gruelling police corruption thriller keeps spines tingling to the end.
The Casual Vacancy, BBC One. Hawes peddles erotica in JK Rowling's Cotswold village
The Hollow Crown: The Wars of the Roses - Richard III, BBC Two. Hawes's first stab at iambic pentameter opposite Benedict Cumberbatch chilly crook-backed king
The Missing, BBC One. Hawes plays a grieving mother in misery-drenched odyssey
Upstairs Downstairs, BBC One. Hawes is the lady of the house as Rose Buck returns to 165 Eaton Place after 35 years