Bernstein on Broadway, Queen Elizabeth Hall |

reviews, news & interviews
Bernstein on Broadway, Queen Elizabeth Hall
Bernstein on Broadway, Queen Elizabeth Hall
Two great singing actresses get to the heart of Lenny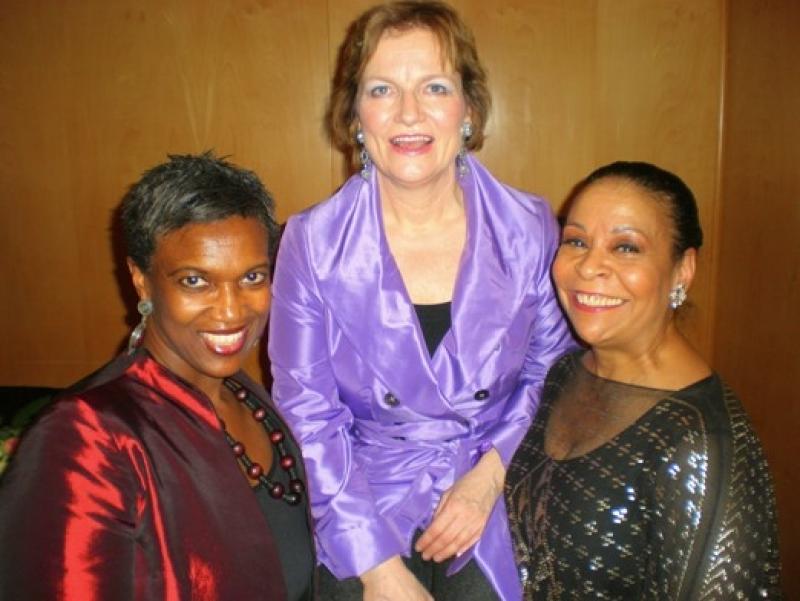 Getting to the heart of Lenny: Claron McFadden, Reinild Mees and Roberta Alexander
One girl can hit a high C, and how; the other would surely melt the iciest-hearted in Rodgers and Hammerstein torchsongs. That's Roberta Alexander, on the evidence of her "Somewhere" last night. Together with classy lyric-coloratura Claron McFadden, the beaming high Cs girl, and sophisticated pianist-animateuse Reinild Mees, she ran the gamut of Bernstein's song-and-dance cornucopia.
With such physical ease and high spirits from these total artists, even the occasional archness in Lenny's heart-on-sleeve songbook passed with a relaxed sense of fun.
Not that it was all about just having a good time. The sopranos, who between them have notched up an impressive repertoire ranging from supremely stylish Handel to spot-on Birtwistle via Puccini, Janáček and Berg heroines at Glyndebourne, each began with a seriousness of intent: McFadden with "Simple Song", the soul of the dazzlingly eclectic Mass which will form the culmination of this Southbank Bernstein celebration; Alexander with "Take Care of This House" from 1600 Pennsylvania Avenue. How times change: in this White House musical, a flop on Broadway in the 1970s, white presidents and first ladies through history are counterpointed with their black servants. And look who's in the White House now, said Alexander, going on to give a dignified rendition of the housekeeping song which could hardly fail to bring a tear to the eye at the line "this house is the hope of us all".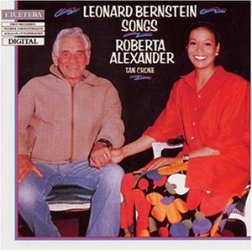 There were big names to eclipse, the stars for whom Bernstein wrote his songs: Barbra Streisand, Jennie Tourel, Christa Ludwig (who premiered the gobbledegook "Piccola Serenata" for Karl Bohm's 85th birthday). But Alexander has owned many of these numbers since her unforgettable 1986 selection on CD (pictured right). She shared the "kid songs" of the mini song-cycle I Hate Music with McFadden, Bernstein's warning on the tin to avoid coyness naturally negotiated by both sopranos. And she brought the house down with the English-language version of four French recipes, La Bonne Cuisine.
But she also gave us a lesson in what Americans still call the art-song in two Rilke settings - the first brought to a numinous conclusion by singer and pianist (Mees knows how to bring out the careful central European nostalgia in the keyboard role); the second uncannily reminiscent of Ellen Orford's Embroidery Aria in Britten's Peter Grimes, which Bernstein knew well in 1949. Most touching of all was the restrained anti-Vietnam-war sentiment of "So Pretty", its classroom naivety turning serious with a single modulation in the second verse.
If McFadden had temporarily taken a back seat, gorgeously grinning and ad-libbing from the side of the stage, she won her place in the sun with the inevitable "Glitter and be Gay" from Candide. How weary we've become of coloraturas vamping it like coked-up drag queens. Yet this diva had the grace to keep it classical, slinky and pitch-perfect. The natural hand movements alone were a masterclass in how to reinforce your singing with meaningful gestures.
In the second half, the three ladies relaxed still further and joined forces more often, even if you sometimes felt that Broadway pizzazz wasn't quite the subtle Mees's natural element. Alexander and McFadden had the perfect, two-handed solution to putting across the satirical undertow of "I Feel Pretty" and "America". Yet the heart was once again touched by one of Bernstein's bittersweet masterpieces, "Some Other Time" from On the Town - the Southbank's typically minimal programme leaflet should note that the sisters' longing for "O-H-I-O" comes from a completely different, no less masterly musical, Wonderful Town - and by the most shining delivery of the West Side Story balcony scene I've ever heard (two ladies, why not?) I'd assumed it was all tending to the musical's greatest duet, "A Boy Like That", which would have suited Alexander's newly impressive cutting chest voice and McFadden's passionate lyricism to perfection.
But no, the end came with the sweet dreams of "Never Land" from Peter Pan, the 1950 musical originally starring Jean Arthur and Boris Karloff. A less likely duo would be hard to imagine; but these two, admirably matched by Mees, went together like a horse and carriage. Can we have them back again for Sondheim?
These two went together like a horse and carriage
Share this article