Walk On By: Hal David, 1921–2012 |

reviews, news & interviews
Walk On By: Hal David, 1921–2012
Walk On By: Hal David, 1921–2012
Say a little prayer for the lyricist who supplied the words for a great songwriting partnership
Sunday, 02 September 2012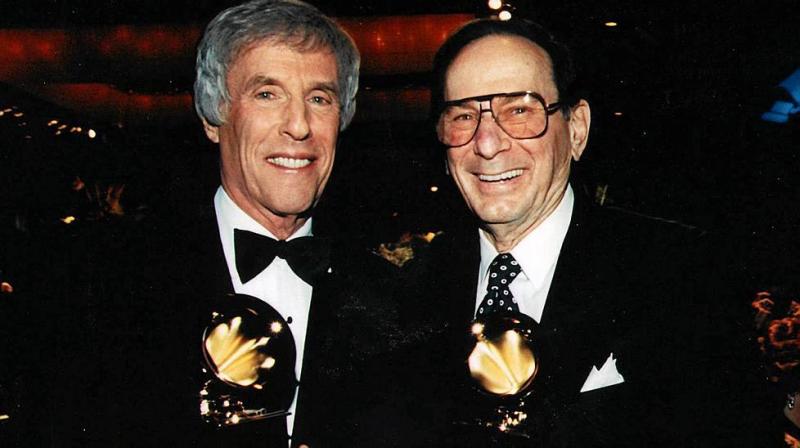 Hal David (right) with Burt Bacharach: 'He was able to encapsulate dramas that are normally hidden'
The death of lyricist Hal David at 91 is a sad reminder that the golden age of a uniquely American approach to songwriting is getting further and further away. The Bacharach and David brand will last, as will classic songs like "Anyone Who Had a Heart", "Don't Make Me Over", "Magic Moments", "Raindrops Keep Fallin' on my Head, "The Look of Love" and "Walk On By".
Yet David's passing emphasises that although these compositions have a life of their own, they remain rooted in an era that becomes less and less tangible as the years pass.
Of course, for David and his partner Burt Bacharach composing was work. It was what they did to earn a living. But they also made art. David's lyrics for "I Say a Little Prayer" were not only a match for Bacharach's tricksy time signatures but seamlessly married the devotional to the day-to-day.
The moment I wake up
Before I put on my make up
I say a little prayer for you
While combing my hair now
And wondering what dress to wear now
I say a little prayer for you
For "Walk On By", David wrote, "Make believe that you don't see the tears/Just let me grieve in private because each time I see you,/ I break down and cry". With the minimum of words, David was able to encapsulate dramas that are normally hidden.
It took a while for David to get to this point. Born in New York in 1921, he was the son of the proprietor of a delicatessen. He wanted to be a journalist, yet began writing lyrics for big bands and, in the 1950s, was writing for film too. He met Bacharach through the publisher Famous Music in 1957. Their first success was Marty Robbins' jaunty "The Story of My Life". Even at this early stage, David's lyric was tempered with melancholy. "Magic Moments", a hit for Perry Como, soon followed. "Broken Hearted Melody", with a lyric by David and music by Sherman Edwards, was a hit for Sarah Vaughn in 1958. But it was the Bacharach and David collaboration that was quickly established as a leading musical force.
The duo's hits for Gene Pitney and Dionne Warwick – who was especially close to David - were balanced against their compositions for cinema, including "Alfie", "The Look of Love," "Raindrops Keep Fallin' on My Head" (an Oscar winner) and "What's New Pussycat". Their 1968 musical Promises, Promises won a Grammy for best cast recording.
In the 1970s, David worked in Nashville with Archie Jordan and went on the write "To All the Girls I've Loved Before" with Albert Hammond, a hit for Willie Nelson and Julio Iglesias. David wasn't constrained by genres or the expectations his success with Bacharach might have brought. He was one of America's great writers and although he is gone, his songs will live forever.
Overleaf Joe Muggs on Hal David, plus some of Hal David's highlights on YouTube

Joe Muggs adds:
While Bacharach and David's talents are hardly under-appreciated, I'm still not sure if their real significance - and that of their fellow pop songwriters Goffin & King, Lieber & Stoller, Pomus & Schuman - is yet written into our sense of 20th century culture as much as it deserves to be. The standard Rock Writers' narrative, which has come to dominate understanding, characterises rock'n'roll and all that follows as a radical break with the past, and as a simple fusion of "black" (R&B) and "white" (country) music. It's the old myth of rock as primal, macho and, essentially, illiterate. Only when I started to discover the stories of the Brill Building and 1650 Broadway, did I realise exactly how much continuity there was with what came before, and also how cosmopolitan the musicality and lyricism that fed into the birth of pop and rock really were.
These songwriters, working flat out, factory-like before Berry Gordy ever thought of applying Fordist production line principles to pop, were urbane working and middle class Jewish kids steeped in Mambo, Brazilian music, jazz, classical and Broadway as well as R&B - and applying all of that to the songs that would define the late Fifties and Sixties as much as those of any other musicians. Hal David's poetry was that of the Broadway lyricist boiled down to its essentials, but also rich in particular flavours of melancholy that came from Jewish humour and Latin melodrama. It contained the old world as well as the new, in more than one sense. If anyone ever represented the ideal of America, and particularly New York, as melting pot, and of pop culture as capable of creating towering artistic achievements, it was David and his contemporaries. He was a true giant.
Marty Robbins performs 'The Story of my Life'
Dionne Warwick performs 'Walk On By'

Tom Jones performs 'What's New Pussycat'
BJ Thomas performs 'Raindrops Keep Fallin' On My Head'
Willie Nelson and Julio Iglesias perform 'To All the Girls I've Loved Before'