Viva Forever!, Piccadilly Theatre |

reviews, news & interviews
Viva Forever!, Piccadilly Theatre
Viva Forever!, Piccadilly Theatre
Spice Girls' jukebox musical not total turkey shocker
Thursday, 13 December 2012
The cast of 'Viva Forever!' gather for a romp through "Spice up Your Life"
Viva Forever! isn't the clunker it's been labelled. It's also not the thin gruel of the standard West End jukebox musical. The real problem is that it can never be Mamma Mia!, the globe-conquering, ABBA-derived franchise previously devised by its producer Judy Craymer.
To be fair, Craymer isn't strictly the originator of Viva Forever! That honour falls to Spice Girls' kingpin Simon Fuller and the combo themselves. They approached Craymer who, in turn, brought in Absolutely Fabulous writer and actor Jennifer Saunders to weave a narrative and script around the "Wannabe" gals' back catalogue.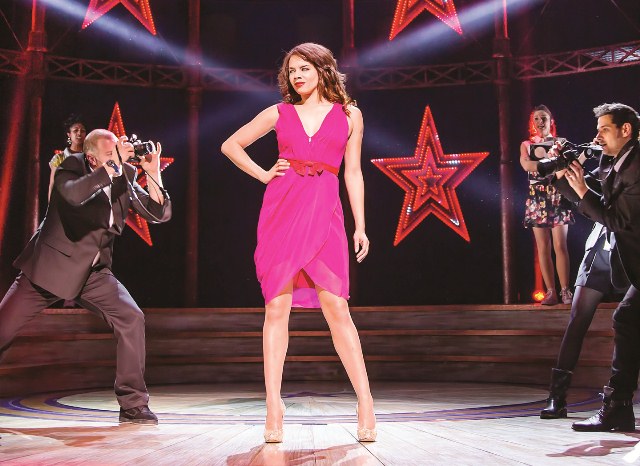 Much is familiar, lazily so. The character Suzi (played by Lucy Montgomery) is too obviously Ab Fab's Patsy. Minty (Hatty Preston) is Bubble. The idea of adopted main character Viva (Hannah John-Kamen, pictured right) not knowing the identity of her real mother is a mirror image of Mamma Mia!'s search for a father. Heading off to the south of Europe – Spain in this case – filches Mamma Mia!'s jaunt to Greece.
There are other problems with the music and dialogue. Some of the Spice Girls' songs don't work in this fresh context. However it's topped and tailed, a slight song like "Too Much" is never going to roll any narrative ball along. And at the beginning of the first act, as the characters define themselves, the stiff dialogue prevents interaction. Later, lines like "because of raw talent like you, we are going places" sound (and read) like literal translations of a foreign language.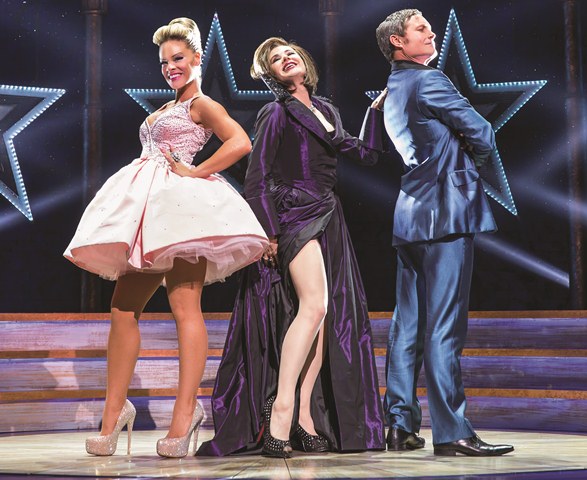 However, when this patchy show works it's pretty good fun. Hung around a quartet of girls going through the rounds of the X Factor-style TV show Star Maker, it centres on Viva and her mother Lauren (Sally Ann Triplett). Plucked from the line up of the group by Sharon Osbourne-a-like judge Simone (Sally Dexter), Viva makes the tough choice to go it alone. Of course, she's reunited with her pals at the end and all is well in a world where friendship lasts forever and girls have the power. There are broad yucks from the thong-exhibiting and bottle-brandishing Suzi. The other judges, Johnny (Bill Ward) and Karen (Tamara Wall), are also played to stereotypes (pictured, left to right: Tamara Wall as Karen, Sally Dexter as Simone, Bill Ward as Johnny).
A few set pieces stand out. A mass song and dance to "Spice up Your Life" is great. A warm hotel room scene between Lauren and her loyal friend Mitch (Simon Slater) is the most human, most engaging interaction in the whole evening. The stagings of the TV show itself are tremendous, as is the clever revolving set. When "Wannabe" finally comes it's somehow a surprise, even though it's obviously about to be performed.
But Viva Forever! doesn't flow. It stutters. Even so, the audience were involved and the gags went down a storm. So did the pubic hair repartee. But none of that related to The Spice Girls. Viva Forever! is hobbled by being based on their songs. Another show is struggling to escape.
The gags went down a storm. So did the pubic hair repartee
rating
Share this article