theartsdesk on Vinyl: Volume 24 - The Doors, Disney, Bonobo, Star Wars and more |

reviews, news & interviews
theartsdesk on Vinyl: Volume 24 - The Doors, Disney, Bonobo, Star Wars and more
theartsdesk on Vinyl: Volume 24 - The Doors, Disney, Bonobo, Star Wars and more
Record reviews covering every musical style imaginable
Wednesday, 25 January 2017
Piles of plastic pleasure
New year, new vinyl. The tidal wave is growing. But not everyone wants to play their vinyl. Included below are a couple of picture discs which seem to be primarily for owning and looking at, mementoes, while a couple of the box-sets reviewed are similarly aimed more at the memorabilia market than the musical one. That's all fine.
Vinyl releases as
objet d'art
hurts no-one and, in the end, gives music a prestige place in the home. Of course
theartsdesk on Vinyl
's main focus is not this area but, as always and forever, the music. San Diego stoner band Slightly Stoopid may have recently claimed they've pressed a tune onto hash (as in
cannabis
) but, while that might have its uses, we're still looking for the best new music in all genres cut to plastic as superlatively as possible. And below is the cream of what
theartsdesk on Vinyl
has been listening to.
Frank Carter & the Rattlesnakes Modern Ruin (International Death Cult)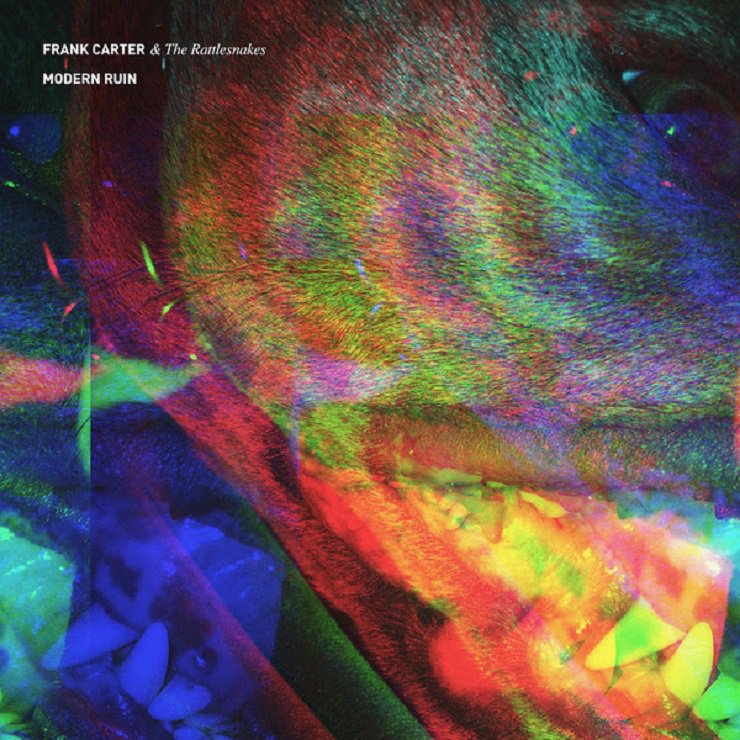 Preconceptions lead to a lapse in critical ability. It's much more entertaining when music from a dismissed quarter completely ambushes you. Such is the case with the second album from Frank Carter which is, quite simply, a massive hard rock album; clean, fierce, passionate, tuneful, loud and swollen to the gills with ripping verve. Carter hasn't been on my radar as I wasn't a fan of Gallows, of which he was the original frontman, and his transatlantic Pure Love outfit was a hit'n'miss affair. Modern Ruin, however, has real power, catchy galloping songs with guitars fat as Butch Vig's Nevermind peak, an underlying variety that keeps things fresh, and subject matter ranging from broken love to our broken world to hedonistic self-destruction. Arriving in lyric gatefold sleeve on transparent vinyl, it bears passing comparison with Arctic Monkeys in full we're-Josh-Homme's-mates mode, but the music here is punker and faster and, at its best, has an irresistible kick.
Various The Men in the Glass Booth (BBE)
BBE are outstanding curators of all kinds of music. They find the greatest experts and give them free reign to plummet way beyond the surface, really mine for lost gems. Thus it is with one of their very greatest releases, put together by Glaswegian disco sage (and re-edit king) Al Kent in two volumes, both boxed and containing five records. They add up to a stunning rundown of the era when 1970s New York DJs started going into recording studios – previously not regarded as their domain – to create new edits of songs, sometimes for the new-fangled 12" single format. These would accentuate disco for their own dancefloors. The Men in the Glass Booth is a reminder that disco was an underground urban style beloved of the Afro-American, Latin and gay communities, before it was hijacked by Saturday Night Fever and, eventually, garish hen party-friendly "Seventies" nights. These discs showcase music several steps away from the familiar, offering up a hedonic creativity that's utterly funky, riven with sex and nightworld perspiration.
Just check out Robert Oiumet's remix of Aura's "LA Sunshine": it fairly ram-raids out of the speakers with the energy of a coked-up, glitter-bespattered leopard. Part One also contains a 40-page, 10,000-word 12" x 12" booklet, "The Story of the Disco Era's Most Influential DJs", a worthwhile purchase in itself (Part Two has a retro glamour poster of a naked Afro babe in the DJ booth!). The records contain beautifully clear-cut recordings representing that first wave of DJ-producers, names such as Walter Gibbons, Tom Savarese, John Morales, Jay Negron, John Luongo, Tee Scott, Bobby DJ Guttadaro and Jellybean Benitez, amping up the work of outfits such as The Salsoul Orchestra (Francois Kevorkian's samba-tastic take on "Magic Bird of Fire" is a delight), Double Exposure, TC James & the Fist O Funk Orchestra, and Gladys Knight & The Pips. Don't let unfamiliarity put you off. This is history unearthed. Check out Rick Gianatos' assault on Juggy Murray Jones's "Inside America", it's full of all kinds of whacky studio experimentation alongside ripe disco strings. Or how about The Sunshine Band's "Black Water Gold", jammed with joyous oomph on waves of percussion and cinematic orchestration. In fact, drop the needle anywhere and you're liable to end up fugging round the room like a loon wishing it was 1977 in the Big Apple.
The Doors London Fog 1966 (Rhino)
Before The Doors became house band at the Whisky A Go Go, signed to Elektra, and wrote impeccable songs that eventually added up to the greatest Greatest Hits album of them all, they were resident in a lesser known and often half-empty Sunset Strip joint, London Fog. Recorded on reel-to-reel by photographer/film-maker Nettie Peñan in May 1966, this package presents a set from those days alongside a selection of reproduction memorabilia. Mastered by Bruce Botnick, producer of the LA Woman album (as well as plenty by Love), the 10" vinyl, dressed up like a test pressing, is far from dodgy bootleg quality and is a welcome window into the nascent band's progression, as well as giving a strong flavour of the go-to musical styles of the day. The Doors are already tight, delivering decent, feisty takes on "Strange Days" and a rock'n'rollin' "You Make Me Real". The latter wouldn't appear on record until their fifth album, Morrison Hotel.
The rest of the set is made up of covers such as "I'm Your Hoochie Coochie Man" and Little Richard's "Lucille". And so to all the extras. The whole, in an, ahem, "limited edition" 18,000 run, comes in a cardboard box designed to look like a "vintage storage unit" and contains a CD with memoir booklet notes by Whisky A Go Go booking agent Ronnie Haran Mellen; a promo postcard; a "stained" London Fog drinks mat with a blurred scribble on the back by Jim Morrison's long term girlfriend, Pamela Courson (a reminder that London Fog may well have been where the couple first met); a set of five prints, in wax paper sleeve, of black'n'white photographs taken by Peñan that night; a programme from a Royce Hall UCLA student film screening that included Peñan's film Call It Collage '66, which featured The Doors music; a crumpled set list hastily scribbled by drummer John Densmore; and a stapled, "stained", three-page description of the evening in question by Peñan. I can take or leave all the bumf, but the set is well worth a listen for fans of the band.
Silent Riders Silent Riders (Music For Dreams)
Music for Dreams usually fire out Balearica of all styles, from the wafty to the clubby, but in Silent Riders they've uncovered something more morose. The Danish trio, fronted by singer Lu (the other members are known simply as Gee and C), offer four sides of brittle goth electro-balladeering, mostly concerned with fear and loss. The comparison that immediately springs to mind is Portishead but, while there's a similarity in vocal delivery and general tone, Silent Riders palette isn't Mogadon hip hop so much as soundtrack minimalism that recalls the darker side of John Carpenter or Vangelis. Songs such as the Morcheeba-ish "Copenhagen Dream" ("Grass is growing green/Mushroom in my tea") are balanced out by Silent Rider's more regular territory, sci-fi chill-out isolation.
Various Bambi OST + The Hunchback of Notre Dame OST + The Jungle Book OST + Frozen OST + Snow White OST + Peter Pan OST + Aladdin OST + The Lion King OST + A Goofy Movie OST + Alice in Wonderland OST + Beauty and the Beast OST + The Little Mermaid OST (Disney/Universal)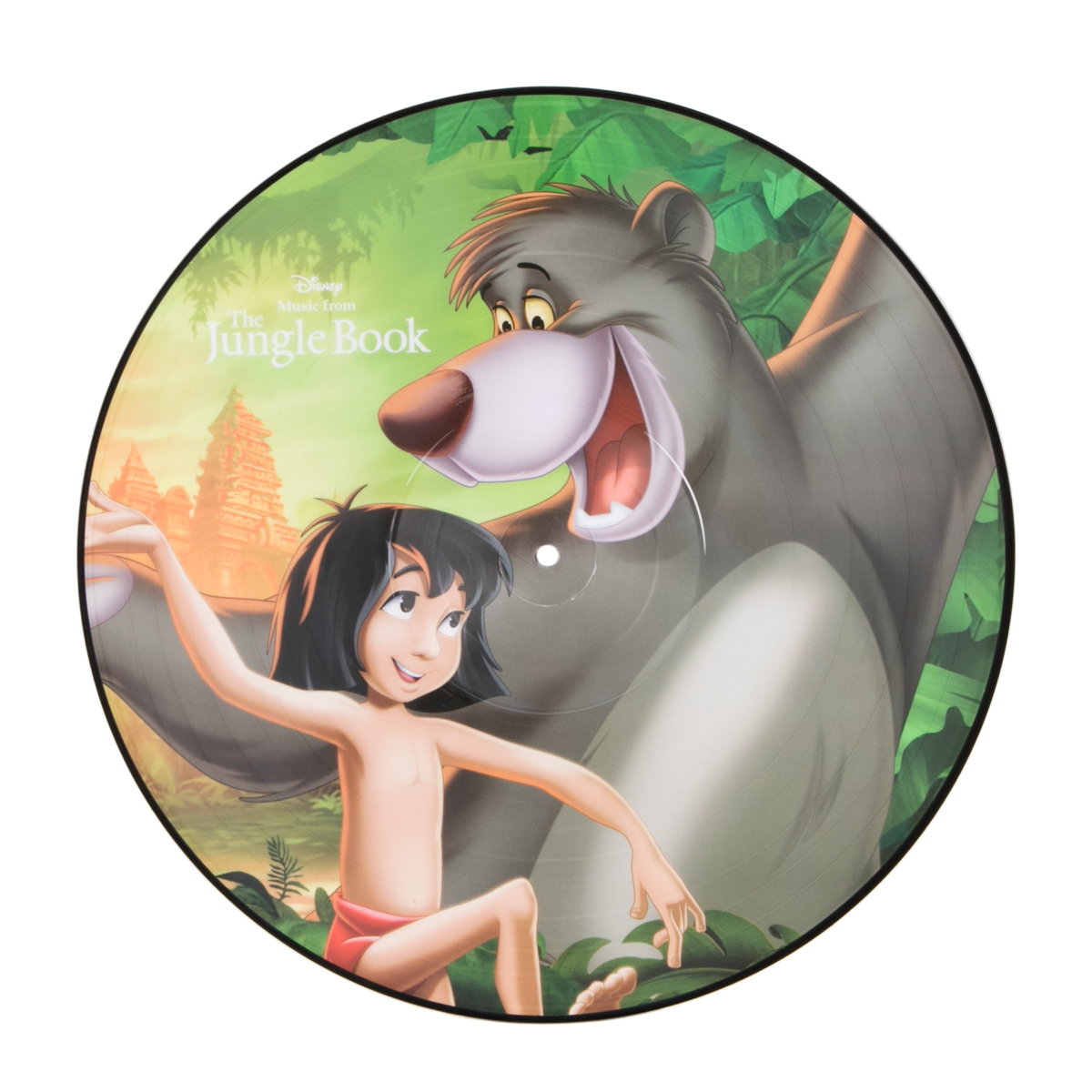 Disney bring out 12 very colourful picture discs representing their most successful animated hits. These are probably intended to be primarily decorative items and would, indeed, look well on the wall of a young child's bedroom, most especially Frozen, of course (although that uber-craze is now, thankfully, waning). For those that do slap them on the turntable, the sound quality of the selection I've been sent is better than expected. The Jungle Book, always the unbeatable jewel in Disney's animated soundtrack crown, sasses from the speakers in all its faux-beatnik swing-time glory (although Mary Poppins would claim the overall Disney music prize round these parts). Musically, across the 12, quality varies wildly. The twee old orchestral candy of Snow White, Bambi and the really old ones retains little appeal for me, while the Alan Menken songwriting era (The Little Mermaid, Beauty and the Beast, Aladdin, The Hunchback of Notre Dame) is an up'n'down journey swerving in and out of witty, glitzy delights and schmaltz overdoses. And as for The Goofy Movie, I won't even start. Then again, it's Disney, what do we expect! They may not have included Henry Mancini's score for 1986's Basil the Great Mouse Detective or Randy Newman's lively songs for 2009's The Princess and the Frog, both gutsier Disney flicks than some of the big hitters, and with better tunes, but the bottom line is these are fun items, not to be pored over. Unless you're under ten or it's The Jungle Book, probably a Disney's greatest hits playlist would work better.
Schaus Handshake (There Them)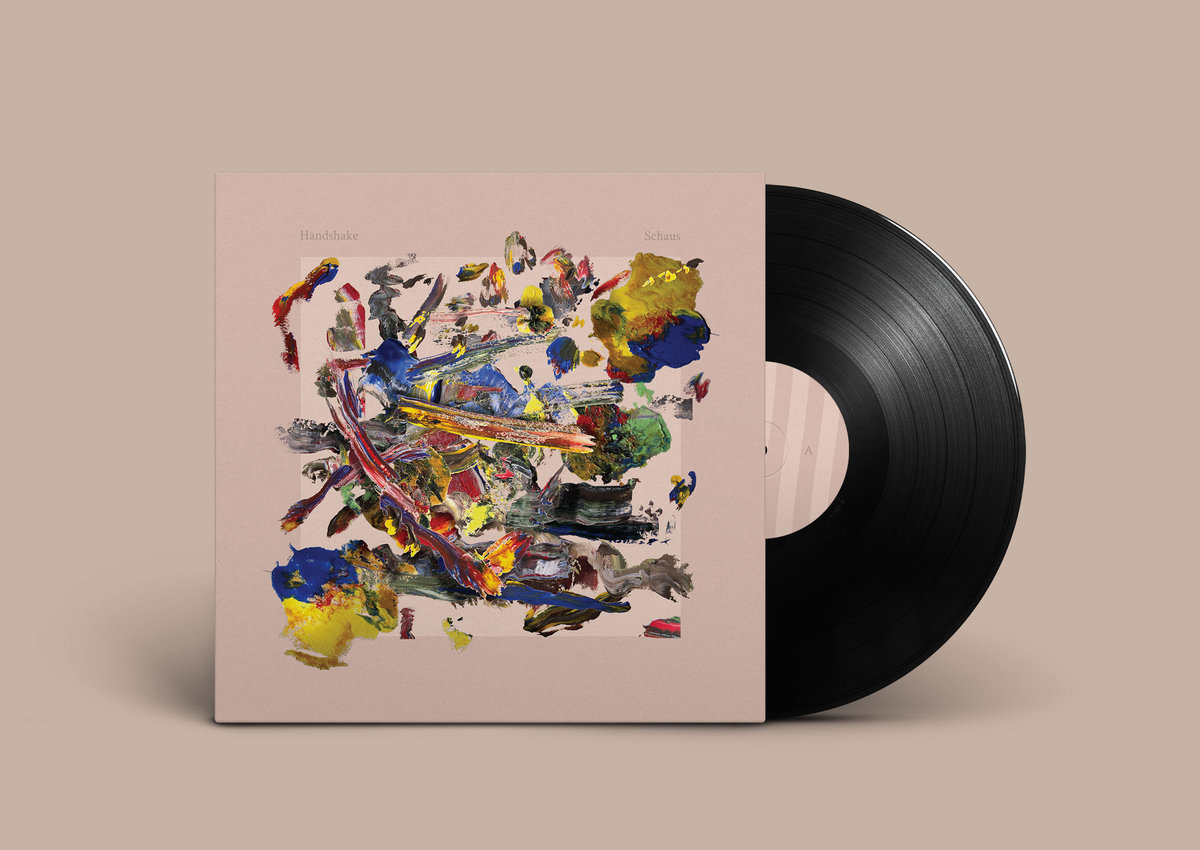 This dude's music is bananas. Put this album on and the mind starts to melt at the deranged boundary-pushing. It sounds a bit like David Sylvian or ANOHNI singing over prog-jazz electro-funk they've created with a broken drum machine. It has elements that recall the outer fringes of 1980s pop music – think Scritti Politti or Talk Talk – but everything here is much more jerky and chopped about. Handshake gives off an edgy restlessness, although it's also warm and melodies flit about. It seems to want to be pop but can't help being totally bizarre instead. The singly monikered artist responsible is based in Portland, Oregon, and it's quite possible that, a little further down the line, he may inadvertently create a leftfield chart-topper, à la White Town or Gotye, because he's certainly onto something.
The Three Sounds featuring Gene Harris Groovin' Hard: Live at the Penthouse 1964-1968 (Resonance) + Various Jazz in Italian Cinema (Jazz on Film)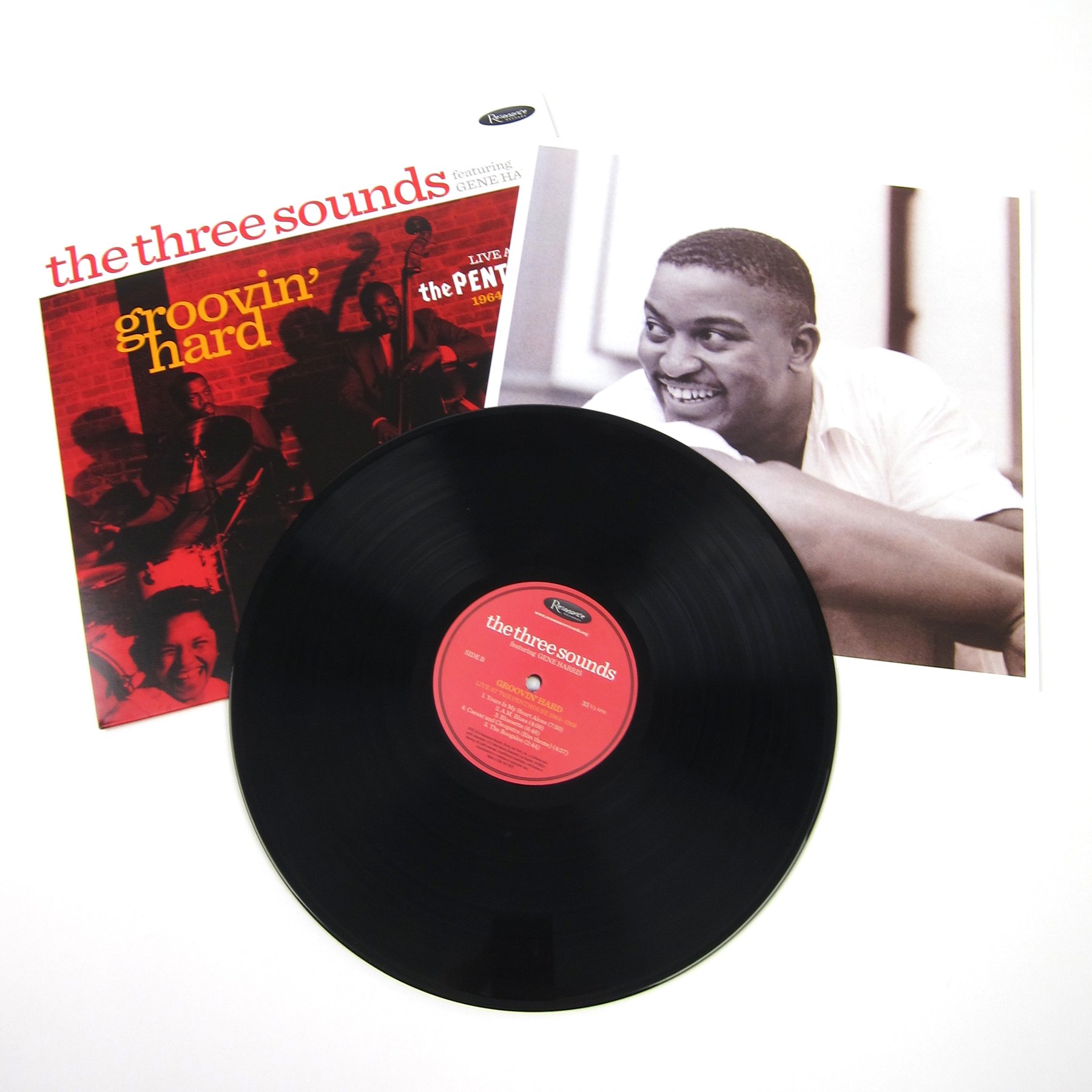 A couple of delightful vintage jazz outings that will make any male listener imagine he might be Ryan Gosling in La La Land. The Three Sounds album comes with a four-page 12" x 12" pamphlet explaining its origins. The Penthouse was, incongruously, a street-level Seattle club from where local radio broadcaster Jim Wilke used to have live performances wired to his show during the Sixties. The tracks are taken from sets recorded in 1964, 1966 and 1968 and feature pianist Gene Harris to the fore, alongside Andy Simpkins on bass and a variety of drummers (official Three Sounds drummer Bill Dowdy is only on the '64 session). The trio, who recorded for Blue Note and Verve, amongst others, play in a thoroughly energised yet relaxed style, letting bebop be known but never entering its harsher fringes.
The Italian cinema collection, which comes with a 12" x 12" insert giving background to each film covered, takes in a run of films from 1958 to 1962, the satirical Commedia All'Italiana. Jazz had previously been sidelined by first fascistic and then, more loosely, communistic domination of the arts, but from Mario Monicelli's crime spoof, I Soliti Ignoti in 1958, the gates slowly opened. Piero Umiliani helmed the music on that film, and for its sequel he pulled in Chet Baker as a guest player. Music from both is here. The trend was soon adopted more widely and the album revels in breezy stylings that are, contrarily, both engaging and unobtrusive, emanating the easy allure of the comedies they accompanied. The names Armando Trovajoli, Piero Piccioni, John Lewis, Giorgio Gaslini and Sandro Brugnolini & the Modern Jazz Gang may be unfamiliar but their sounds slip on by with a relaxed insouciance.
Fufanu Sports (One Little Indian)
After a promising debut, Few More Days to Go, reviewed on theartsdesk on Vinyl back in 2015, here's the follow-up from the Icelandic trio led by Kaktus Einarsson (who, older readers will be interested to know, is the son of his nation's celebrated punk iconoclast Einar Örn, once The Sugarcubes' ranter and wild Bez figure). Originally growing out of a techno outfit, Fufanu's new one sees them further develop their fusion of electronic pulse and pop-rock songwriting. On double vinyl in gatefold with black'n'white patterned inner sleeves and a large fold-out poster, the best of it has the driving quality of Kasabian's first album but without the terrace sing-along factor, and swathed in starker electro twang, Krautrock throb, drum machine relentlessness and twinkling guitars redolent of FEWS. Some of it is contagious – check out the pelting "Restart" – and even the bits that aren't have a mood and power that's appealing. It'd be pleasing if they became contenders. NB: the drummer and album cover star is called Erling Bang, the best name I've heard in aeons.
John Williams Star Wars: Episode IV – A New Hope OST (Sony)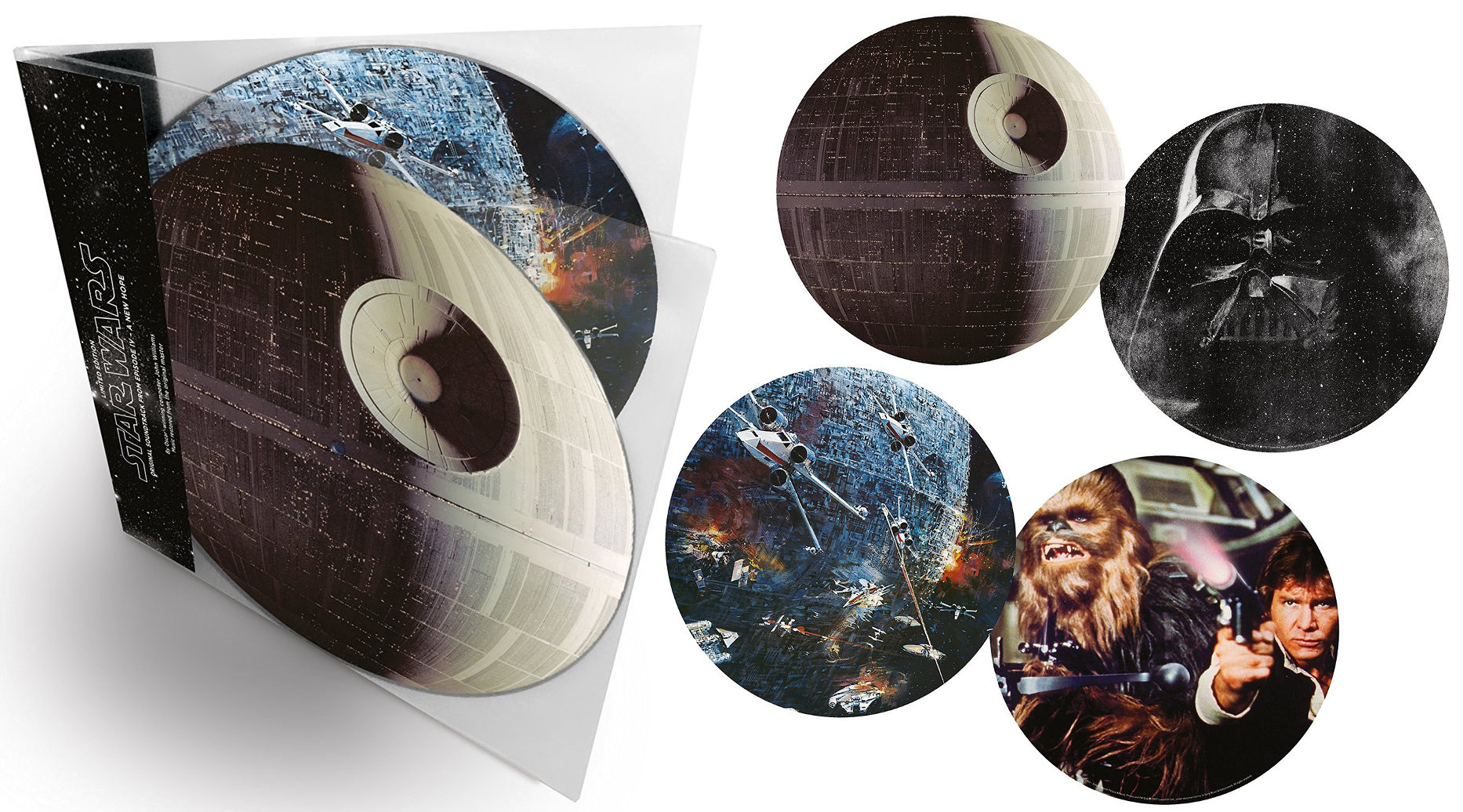 Quite simply, if you're any kind of Star Wars geek – and I realised I must be when my daughter pointed it out in an "Isn't that completely obvious?" voice – this double album on picture disc in transparent plastic sleeve becomes desirable, albeit in a magpie-sees-shiny-item kind of way. Like the Disney albums reviewed above, it's a lot about the record as an object, although the mastering is decent and the picture disc has not rendered the sound hissy. John Williams' music is, of course, iconic and works brilliantly with the original 1977 Star Wars, his orchestral bombast and sweeping strings entirely fitting the over-the-top space opera. Personally, however, while I enjoy playing the full Dixieland opus that is "Cantina Band", and occasionally dip into other bits, notably "Princess Leia's Theme", this one's mostly about the visuals – side A is the Death Star, side B is Darth Vader's head fading into the black star-lit cosmos, side C is the classic photo of Han Solo and Chewbacca, blaster and crossbow at the ready, and side D is a painterly rendition of the final battle.
Billy Daniel Bunter & Sanxion 88 to 94 (Music Mondays)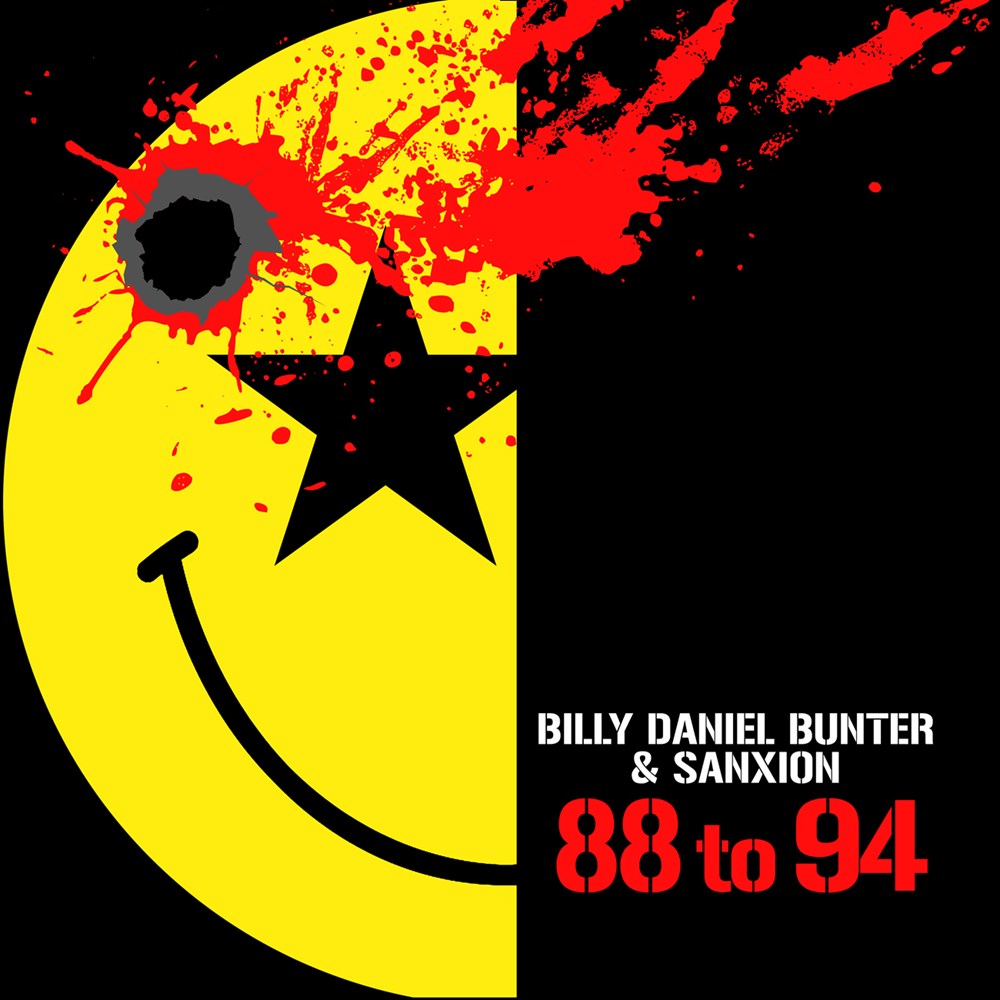 The DJ Billy Bunter – AKA Daniel Light – has slowly developed into a historian of rave culture. His autobiography, The Love Dove Generation, gives a window into how London working-class geezer culture became entirely entangled with rave and ecstasy in the early 1990s, while his radio shows, events and Music Mondays releases often focus on archiving older dance music styles. An unpretentious man who understands rave culture's street appeal and, importantly, never sidelines the extreme hedonism aspect, he and producer Sanxion have now gone a step further and put together an album that faithfully reproduces a variety of styles from the era of the album's title. They do so with remarkable precision and knowledge, so that most of these tunes could, indeed, hail from the period they're named after, ie. "89 Warehouse", "90 Bleeps & Bass (North)", "90 Bleeps & Bass (South)", "93 Dark Side", "91 Euro Rave", etc. Bunter was resident, in his mid-teens, at The Labyrinth, a true underground hub of gritty ecstasy-addled dance music, so he knows his stuff, and this release, mastered really loud on three records, is an entertaining exercise with appeal for both gnarled old hardcore crew and younger explorers of vintage styles.
S a r a s a r a Amor Fati (One Little Indian)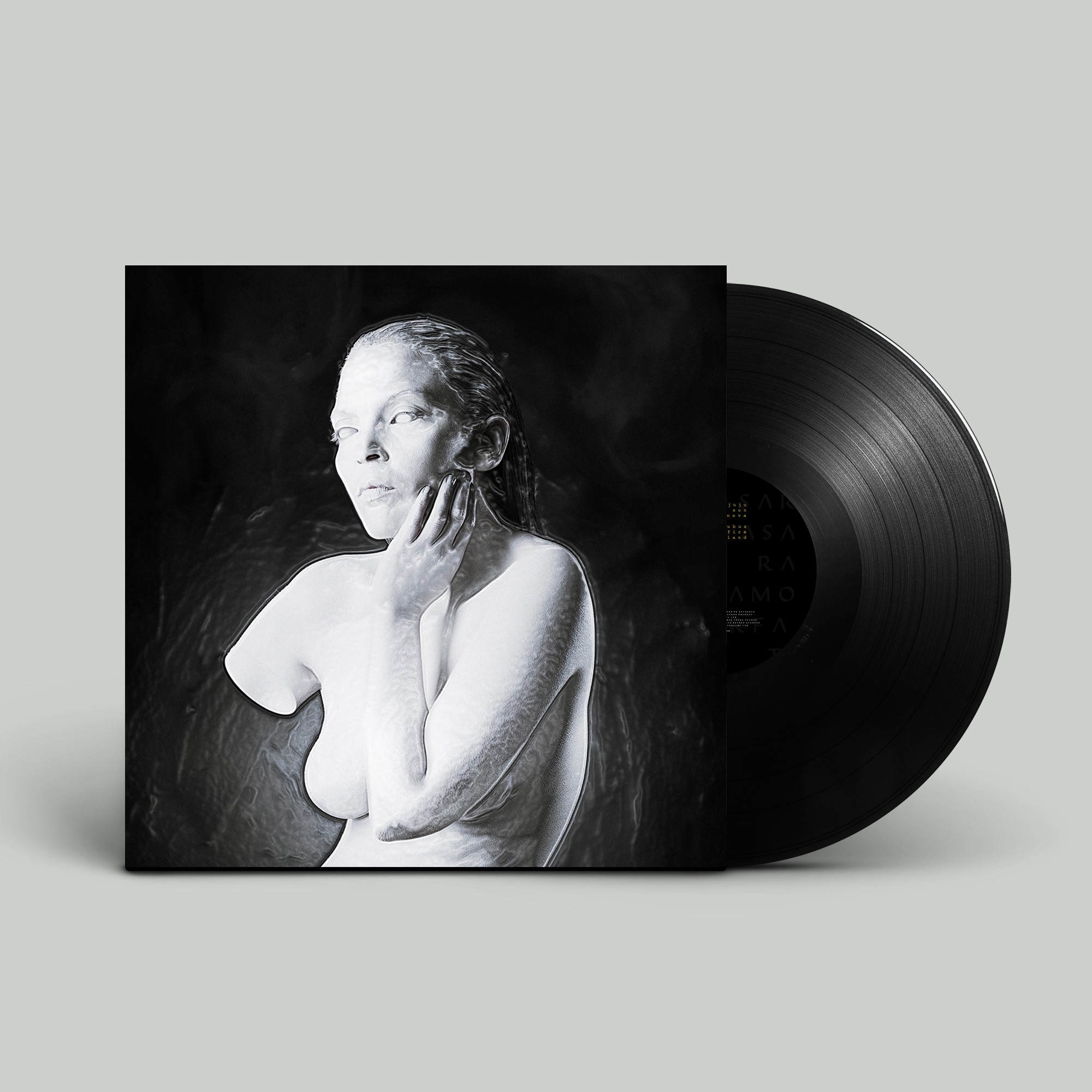 On double album with art photo gatefold and ghostly lyric inner sleeves, this is one spooked album. The cover image says as much. It sounds the way it looks. Sarasara ("s a r a s a r a", but I'm not typing that repeatedly) is a 30-year-old Frenchwoman currently studying for a PhD in philosophy. She was violently orphaned as a teenager (her parents died in a car crash) and it's not a huge leap to suggest her music is endowed with wisps of mortal terror. Clearly and obviously a fan of twitchy electronica – Aphex Twin is a stated touchstone – she co-produced Amor Fati with alt-techno doyen Matthew Herbert, a suitable choice of accomplice. Her voice has a doomed cutesiness like those children who whisper in horror films, before suddenly swooping upwards into something more substantial and mournful. The music, meanwhile, is a smudged wallpaper of gloopy, glitchy, squelchy computer-generated curiousness, often dominated by a dirgey plod of tribalistic percussion. Sarasara's is an original sound and this is an original album, which will find a home with the goth-clad and abject-orientated, but it's too gloomy and mordant for return listening on my own stereo.
Soul II Soul Origins (Metropolis London Music)
Born of London's sound system culture, but seasoned heavily with the city's 1980s interest in hip hop and rare groove, Jazzie B's Soul II Soul collective immediately preceded and rode parallel to the acid house explosion that seeded three decades of global club culture. To celebrate these origins, in Autumn 2015 the band performed an intimate set in Metropolis Studios, which appears here across two discs in extremely chunky triple-set packaging and includes an assessment by the writer Lloyd Bradley on the back. The whole comes in a bronzed box but the chief selling point for many will be the wooden Soul II Soul-logoed USB embedded at the centre of the package. This contains a video of the 50-minute performance. The band sound on fine form – even their most high profile singer, Caron Wheeler, is present – reproduced with clarity, not too far from the original songs, but with a jazz-funk slickness that's developed over the years. The set is a cross-section of hits, focusing mostly on their first two albums, as well as from 1995's confusingly named Volume: V: Believe, which was, in fact, their fourth album (Volume IV was a singles collection). In a limited edition of 1,000, it's polished, presentable and shelf-ready for the homes of ageing, urbane Funki Dreds everywhere.
Jimmy Scott I Go Back Home (River)
Jimmy Scott's career was a contractual tragedy to put the famous travails of George Michael and Prince in the shade. Once a singer for the Lionel Hampton Band and the voice of Charlie Parker's "Embraceable You", Scott's unique, petite-grand voice, as well as his diminutive stature, were the result of a genetic hormone deficiency. His singing style became a cause celebre upon his initial success in the early 1950s, numbering Billie Holiday amongst its fans.
However, a contract with archetypal music biz shark Herman Lubinsky's Savoy Records proved an ongoing nightmare from which Scott could not disentangle himself. His career disappeared until a revival in the 1990s, which the singer revelled in until his death in 2014. I Go Back Home was recorded during 2009 while a prize-winning documentary film of the same name, released last year, was being made. Like all Scott's music, it nuzzles down into the very easiest, mellowest dinner-club sounds yet never farts off into the hideous world of smooth jazz. Scott's voice cuts through blandness, there's a classiness that belies the syrup of the strings, and the versions of "Motherless Child", "How Deep Is the Ocean" and "If Ever I Lost You" showcase a singer still at the top of his game. Arriving on double vinyl in gatefold with a 12" x 12" info/photo cardboard insert, I Go Back Home features hosts of hot-shot jazzers, such as Stan Getz's pianist Kenny Barron and Weather Report drummer Peter Erskine, and also a number of duets with actor Joe Pesci, a long term friend, where the latter comes off surprisingly well, given the company.
Bonobo Migration (Ninja Tune)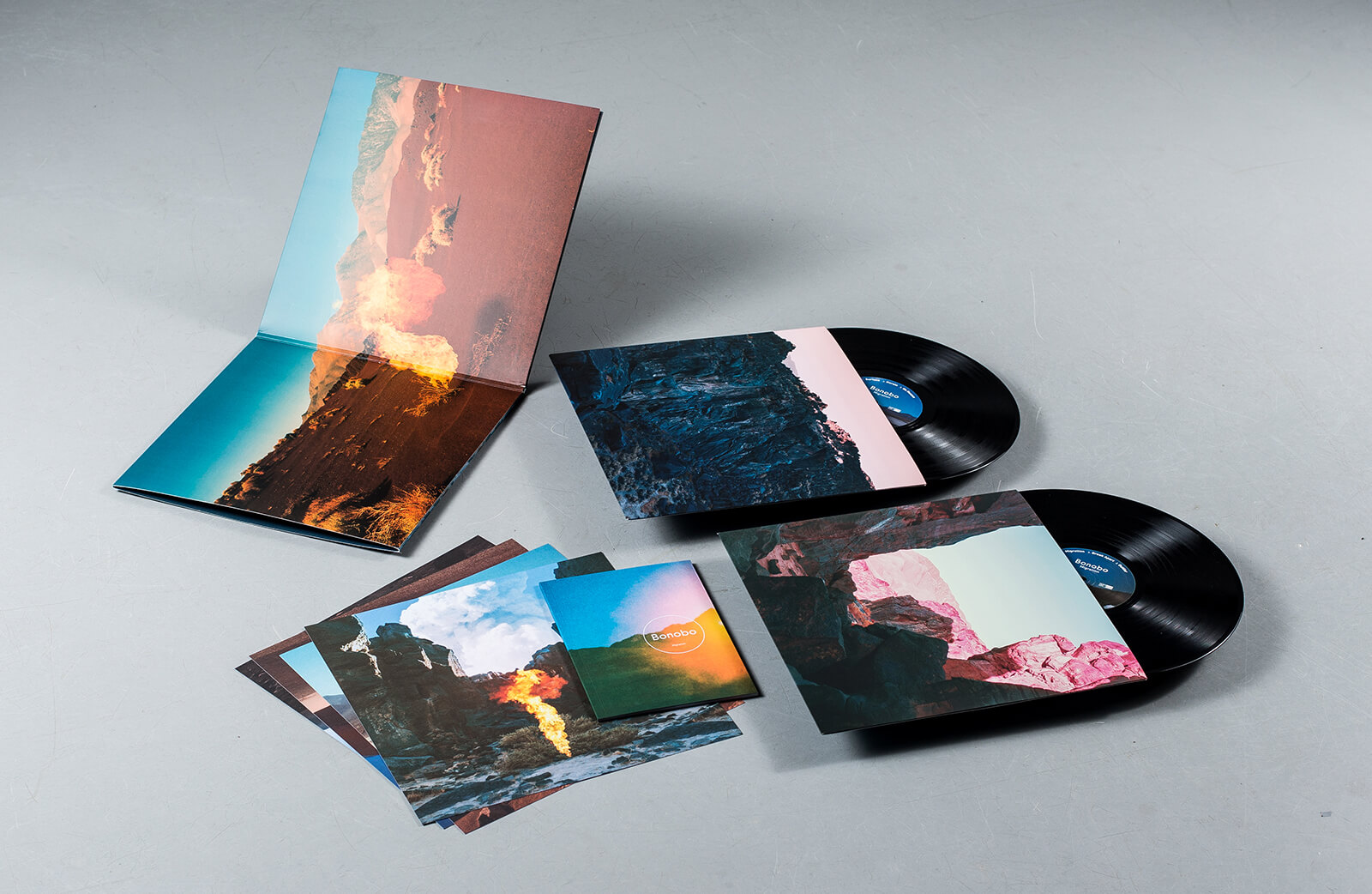 Before we even start on the music, Ninja Tune have outdone their already sky-high standards on the presentation for this one. Migration, Simon Green's sixth Bonobo album, comes in gatefold double vinyl enclosed in gold-detailed transparent outer plastic sleeve. The inner sleeves are photo-led and there are also four 12" x 12" cardboard art prints of arid landscapes, similar to the cover, and a 32-page booklet containing more photography and three essay/idea pieces entitled migration by the writers Robert Macfarlane and Will Ashon, and Green's friend Russell Porter.
Bonobo first popped up round Brighton way about 15 years ago, another producer investigating beats, but he's developed into a widely admired artist with a gigantic global following, Indeed, it's likely this album will be propelled into the proper album charts, a real achievement for such an artistic outing, built around the idea of geographical dislocation. Migration is made up of thoughtful, elegantly produced, delicate songs that veer between graceful clubland throb and electronic jazz, featuring vocal talents such as Nick Murphy (Chet Faker), Moroccan band Innov Gnawa, Michael Milosh of the group Rhye (from Green's new home town of LA), and even a treated sample of the late, great US folk legend Pete Seeger. While I admire this album, I don't get it; I'm not hauled in. It's sophisticated and there's beauty amongst the craft but it's too civilised for me, I think, and doesn't make me feel anything much. Many, to the contrary, will take to this and bed down in it all year.
Sick Of It All When The Smoke Clears: 30 Years 1986-2016 (Century Media)
Increasingly vinyl is released as a marker, a statement from and memorialisation by an artist, laying down a physical emblem in a virtual world. With this in mind, sibling-helmed New York punk outfit Sick Of It All mark three decades of existence (25 years of them with the same line-up) with a 11" x 11" hardback, leather-effect 60-page book full of photos of them in action, song quotes, and commentary from peers in bands such as Refused, AFI and Dropkick Murphys. There are also five new songs on a 10" record which, to an aficionado of classic punk but a Sick Of It All neophyte, sound like a balance of classic roaring hardcore, Angelic Upstarts-style terrace anthem bellow-choruses and Ramones/Green Days-ish head-grabbing melodies. I'd have liked it when I was 16 but, then again, it would have been a novel formula then. The book is winning, a proud celebration that draws readers/viewers into their world.
Various Gabriele Poso presents The Languages of Tambores (BBE)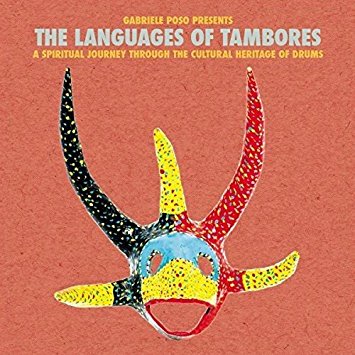 Sardinian percussionist and Osunlade collaborator Gabriele Poso compiles a selection which goes under the subtitle "A Spiritual Journey Through the Cultural Heritage of Drums" and includes his own now composition "Café de Ochun". How much the listener enjoys this two-record selection in gatefold depends entirely how much tolerance they have for percussive sounds redolent of indigenous peoples around the globe. I'm on-side and often think how exciting it would be if clubland electronic producers borrowed more from this sort of organic beat-making. Naturally much of it is African in tone and origin – the late Nigerian social activist and pal of John Coltrane, Babatunde Olatunji, fellow Nigerian Sola Akingbola (Jamiroquai's chief percussionist), Ghanaian master-drummer Mustapha Teddey Addy, etc – but there's also plenty of room for the Cuban flavours of Silvestre Méndez, Colombian singer Totó La Momposina and others. The whole adds up to something that may appear basic at first but drags the ears off on an adventure.
Powell Sport (XL)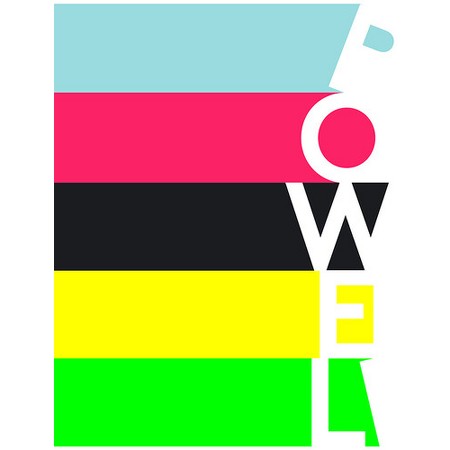 That Oscar Powell of Diagonal Records has been picked up and promoted by XL is a sign of good things to come. His debut album, out a while but fresh on vinyl, is essentially anti-pop. Back in the 1990s artists such as Si Begg, DJ Speedranch vs Janski Noise, Brighton's No Future Collective and others, regarded the rise of electronica as an excuse to completely and ridiculously subvert pop, situationists and futurists who used computers and synths to satirise anything and everything in a manner that was at once avant-garde and humorous. Powell falls into the same camp, sampling diverse sources (Pere Ubu, Fugazi, and The Fall, but also multiple vocal samples from obscure films). His music is kind of a gag, a send-up, and electronica, dominated by over-serious geeks, certainly needs that, but those same geeks may also find much to like in Oscar's distortion and damaged software sounds.
ALSO WORTHY OF MENTION
Black Flower Artifacts (Sdban Ultra): "Ethiojazz", unless you're an aficionado or Ethiopian, may well be one of the most off-putting sub-genre titles around. Not only is it jazz, it's also Ethiopian! It sounds like shorthand for esoteric wibble that goateed eggheads can show off about. Belgian five-piece Black Flower are on hand to show it's actually a frolicking approachable sound. Their second album, while tipping its cap to Ethio-jazz giant Mulatu Astatke, very much heads into its own pastures, fusing flutey Abyssinian heritage with all manner of styles. By themselves, the Jah Wobble-ish dub of the title track and the Balkan bounce of "Abeba Zeybekiko" make this album well worth investigating. Richly produced to vinyl, it comes in info inner sleeve.
SOHN Rennen (4AD): Christopher Taylor, AKA SOHN, is to be admired for the way he's taken the whole post-James Blake thing somewhere interesting, unlike most of his peers. A peripatetic Londoner, he's now moved, via Austria, to Los Angeles, and it seems the city's Low End Theory alt-hip hop has rubbed off on him. His second album is an adventure that boasts sonic variety, never afraid to strip things down to very little, and equally happy to bust in with off-kilter effects and percussion. Lyrically enigmatic – well, it is on 4AD – it has its share of Jamie Woon-ish high-pitched soul-baring, the likes of "Proof" and "Still Waters", but also runs the gamut from Aloe Blacc-ish soulfulness of "Conrad" to the post-dub step starkness of "Primary". Comes in pattern-printed colour inner sleeve.
Jean Ga & George Sunscreen (Greco-Roman): This 12" EP starts off with a genially authoritative, gently Scottish spoken vocal very reminiscent of It's Immaterial's classic "Driving Away From Home". Then that abruptly cuts out and the tune burbles along on a 4/4 rhythm with acidic effects that gradually become more and more insistent. It's not exactly a club track and it's not exactly not, it just throbs on hypnotically. The other tracks are a JD Twitch remix of "Sunscreen" that sounds vaguely like Renegade Soundwave and two more cuts that are Balearic-inclined head-nodders, late night likeable but inessential. No idea who Jean Ga & George are. Google has failed me.
Black Grape It's Great When You're Straight… Yeah (Geffen): Mastered loud and with great clarity, this is Shaun Ryder still at the peak of his powers on the 1995 debut of his post-Happy Mondays project. Ryder, an iconic figure of the late Eighties and early-to-mid Nineties, has rather pissed away his cultural kudos on ill-conceived projects and under-managed comebacks, but put this one on the decks and it blasts away the cobwebs. Loud dirty funk with pop song tunes, a druggy joyfulness, and wilfully dissonant vocals declaring pithy lyrics ("You do nothing but socialise and become a menace/Put on your Reeboks, man, and go play funky [fucking!?] tennis"), adding a sneering punk element to the stew. Starting with the knockout pairing of "Reverend Black Grape" and "In the Name of the Father", it's an essential album although one that's had a fair degree of limelight since its 20th anniversary.
Mick Harvey Intoxicated Women (Mute): Ex-Seed Mick Harvey continues his apparently endless quest to translate Serge Gainsbourg songs into English versions (as well as, in this case, a striking German-language take on "Je T'Aime… Moi Non Plus"). Reaction to music is often as much about the mood one is in upon hearing it, so I hesitate to say this, but this seems the best so far in the series. Harvey is assisted by a superbly characterful, international array of guest singers, including Xianthe Waite, Andrea Schroeder, Jess Ribeiro and his own son Solomon, while his Leonard Cohen growl perfectly suits cheekily blasé songs such as "God Smokes Havanas". A tasty addition to Gainsbourg lore.
Midnight Magic Free from Your Spell (Soul Clap): Right down to the cover, this lot are out to recreate original disco's vibe completely. The music is also retro to the point of nerdy detail, offering up a female-fronted take on the period when disco went underground and developed into both Eighties soul-funk and the kind of proto-house played at the Paradise Garage. Midnight Magic give the nod to both styles, as well as boasting a horn section that connects their music to earlier jazz-tinted Afro-American styles. Appearing on Soul Clap, the cool house label, it's a tribute to the dawn of digital dance music and, while it doesn't exactly have heft, it bubbles with appealing groove and R&B effervescence.
Witchery In His Infernal Majesty's Service (Century Media): "Gabriel, his trumpet blows/The end of days, the darkness glows/The rise of seas, and mountains fall/The dead shall rise – judgement to all!" Zara Larsson this is not. Sweden's Witchery have been going for a couple decades in varying line-ups, and their sixth album continues their obsession with all things devilish. Black metal, death metal, metal's sub-genre's become confusing, especially as many sound so very similar. It's not as caustic and fast as many bands in this vein, owing more to classic speed metal, but still boasting "cookie monster" vocals. Arriving in gatefold with lyric inner sleeve, it's a wall of guitar attack that brooks little argument, although, in the wider scheme of things, it lacks true musical individuality.
James Newton Howard Music from the Motion Picture Fantastic Beasts and Where to Find Them (Sony Classical): Brightly illustrated picture disc 12" single on which Hollywood director M Night Shylamalan's favourite soundtrack composer, and the man who created the memorable themes to The Dark Knight and The Hunger Games, offers up demo versions of his twinkling orchestral assaying of 1920s New York in numbers entitled "A Man and His Beasts" and "Kowalski Rag". Suitably balanced between wide-eyed Harry Potter luminosity and speakeasy jazz, they're both playful and likeable. However, as is sometimes the case with picture discs portraying complex imagery, there's a great deal of surface noise, in this case too much, a noticeable breathy hiss whenever the music grows quiet. While the music has charm, this is eventually a collectors' item for fans of the film, and, as such, is a good-looking slice of memorabilia. Comes in plastic transparent sleeve with explanatory sticker on the front.
José Manuel Excursion Africanism Remixes (Music For Dreams): Four cuts from Italian DJ-producer José Manuel's Afro-percussive album of last year receive the remix treatment. The highlights are parts one and two of the title track, the latter a dub. The album, perversely, only contained "Part 3" but these tribalistic machine journeys are hypnotic and would work for adventurous house and techno DJs, as well as for those who simply like mantric electronic music. Swiss producer Mehmet Aslan's version of "Voices of Africa" also has a soft power, as Hindi scaled notes float in the background of a house rhythm.
Every Kids Knows Defenders of the Nish (Hero Rhymes With Zero): This one doesn't start promisingly as the song "Twelve" sounds almost exactly like a b-side house mix the Stone Roses might have endured back in the proverbial day. Every Kid Knows is Holland-based musician JT Johnson and pals who impress by being poppy and accessible but not too straightforward; it's band music, strummed guitars and Sixties-style tunes, but filtered through studio trickery, synth whimsy and general technological mucking about. This saves it from being nice-but-derivative and pushes it into the realms of the more intriguing. It helps that Johnstone can write a decent melody line. One to watch.
Dennis Coffey Hot Coffee in the D (Resonance): Dennis Coffey was a guitarist in the Funk Brothers, the semi-legendary unit who played on multitudes of Motown mega-hits. He's best known for bringing in a rougher, more ballsy guitar sound as the Sixties turned into the Seventies on tracks such as Edwin Starr's "War". He also cut out on his own, most famously with the hit instrumental "Scorpio", much sampled on an array of well-known hip hop tunes. More recently Coffey was involved in tracking down the elusive singer Sixto Rodriguez for the acclaimed documentary Searching for Sugarman. Hot Coffee in the D is subtitled "Burnin' at Morey Baker's Showplace Lounge", which is in Detroit, the "D" of the title, and was recorded in 1968. Coffey plays as part of a three-piece with organ (Lyman Woodard) and drums (Melvin Davis), doing instrumental seven-to-ten minute versions of songs such as "By the Time I Get to Phoenix" and "The Look of Love", but really this is a virtuoso proto-funk showcase, laced with jazz chops. You can almost smell the vibes of that small sweaty piano bar getting down. Comes with 12" x 12" 12-page booklet that contains more than anyone could possibly need to know about the whole thing, including interviews with Coffey, Davis, singer Bettye Lavette and others.
Jess Morgan Edison Gloriette (Drabant Music): For the last half-decade Norfolk singer Jess Morgan has been steadily building a reputation on the acoustic circuit, hammering away from town to town, letting her songs slowly find purchase. Given what happened to Ed Sheeran, such a path to major success cannot be ruled out and, on her fourth album, recorded in Norway, Morgan brandishes the songwriting chops she's developed by sticking at her craft. There's a country tinge to it and, best of all, she stays away from nebulous songwriting about love pains, instead majoring in poetic thoughtful lyrics that make the listener pause and ponder, which is surely the intention. Comes on tango pink vinyl in photo/lyric inner sleeve.
Various 5 Years Anniversary (Out-er) + Terrence Dixon presents Population One Temporary Insanity Remix EP (Out-er): Two from the seriously techno German electronic label Out-er. Featuring the likes of Aubrey, Civilian, Simone Gatto and Frequency vs Atkins (original Detroit techno progenitor Juan Atkins and Dutch compadre Orlando Voorn), it offers an array of machine styles that occasionally wander off the dancefloor, although never far and never anywhere less than rather stern. Meanwhile last year's "Temporary Insanity/Multiple Choice" single by Terrence Dixon, another Detroit techno original, receives the remix treatment by Gatto, Voiski, Cosmin Trg and Pangaea, the latter a "Phase Dub". All of them are fresh, iron-taut, twisty versions of Dixon's already solidly buckled midnight batterings. Both releases are primarily aimed at DJs but there's material here to stimulate the imaginations of any austere avant-garde electronic modernist who chooses to listen.
We welcome any and all vinyl for review. Please hit thomash.green@theartsdesk.com for a postal address.
And as for 'The Goofy Movie', I won't even start
Share this article