theartsdesk Q&A: Singer Gregory Porter |

reviews, news & interviews
theartsdesk Q&A: Singer Gregory Porter
theartsdesk Q&A: Singer Gregory Porter
The jazz vocalist talks stagecraft, storefront churches and singing alone
Saturday, 19 November 2011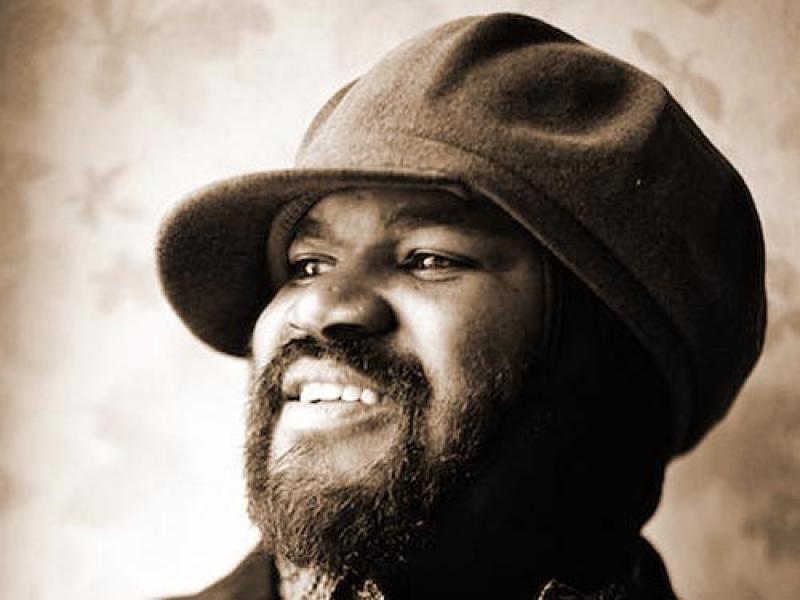 One of contemporary music's wonders: the baritone voice of Gregory Porter
Born in Los Angeles, raised by his mother in Bakersfield, and now living in the Bedford-Stuyvesant area of Brooklyn, Gregory Porter's resonant baritone is one of music's wonders. Porter's Grammy-nominated debut album, Water, has earned him praise from critics and fellow artists alike. Released in the UK in April this year to coincide with his appearance on Later... With Jools Holland, Water leapt to Number One in both the UK's iTunes and Amazon charts.
Porter's amazing vocal abilities have seen him described by no less a jazz luminary than Wynton Marsalis as "a fantastic young singer". Reflecting influences as diverse as Nat King Cole on the one hand and Donny Hathaway on the other, Porter's singular emotional intensity is very much his own.
Porter (pictured below performing at ReVoice! Festival, photo courtesy Brian O'Connor) attended San Diego State University on a football scholarship, as an outside linebacker, until a shoulder injury sidelined him permanently. It was while he was based there that he started singing jazz in small clubs. He first came to wider attention when he was cast in one of eight lead roles in a new music theatre work, It Ain't Nothin' But the Blues. Opening in Colorado at the Denver Center for the Performing Arts, the play was eventually produced on Broadway. It went on to earn both Tony and Drama Desk Award nominations in 1999.
His success on stage with It Ain't Nothin' But the Blues paved the way for another theatrical outing, the semi-autobiographical Nat King Cole and Me. Documenting a childhood marked by an absent father and the bittersweet experience of listening to his mother's Nat King Cole records, it ran for two successful months at the Denver Center for the Performing Arts.
A frequent guest performer with the Jazz at Lincoln Center Jazz Orchestra, Porter maintains a residency at Smoke Jazz in New York. His meteoric rise looks set to be bolstered by the release of his second album, Be Good, in February 2012. Gregory Porter talks to theartsdesk.
PETER QUINN: I've seen you perform twice in the past couple of months, first in a small group setting at the ReVoice! Festival, then with orchestra at the London Jazz Festival's Jazz Voice. What struck me on both occasions is your ability to immediately break through the barrier between performer and audience. How do you achieve that?
GREGORY PORTER: On stage you can say and do things so expressively, more so than you can do in a conversation. In a song you can grab somebody [Gregory grabs me forcefully by the shoulders], you know what I mean? When you first meet somebody, in the first few minutes, you really shouldn't do that. You were like, "Gregory, get your hands off me!"
As far as jazz vocals go, there's a whole bunch of ways you can go. And you have to let the musicians know how you want things to go. Like, I can whisper: "This... is the end... of a beautiful friendship." That's valid, and you can get your point across that way. But I'm at both ends of the spectrum. So when it's a song like "Black Nile" or "1960 What?" I want them to know that when I'm going for it, I want you to go for it too, to the point where it doesn't even have to be perfect. Just go, stretch and see how far you can take it.
Watch the official video for "1960 What?"
How was it stepping into the orchestral textures of Jazz Voice?
It's the closest I've been to that much beauty. The Lincoln Center Jazz Orchestra is, without question, very powerful and very beautiful. But the big band, with the addition of those wonderful strings, was really something. I completely enjoyed it. It was my first time, actually, with strings. I definitely want more of that.
The first time I heard Nat King Cole, before I dug deeper into the other things he was doing, it was with strings. It was such a lush, beautiful sound. Now, there's a little bit less flexibility, of course, because you have 46 other people that you have to line up with. That's not frustrating, sometimes you want to wiggle out of it, but that's an arrangement thing.
The performance of the self-penned "1960 What?" at Jazz Voice was a showstopper. How did that song come about?
What I can't say in the song is, for a young man who's coming out a liquor store to be shot, that's absurd. It's equally as absurd to self-destruct, to burn your own neighbourhood
You can get into a whole bunch of political things when you make a statement like I'm about to make. I don't mean this to debase anybody, any part, of the United States, but sometimes there can be an ancestral remembrance, or pain, or a legacy to much of the political strife that happened in the Sixties, and even before that. There's an emotional legacy to slavery, but as far as what happened in the Sixties, I'm directly affected. I remember once I got to be six, seven, eight years old, I was like, "Martin Luther King was murdered just three years before I was born." And that seems like so little time. So some of that overlap kind of falls into my lap as a child, when I venture out into the world, and in my feelings about things.
I'm not from Detroit, I wasn't born in Detroit, I have great friends there. And much of the music that has been disseminated around the world from the United States came from Detroit – that soul, that sound. I have like a feeling of home and ownership to places like Detroit and Harlem and different places around the country where a lot of cultural beauty has come from. In reading about Detroit, and travelling to Detroit, and seeing that there are buildings there that were burned out in the Sixties – there was an upheaval of emotion that caused me to write the song.
But, really, what I can't say in the song is, for a young man who's coming out a liquor store to be shot, that's absurd. It's equally as absurd to self-destruct, to burn your own neighbourhood. There's absurdity on both sides. The song is a documentary, in a way. It's not a celebration of the riots, and it's definitely not a celebration of injustice. It's just a conversation of history and the absurdity of injustice and the after effect of injustice. It's self-mutilation, it's real pain, and that's the opportunity to come in and have a conversation and talk. That's the time.
If Dr King were alive today, how do you think he'd view the current state of humanity?
Well, there are some things to celebrate. There are some really beautiful things that happen day to day. I'm free to stand up straight and hold my face up to the sun in any place I go around the world, and that feels good. But I do know that where people can hide and abuse people, they do it. I think Dr King would be searching, would be lifting up carpets and looking behind couches. He would be doing what CNN, on a commercial level, is trying to do. He'd be trying to do it in a more soulful way, you know: "I'm Dr King. Who here is a slave?" you know what I mean? Because that's still existing.
It would be interesting to see what his movement would be like in this global, electronic age. What could he inspire and what could he illuminate? I've only been thinking about it recently because the economic situation is in a dire place. There's a bunch of people with a lot of wealth and a bunch of people with nothing. And people are looking for these new slaves – slaves are nothing more than have-nots, desperate people. They're looking for people that they can control, because they have nothing. It's a time were things could get really scary or they could get really beautiful. We shall see. I'm on the side of trying to make some loving music.
What do you think it is about your music that seems to really affect people?
You know, I'm coming from the heart. And it's something that my mother instilled in me. She was a minister and I sang in little storefront churches. Sometimes it was just her, opening the building, turning on the heat. She was preaching and her choir was me. And she was like, "Baby, sing with an understanding." And when you apply that – it exists in the Gospel – but when you apply that to songs about, just life, it can become a powerful thing. It emanates from a source - for me it's God, and it's love, and it's my love of people.
Watch Gregory singing "Illusion" on Later... With Jools Holland
The thing that strikes you most when you first hear Water is the maturity of the writing. When did you first start to compose?
I've been playing with words and songs since I was a kid. But I would say the first decent song that I wrote, I guess I was 20 and it was just a blues. But it was good enough and strong enough to go into a musical that eventually found its way to Broadway.
My mother was a poet, as well, and she used to write these poems that always had some wit. She would always put something funny in it that would give it some edge, and give it a little street. She was a very refined woman. Where she worked – as far as helping people in soup kitchens and giving away clothing – she worked in the worst of the worst places. So people were using drugs, there were prostitutes, there were… you name it. She would write poems about these people. There was a woman who became really close to her, a prostitute, Barbara. And Barbara used to inject heroin. She wrote this poem, and the repetitive riff was "needle stuck in behind". It was funny and tragic. And I always liked the way she turned a phrase. So the influence is probably from her.
I can hear singers in other genres and I'm like, wow, they could be an extraordinary contribution to jazz if they were cultivated in that way
If you can view life as a documentary, I was in a really extraordinary documentary all the time. Sometimes it wasn't safe, but I always felt safe around her. I think about it now and it's like, wow, that wasn't a safe environment. I saw a man die from an overdose. I knew Barbara was a prostitute, I saw her work the johns. I knew these street characters, and they weren't so savoury. But my mother was, like, "This is where the battle needs to be fought."
And I was listening to music that was way before my time from an early age: Louis Armstrong, Nat King Cole, Sam Cooke, a whole bunch of catchy, cool things they were writing. And that can just stir your imagination, you can get cute ideas.
In terms of African-American jazz singers right now, you can almost count them on one hand – Kevin Mahogany, Andy Bey, Jon Hendricks. Why aren't there more people coming through in the jazz field?
I guess when the story is written, in my mind I feel like there was a cultural disconnect. And I haven't had an easy time finding my way to jam sessions. I have a very calm demeanour and I don't know if a lot of people would put up with a lot of the things that can happen to a singer.
Like what kind of things?
Like if a jam session starts at 8 o'clock and it goes till 12, you might get up at 11:56. If you go in and say "I'm a singer" and there's 12 horn players, you know what I mean? And it used to not be like that. If you read those interviews and they talk about Ella Fitzgerald and Dizzy Gillespie, they all respected singers. They all respected the voice, they knew its role. There was a stronger understanding that the horn is emulating the voice.
The voices that Dinah Washington, and Sarah Vaughan, and Ella Fitzgerald, those voices – Carmen McRae – they're born. But if the sound and the culture is not cultivated, that talent is going to other places. I can hear singers in other genres and I'm like, wow, they could be an extraordinary contribution to jazz if they were cultivated in that way. Now, I can sing R&B, I can sing soul, I can sing blues. But I'm a jazz singer and my desire is to have those musics be a part of the jazz spectrum. It's not new: Andy Bey, Etta Jones, Leon Thomas, early Marvin Gaye, it's not new to add that element of real emotional intensity. Yeah, I think there's a cultural disconnect that happened and somehow these young voices feel like the music doesn't belong to them, it's not in their family.
When people don't know me and I say I'm a jazz singer, they think they know what it is: "Oh, I know what you do." But you actually have to go and listen and experience it.
Do you also bring something from the theatrical world into your singing?
Well, eight shows a week can definitely strengthen the muscle of the voice. There's a discipline in the theatre that you have to give the audience something that they've come to see. There are great stories in jazz, great stories in the lyrics of jazz, and in a way the great jazz singers put on the cloak of the song. I don't really believe that Sarah Vaughan or Joe Williams, at the top of their game, are feeling so lonely they could die. I don't know if that's true. But I do know they have the extraordinary ability, as acting voices, to put on the cloak of that lyric and live it and channel some emotion that they've had in their lives to deliver that song and make it believable. So there's a bit of channeling and acting and really, you could say, emotional empathy.
The beautiful opening track from Water, "Illusion", sounds almost conversational. Is this how you envisaged it?
I like to sing like that. When I'm alone, I do that. There's no pressure of rhyming, there's no pressure for the bar lines to line up when you're singing alone. So I was like, why don't I just do that? This is my project and I'm with a piano player who understands me musically, and understands what I'm trying to do. Because from the first verse to the second verse it doesn't line up perfectly. I thought, why don't I just speak my feelings, my emotions, and put it in song form. So that's what I did, in that way of stripping away the technique. Because jazz singing can get a little special sometimes, even the way we hold the mic.
What can we look forward to on your forthcoming album, Be Good?
There are personal stories, as in Water. There's a real heartbroken song that's my story, that happened to me. That girl exists, she lives in Brooklyn and she's from Austria. There's "Mother's Song", about my dear mother. The standards are "Work Song" and "God Bless the Child", another song that's been done many times which I do very casually, a cappella. And it's at the end of the CD again, just like "Feeling Good" was [on Water]. I felt like I was giving respect to Billie Holiday – as far as somebody putting their own emotion into a song she was that kind of person. I do "God Bless the Child" a bunch of different ways with my band, but here it's just me and the lyric.
This album has more of a nod to the music that I grew up with. There's a song, "Real Good Hands", that's just a straight-up soul song about love and relationships. One song I wrote here when I was in London for the Jools Holland show. I was walking around and we stopped at the Tower of London. I didn't go inside, but I thought, wow, look at this structure. Something inside is of value. And I got to thinking about love. This structure, these ramparts, these defensive mechanisms are built up to protect something that's inside. So I'm thinking of this love that's inside of this tower, that nobody can touch. That came about by just walking around the city and seeing this… those walls are thick! That's real protection.
Watch the recording session for "Skylark"
The first time I heard Nat King Cole, before I dug deeper into the other things he was doing, it was with strings. It was such a lush, beautiful sound
Explore topics
Share this article