theartsdesk in Oslo: by:Larm Festival 2011 and the Nordic Music Prize |

reviews, news & interviews
theartsdesk in Oslo: by:Larm Festival 2011 and the Nordic Music Prize
theartsdesk in Oslo: by:Larm Festival 2011 and the Nordic Music Prize
Oslo's annual celebration of Nordic music more than comes up with the goods
Iceland's Jõnsi takes the Nordic Music Prize. HRH the Crown Prince Haakon Magnus of Norway looks on
Oslo's annual by:Larm festival celebrates Nordic music. Over the three days, just under 180 acts play Norway's capital: 142 are Norwegian, 15 are Swedish, with single figures each for Iceland, Denmark, Finland and even Greenland. Time presses, and hard choices have to be made about what to see. This year, by:Larm also hosted the inaugural Nordic Music Prize, awarded to Iceland's Jõnsi, for his recent album Go.
Overjoyed, but overwhelmed, in reaction he said little more than, "Thank you so much, I'm really bad at this."
HRH the Crown Prince Haakon Magnus of Norway presented the award. Quoting the jury he said, "The music of the winner could only have been made here, in the North. It sounds and almost smells like Iceland, it's brave and life-affirming pop music that grabs you by the heart in flamboyant Technicolor." (Imagine one of the British royal family making such a speech.) Jõnsi kissed him, a marked contrast to less spontaneous galas where moods feel forced, the participants interest feigned.
The route to victory was labyrinthine. Panels (mainly of writers) in each Nordic country chose a long list of albums from across the region; then this was narrowed down by voting. Further honing resulted in a final list of 12 candidates. At this point the process went international and a panel of non-Nords – including British writer/editor Rob Young and Rough Trade's Jeannette Lee – picked the winner. It was as if the individual and egalitarian Nordic countries couldn't bear to make the choice themselves in case it meant one country was favoured over another. For my part – and I love Jõnsi – I'd hoped the winner would be an artist less well known to the outside world.
Just how wonderful the other candidates were was demonstrated by the acts playing the awards show. Each played close to a full set – something impossible at the Mercury Music Prize. Each took the chance to shine. Iceland's Ólöf Arnalds was magical. She sings in Icelandic, but her mysterious songs soon had the audience singing along. Norway's own Susanne Sundfør was hypnotic (pictured right, photo by Atle Schie). A performer of such magnetism, emotion and enigma, it's impossible not to be moved by her. Her set mainly drew from last year's album, The Brothel, but one of her two new songs declared, "I go to funerals every day, I carry the coffin". Hymn-like, there is unmediated beauty, pain and loss in her music. She was followed by Sweden's Dungen, the most psychedelic live band on the planet. But not psychedelic in a British or American way: their jazzy approach draws on Swedish progg (sic - not prog, as in prog rock), the music which developed in the late Sixties to marry rock sensibilities to folk. These devotional performances were in perfect balance with each other, the spell cast by Susanne Sundfør lingering.
Oslo itself casts a spell. It's a beautiful city, European with Italianate boulevards and city-block buildings that could grace Haussmann-era Paris. Overall though, its cityscape is Nordic, with touches which stress that you couldn't be anywhere else. On the south side of the city centre, towards the ocean, 17th and 18th-century buildings are low-rise, plaster rendered in pale colours. Even the stock exchange has the feel of a grand farm building. These parts of the city feel rural. A sit down on an ocean-side bench is a reminder that this is Northern Europe. The scene is beautiful - the sea is frozen and mournful gulls on the ice look out of sorts. At least they don't have to walk. Pavements are ice sheets, and the continual footfall squeezes the frozen mass to the kerb, creating a dangerous raised lip of ice over a metre wide. Care is needed at all times.
Sleep Party People from Denmark are black-clad, in hoodies with felt rabbit masks that sport giant wobbly ears
Mobility issues notwithstanding, by:Larm is a convenient city-centre festival – despite the expense of Norway. A beer is typically around £8. Most of the venues are no more than a 10-minute walk from the central market square, itself taken over for the festival by a white tent with two side-by-side stages. Some of by:Larm's venues are spectacular. The awards show was held at Kulturkirken Jakob, a former parish church by architect Georg Andrea Bull, completed in 1880. It became a live venue in 2000. Retaining a sepulchral air, it's a more ethereal, otherworldly counterpart to north London's Union Chapel. Samfunnsalen is a 1930s workers' hall, lined with portraits and statues of figures from the Norwegian labour movement. Gamla is a frieze-lined 19th-century beer hall inside what looks like a stucco farmhouse. But the pinnacle – literally - is Stratos, a glass box plonked on the 11th-floor roof of the Labour Party headquarters on the east side of the market square. Snow-swept Oslo is laid out beneath you. It's like being inside a snow globe.
Instant hits at
Stratos are LCMDF, the Finnish electro pop outfit fronted by Emma and Mia Kemppainen (pictured right, photo by Adrian Bugge). Last time I caught them, in Tampere, Finland, they were a duo. Since then, they've acquired a drummer and – on the eve of the release of their debut album by British label Heavenly – they're at a peak. Energetic, with good humour, their straight-ahead, R&B-influenced electro pop is winning. Ironic album cut "Beach Life" – not much of that in Finland – is a stand-out. Also seen in the glass box are Sleep Party People, a more peculiar proposition. From Denmark, they are black-clad, in hoodies with felt rabbit masks that sport giant wobbly ears. Musically, bits of Low Life New Order and The Orb bubble up, but at a stately, hypnotic pace. Their sit-down singer's vocals are treated, unintelligible and sound like Mickey Mouse with a mouth full of marbles. Also Danish, seen at the homely and cheap bar Gloria Flames, Figurines were lovely: a Teenage Fanclub-type rush with the angularity of Franz Ferdinand and Neil Young.
Daniel Adams-Ray was more straightforward. A star in Sweden, he swept onto the white tent's stage with his casual-shirted band looking as though they were off to an office party. Singing in Swedish, he hasn't got much of a chance with UK audiences. The locals weren't moved, standing stock still to his Eighties-influenced pop. Van Halen's "Jump" was in there, so was "Easy Lover" Phil Collins. Norway's Montée appeared on the same stage later that night. Hotly tipped – and singing in English – they also evoked part of Phil Collins's past, namely "Invisible Touch" Genesis. Again, the audience were unmoved.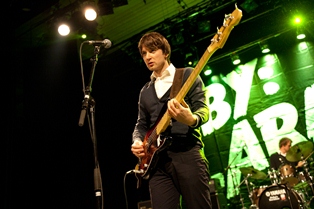 Some Norwegian acts did move the audience. At Sentrum Scene, a scaled-down version of Kentish Town's Forum, Team Me blended Fleet Foxes harmonies with Arcade Fire dynamics. They were loved, but seemed too close to their template. More interesting and at the same venue were local outfit Luksestar, one of by:Larm's most arresting bands. Although new to me, they're pretty well known in Norway. Lukestar marry Mew-like high-end vocals to music that evokes Denmark's Oh No Ono and underpins it with jagged rock-song structures. Some furious metal riffing is chucked in too. Tuneful, compelling and odd. More classically melodious were Kommode, the new band formed by Kings of Convenience man Eirik Glambek (pictured above left, photo by Eirik Lande). Kommode actually pre-date Kings of Convenience, but with his band mate Erlend Øye pursuing projects like The Whitest Boy Alive, Glambek has returned to and reactivated his roots. Smooth, Kings of Convenience-like, with a slight Brazilian and French sheen – Tahiti 80 fans would dig this big time – Kommode were a dream. This was only their second live show. On a similar tip were Stereobullet, a tentative and charming Norwegian teenage quartet with a sense of melody that should take them places once they find themselves.
Some things were harder to assimilate. Hjálmar are an Icelandic reggae band. Great at what they do, in an "Exodus" way, it's a head scratch. Equally without context was Norway's Guro von Germeten. She plays Klezmer music. Bergen's Datarock are a known quantity, having been around for over a decade and even contributing to the soundtrack of Ace Ventura Jr, Pet Detective. They nailed what they're about on their song "True Stories", where the entire lyric was derived from Talking Heads song titles. And live, that is what they are - the electro rock Talking Heads. Eyes closed, you're within Remain in Light.
by:Larm fulfilled certain expectations. Metal is a Norwegian staple, and a lot was spread around by:Larm. The textbook black/extreme metal outfit were the terrifying Obliteration (their toe tappers include "Nekropsalms Evoke the Frozen Age" and "The Smell of Rotten Entrails"), but the spirit was also present in slightly more approachable bands. Honningbarna are a gaggle of south Norwegian teenagers whose metal-influenced rock oddly echoes early Eighties LA outfit Fear. But Honningbarna weren't constrained by templates (pictured above, photo by Helga Brekke). Their V-neck-jumpered and sensible-shirted singer looked like an office messenger. He couldn't resist raising his arms every time he issued a guttural yell: Norman Wisdom as metal preacher. He also played a cello. Their keyboard player added church-like trills whenever he could fit them in. Terrific.
At its most affecting, Nordic music oscillates between raw emotion and the sheer joy in taking disparate elements and sticking them together
Equally memorable were Deathcrush, two women and a male drummer that attracted a more-than-capacity audience. After eventually getting in to see them, it was obvious what the fuss was about. A reduction of "Death Valley 69" Sonic Youth with a – literally – in-your-face stage craft, they found it hard to keep out of the crowd. The buzz around both Honningbarna – despite them singing in Norwegian - and Deathcrush suggests both will go international.
Of all that was new to me, what connected most was the astounding singer-songwriter Jenny Hval (pictured left, photo by Helge Brekke). She used to record as Rockettothesky, but after reconfiguring musically she's begun using her own name. Starsailor-era Tim Buckley is probably close mood-wise, but this jazz-inclined acoustic swirl has no peers. The interplay between Hval, her drummer and bassist was organic, shape-shifting but clearly not improvised. Her songs deal with – in very explicit language – feminist explorations of the body. Her own body is rigid as she performs, as though plugged into the mains. Like a wraith, her spectral voice wove in and out of the songs. Very special.
If there was one problem with by:Larm, it was the high standard of what was on offer. Perhaps the more straightforward was never going to stand out?
Then there were inescapable thoughts about what Nordic music actually is. One of the hosts at the awards show said that the region's music drew from the long periods of darkness, the climate. Fair enough for metal, but that neither goes far enough nor meets it head on. At its most affecting, Nordic music oscillates between the raw, unfiltered emotion of Susanne Sundfør and Jenny Hval, and the sheer joy in taking unlikely, disparate elements and sticking them together seamlessly. Lukestar, Honningbarna and Sleep Party People are extreme examples of this. Team Me and Figurines less so. As the journey through this world continues, understanding might be reached. It might not be.
But it is worth asking if there are differences between the music of Iceland and Finland, between that of Norway and Sweden, and with wondering what might be uniquely Danish. But for now, it's probably enough to bask in the aftermath of by:Larm.
See HRH the Crown Prince Haakon Magnus of Norway presenting the Nordic Music Prize to Jõnsi