Shadow Kingdom: The Early Songs of Bob Dylan review - noir settings for classic numbers |

reviews, news & interviews
Shadow Kingdom: The Early Songs of Bob Dylan review - noir settings for classic numbers
Shadow Kingdom: The Early Songs of Bob Dylan review - noir settings for classic numbers
Spine-tingling performances in Dylan's live-streaming debut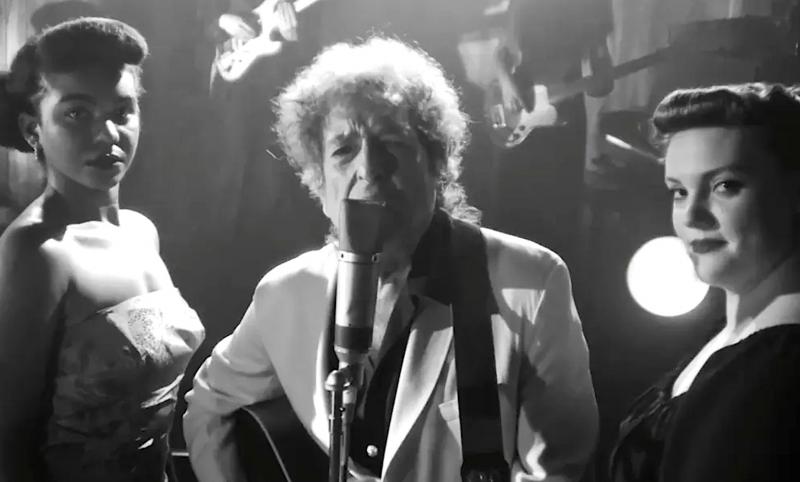 Dylan: 'immediacy and imagination'
What is the Shadow Kingdom and how do you gain access to it? In Bob Dylan's case, it may be found in the film noir classics of his birth – 1941's The Maltese Falcon onward – and it's those noir settings, artfully condensed and reduced to a signature sauce, that dictate the tone of the dim-lit tableaux that decorate the settings for Dylan's first foray into online streaming.
It's something of an event, given the cessation of the Never Ending Tour as a result of pandemic – he last played here in August 2019, that now-bucolic, innocent summer before Covid, and his last stage performance anywhere to date was in December of that year at the Beacon Theatre in New York. Early in 2020, he recorded the landmark Rough and Rowdy Ways, and in some ways, if not the rough and rowdy ones, this streamed Shadow Kingdom performance is its kissin' cousin. Not that anything from that album was played. But in its mix of the staged and performed, and with a strong emphasis on a more delicate vocal style, freed of the arena-standard drumkit-driven dynamics of past decades, it drew deeply on the ethereal intensity and ambience that was all across Rough & Rowdy Ways.
It's directed by advertising and documentary maker Alma Har'el, who is founder of Free the Work, a global talent platform promoting diversity, and Shadow Kingdom employed a strongly diverse cast of audience-cum-witnesses to the performance (although they weren't really an audience and it wasn't really a gig). She sets up from the off a smoked-filled immersion into Dylanesque noir land, with its mute witnesses, moody shadows, striking women and shirt-sleeved men. There's a touch of the stage about it – Girl from the North Country's rooming house might be next door to this Shadow Kingdom's rough and ready bar-room world. And if you missed it yesterday, it's streaming on Veeps for two days from it's 10pm launch on Sunday night, and your key to the kingdom is $25. Should you have invested, consider it money very well spent.
'What Was It You Wanted' has Dylan perched on a stool, with chiaroscuro backlighting, and adding some spectral, spine-tingling harmonica
Entry gives you 50 minutes and 13 songs amid a range of carefully choreographed settings and stages, and among those songs there were marvellously refreshed, reinvigorated and affecting performances of Highway 61 classics "Queen Jane Approximately", "(Just Like) Tom Thumb's Blues" and "Tombstone Blues", compellingly sung by Dylan and performed by a brand new band of Alex Burke, Shahzad Ismaily, Janie Cowen, Buck Meek and Joshua Crumbly, who drew mainly on light, measured combinations of plucked and bowed bass, accordion, electric and acoustic guitars and, on a striking version of "Wicked Messenger", cimbalom. Dylan himself plays a little, strumming on the opening "When I Paint my Masterpiece" and later for a lyrically reworked "To Be Alone With You", albeit I'm sure that guitar he was wearing had no strings... The outstanding performance, though, was Oh Mercy's "What Was It You Wanted", with Dylan perched on a stool, with chiaroscuro backlighting, and adding some spectral, spine-tingling harmonica towards the close. It's the best version I've ever heard.
There is so little of Dylan on pro-shot film from recent decades – Unplugged, at the White House, with Mumford & Sons, and that's about it. Which makes this visual record all the more arresting, even if it lacks a real close-up, and is only viewable for two days (I'd expect a release of some kind). Already, fans are wondering how much of it was live to camera, and how much playback – which are moot points, really, because what's important is that these were outstanding performances you rarely get on any stage, and they are outstanding songs that retain their original purpose and sense of imagination and immediacy. They don't betray either their age, or our own.