Reissue CDs Weekly: Ennio Morricone, Rites of Spring, Hotlegs, Cults Percussion Ensemble |

reviews, news & interviews
Reissue CDs Weekly: Ennio Morricone, Rites of Spring, Hotlegs, Cults Percussion Ensemble
Reissue CDs Weekly: Ennio Morricone, Rites of Spring, Hotlegs, Cults Percussion Ensemble
Italian soundtrack bonanza, unearthed US hardcore and the back pages of 10cc and Evelyn Glennie
The recent release of Berberian Sound Studio raised the level of interest in Italian film soundtracks. From the moment Ennio Morricone's compositions for the spaghetti westerns of the Sixties attracted attention, it became obvious that Italy operated to a different metronome than the other filmmaking nations. Morricone will always be a prime interest, not least because he has made so much music, in a bewildering array of styles. This exceptionally good value, neatly packaged clam-shell box collects eight of his soundtracks from 1969-1979 over four discs.
These are not spaghetti westerns. Nor are they from horror films of the type being made during Berberian Sound Studio. Half are gialli, while the rest are mainstream comedies and thrillers. The directors include top-drawer auteur Dario Argento. Although Morricone worked for countless directors and in equally innumerable film styles, he was always adept at making striking, unusual music with odd arrangements, imaginative instrumentation and (often) the haunting, wordless vocals of Edda Dell'Orso.
Prime amongst these is 1970's L'Uccello Dalle Piume Di Cristallo (The Bird With the Crystal Plumage), which features jarring intrusions, concrête-like textures and disturbing vocal interjections. Any of these soundtracks – from the bewitchingly abstract L'Assoluto Naturale (He and She, 1969) to the jazzy Metti, Una Sera A Cena (Love Circle/One Night at Dinner, 1969) – provide an entry point into this fabulous sound world.
Rites of Spring: Six Song Demo
Kieron Tyler
Rites of Spring barely existed. Although pivotal to, and influential on, the Washington DC hardcore scene of the mid Eighties, their two year lifespan birthed only one single and a sole album. This release of their first demo is important, pointing to how American punk would develop. It's also bloody good, and a useful replacement for that 10th-generation cassette dub. Minor Threat's Ian MacKaye took them into Inner Ear studio on 5 April 1984. What resulted wasn't the block-chord, raging slab of sound that defined US hardcore up to that point. It wasn't pop, either, but its sensibility was nuanced and melodic. As Rites of Spring evolved, they became more intense. Even so, this is recognisable as the band who recorded the classic End on End album. Drummer Brendan Canty and guitarist/vocalist Guy Picciotto would go on the join MacKaye in Fugazi. Essential.
Hotlegs: You Didn't Like it Because You Didn't Think of it - the Complete Sessions 1970-71
Kieron Tyler
10cc were hardly neophytes when they burst onto the charts in 1972 with the cod doo-wop of "Donna". Up to that point, their most recent brush with success had been as Hotlegs, whose insistent, percussion-heavy chant "Neanderthal Man" was a hit in 1970. Hotlegs were three-quarters of 10cc: Lol Creme, Kevin Godley and Eric Stewart. Graham Gouldman would soon come on board. "Neanderthal Man's" success meant an album was required, so Hotlegs Thinks: School Stinks hit the shops. This collection marries the album with tracks from singles, ones added to its speedy reissue and an alternate mix of "Neanderthal Man". A lot of this is playful pop with the snarky edge that 10cc would later revel in, but songs like the McCartney-esque "Take me Back" and the plaintive "Fly Away" show there was much more to them than one-off novelties. And so it would prove. As well as a fascinating look at the evolution of one of Britain's great bands, this comp stands on it own merits.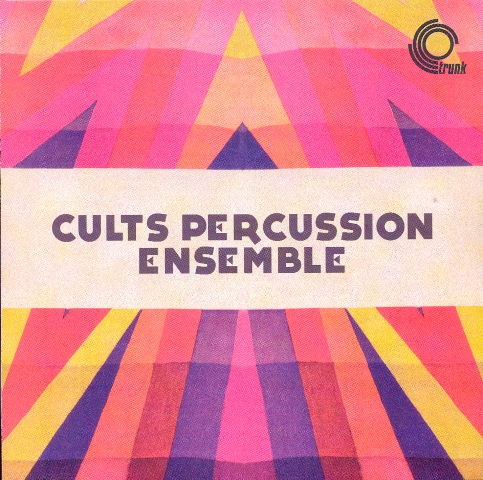 Cults Percussion Ensemble: Cults Percussion Ensemble

Kieron Tyler
It's a fair bet that hardly anyone owns a copy of the original 1979 pressing of this Scottish album. It's also a fair bet that until this point hardly anyone had heard of it. Disinterred by boutique reissue specialists Trunk Records, Cults Percussion Ensemble deserves to be heard widely, less because of its curiosity value but because the music is so hauntingly beautiful. The ensemble were assembled in 1976 by percussion teacher Ron Forbes, who had the album pressed to sell at their concerts. Most copies were apparently bought in France. Cults is a suburb of Aberdeen, hence the band's name. All female, and all around 14 when the band formed, the members were kitted out in floor-length tartan skirts. Of their line up, Evelyn Glennie would go on to widespread success. This is her first recorded appearance, but the musical vision here belongs to Forbes. Despite being percussion based, there is nothing strident about this music. Instead, the emphasis on glockenspiel, marimba and vibraphone creates a shimmering, warm and glistening sound – not unlike the exotica of Arthur Lyman. There is also a passing nod to systems music. Even with what it is now known about Cults Percussion Ensemble, this music retains its seductive inscrutability.
Watch the Ennio Morricone-soundtracked trailer for L'Uccello Dalle Piume Di Cristallo