Peter Doherty, Shepherds Bush Empire |

reviews, news & interviews
Peter Doherty, Shepherds Bush Empire
Peter Doherty, Shepherds Bush Empire
Can the elegantly chaotic ex-Libertine clean up his act?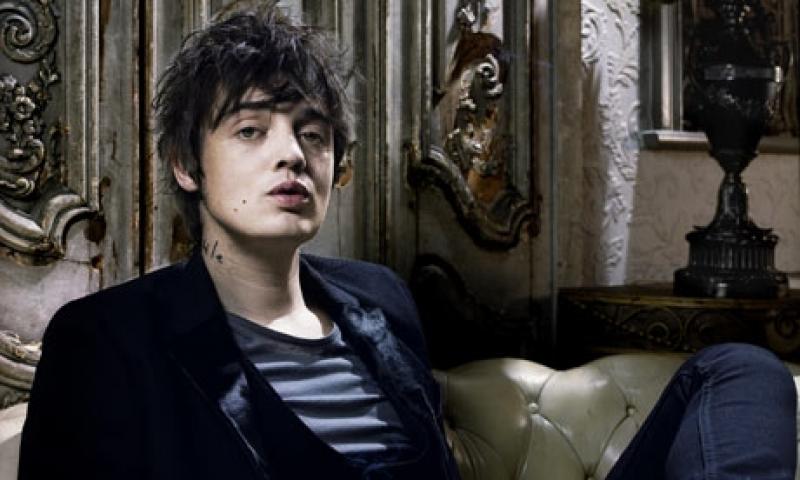 Peter Doherty: His beloved QPR have been promoted but is he staying in rock's Premier League?
One can safely say that there is never a dull moment with Peter Doherty. His life is such a soap opera it is often easy to overlook the fact that, even if you don't buy the tortured-poet schtick, he is clearly a gifted songwriter. It is such a shame he cannot knuckle down and stick to his day job and bash out some more classics.
This week he set out on a solo UK tour, not coinciding with a new album, but nicely coinciding with the promotion of his beloved Queens Park Rangers to the Premier League, which probably explained his cheerful if occasionally subdued mood in Shepherds Bush last night.
Doherty swayed unsteadily onto the stage 30 minutes late, but let's not play up the erratic troubadour line: I've had dentists who have kept me waiting longer, though admittedly they don't sway unsteadily when they finally attend to my molars. This was a gig stripped to the basics as if a victim of Coalition cuts. During the wait there was nothing to listen to but bloody Chas and Dave's hits, and little to look at apart from a chair, a non-specific drink and a couple of amplifiers. Doherty didn't look particularly healthy when he appeared, but he did look every inch the star, in a dapper dark three-piece suit and white shirt. In pictures he can seem quite slight, but in the flesh he is surprisingly imposing. Make no mistake, this debauched cherub has charisma to burn, captivating the crowd whether merely hitching up his trousers or reading out fan mail lobbed at him: "Don't worry, this letter doesn't contain knickers or sympathy."
The appearance of two ballerinas added a surreal twist to an already sublime evening
And, by gum, he also has some wonderful singalong anthems. With no new material, this frequently resembled a Libertines semi-unplugged set plus the best of Babyshambles. From "Don't Look Back Into the Sun" to "What Katie Did", Doherty delivered the verses and the audience happily supplied the infectious hook lines. He is not the best guitarist in the world – he probably wasn't even the best in The Libertines – but he gave numerous numbers a fresh lick of musical paint by chopping and changing the pace, slowing down and then accelerating to keep the audience on their toes, improvising lines about Chelsea fans in baseball caps and QPR. Some of his work might have a terrace-chant vibe, but there is also a real sense of ache to his lyrics about love, loss and Albion (not West Bromwich).
It did not always work. "Can't Stand Me Now" was crying out for some verbal sparring from Carl Barât and halfway through the show there was a bit of a traditional 40-minute dip when he tackled the Babyshambles back catalogue. But it was pretty impressive that Doherty played for 90 minutes. And after the lull, a snatch of "Blue Moon", presumably in tribute to his Superhoops, picked up the pace again. Doherty might not make their Premier League line-up, but he demonstrated some nifty soccer skills, volleying away a beer glass chucked at him.
The appearance of two ballerinas during "For Lovers" and "Last of the English Roses", freestyling around the amplifiers and fanning the sweaty star, added a surreal twist to an already sublime evening, but this was really Doherty's night. There is a sense at the moment that he is treading water, deciding on his next move. Maybe acting, maybe another lucrative Libertines reunion, though Carl Barât appears to have said that the latter is unlikely. What he really needs to do is sit down, calm down and write some new material. He made a terrific strolling minstrel last night. If this was a new Peter Doherty, let's now have a new Peter Doherty album.