Mordant Mass, The Vortex |

reviews, news & interviews
Mordant Mass, The Vortex
Mordant Mass, The Vortex
Deep bass, surging electricity and broken crooning at the jazz club
Avant-garde art, by its very nature, always treads a fine line between the sublime and the ridiculous, and between entertainment and alienation. Thankfully this is something understood very well by the joint curators of Friday night's show at the Vortex Jazz Club: Baron Mordant of the Mordant Music record label and Jonny Mugwump of the Exotic Pylon website and radio show. As the names perhaps suggest, these are people versed in the potential deep silliness of what they do, even as they take it very seriously indeed – and their event certainly ranged far and wide between the weird, the wonderful and the out-and-out wrong.
Disquieting oddness was provided through the night in the form of projections from Baron Mordant's current
MisinforMation
DVD which collects and re-edits documentary, drama and public information film footage from the 1970s and early 1980s to paint a picture of a lost, bleak and very strange Britain past. A short, endlessly looped clip of two presenters examining a model classroom worked particularly excellently, providing a suitably disorienting and cyclical backing for the first London set by Ekoplekz.
Watch snippets of MisinforMation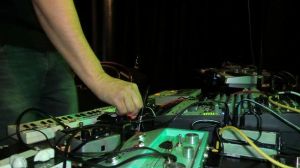 Bristol-based Nick Edwards has previously been better known for his Gutterbreakz electronic music blog. Gutterbreakz notably documented the emergence of the dubstep scene in the city, but also has a very personal take on electronic music past, whether that be the abrasive experiments of Suicide and Cabaret Voltaire or the production innovations of original Jamaican dub. And his music as Ekoplekz reflects these interests closely – constructed without computers, it was made from an intricately inter-connected circuit of archaic sound-processing devices (pictured right), and in sharp contrast to the grid-pattern neatness of modern electronic dance music, it really gave the impression of barely controlled electricity surging around this circuit.
Many modern noise musicians, such as Astral Social Club, use this kind of analogue technology, but Ekoplekz has a rare finesse, and – crucially – that grounding in dub reggae which gives his pieces a heavy, if ragged, groove. The sound was dense, echoes of simple tones or vocal interjections growing into surging waves of noise, but every time it threatened to become harsh or overwhelming a flurry of chirrups would fly in from the corner of the soundfield, or a clicketty-clack percussion pattern would rise up through the fug, throwing everything into relief and re-emphasising that groove. It was music that had its effect through immersion and duration – while Ekoplekz's releases thus far have been great, live he was a revelation, and the growing crowd of nerds and bohos gave him their rapt attention.
Listen to Vindicatrix's "Hume"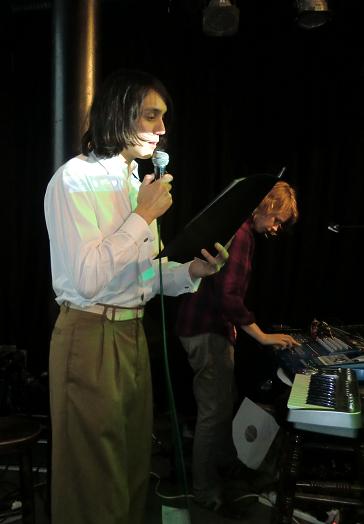 Vindicatrix – David Aird (pictured left) – was rather less of one. Even as he prepared himself on the stage, tinkering with an even more rickety collection of old sound-makers than Ekoplekz, it was clear from his dress shirt, high-waisted trousers and floppy hair that there was something arch about him – and his performance confirmed this and then some. Moaning Michael Jackson's "Human Nature" (retitled "Hume") in a startlingly close approximation to Scott Walker's careworn voice over a sickly collision of detuned samples and electro beats was certainly startling, but a rather over-rich concoction.
One audience member next to me sagely noted "a little of this guy's voice goes a long way", and the same could be said for his musical constructions. Over the lengthy set that followed, Aird and a young lady in a plaid shirt delivered further shattered beats, raging discords and treacly singing, providing plenty of interesting and potentially intriguing moments including one percussive wig-out which showed exactly how technically skilled the performance was, but almost nothing in the way of overarching dynamics or any attempt to engage the audience, who showed more interest in the smoking area outside than the stage.
No such problems for Sam Shackleton (pictured below), though. The Berlin-based Lancastrian, operating for the past five years on the fringes of dubstep, was the main draw for the night – but even allowing for the sense of anticipation, the transformation that just one man, a laptop and a mixer enacted on the darkened room was absolutely startling. Shackleton's schtick is ultimately a fairly simple one: skeletal structures of rattling percussion sounds, disembodied sampled Middle Eastern vocal melodies and huge bass notes that seem to rise up from the heart of the earth. But it is delivered with such assurance and such attention to detail – every single sound placed with incredible precision to create a rhythmic matrix that completely surrounds and overwhelms the listener – that its effect is instant and irresistible.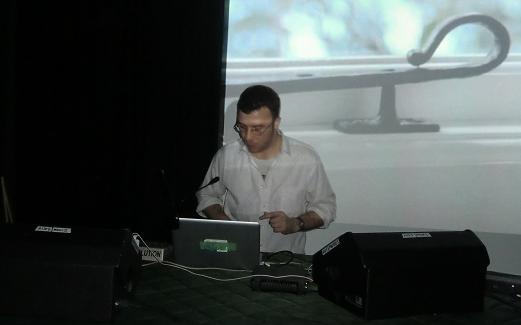 Any staidness or cold intellectualism in the audience was sloughed off in an instant, and the event turned in the blink of an eye from recital to rave, everyone without exception swaying or even dancing, and huge cheers erupting as each new bassline emerged into the sound. Yet this wasn't just mindless cutting loose: Shackleton's music works on mind and body at once, and has a dark apocalyptic wit that prevents it ever becoming standard hippie ethno-dub. It – and the night overall – was a perfect illustration of how engaging with the dynamics of club music can produce something which spans a huge range of avant-garde possibilities, making the ridiculous sublime and vice versa.
Share this article