Melt Yourself Down, Patterns, Brighton review - ballistic double sax punk attack |

reviews, news & interviews
Melt Yourself Down, Patterns, Brighton review - ballistic double sax punk attack
Melt Yourself Down, Patterns, Brighton review - ballistic double sax punk attack
An original and quickfire night of visceral jazz-punk-Afro-funk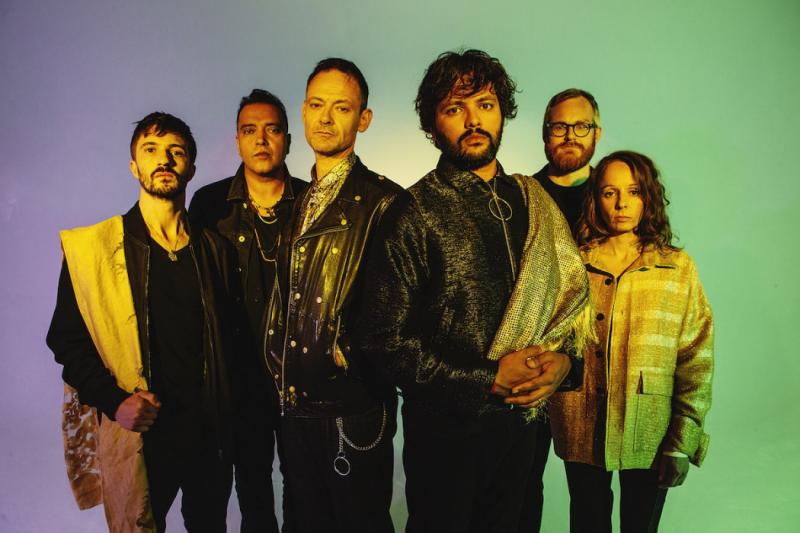 Melt Yourself Down (with a different percussionist than the line-up reviewed!)
"As you've noticed, I'm really terrible at talking between the songs," announces Melt Yourself Down singer Kushal Gaya, two-thirds of the way through the gig. He is. But it really doesn't matter; the genre-uncategorizable London six-piece smash through their hour-and-15-minute set with a lean, giddy forward propulsion that brooks no pause.
Consequently, the small, sold-out, low-ceilinged club venue gradually becomes a wriggling, sweaty rave-pit.
A lot has been written about the London jazz resurgence of recent years. Names such as Shabaka Hutchings, Nubiya Garcia and Seb Rochford bandied about, and rightly so, but Melt Yourself Down push further from jazz in the live arena than their ostensible peers. While Sons of Kemet's albums contain song-based material, for instance, in the live arena they tend towards a jazz improvisational experience. Melt Yourself Down, on the other hand, adhere to a template of putting the songs first, short, tight, and shouty.
They kick off with "Boot and Spleen", the catchy anthem that opens their previous album, 2020's 100% Yes, but the set is thematically closer to the rushing relentlessness of their new one, Pray For Me I Don't Fit In. The band are crammed together on a small stage but move amongst each other where they can; on the left, svelte band-leading saxophonist Pete Wareham, on the right, counterpoint sax George Crowley, with Gaya a live wire between them, the latter pair both wearing loud short-sleeved shirts.
In front of a simple lighting backdrop - long bars of green and blue - bearded drummer Adam Betts is rhythmically supported by a bongo-tastic percussionist Zands Duggan and bassist Ruth Goller who moves back and forth, clad in a black cut-off tee, laying down thumping, fat, noisy, purposefully dominating foundation lines redolent of bands such as World Domination Enterprises and the dirtier end of On-U Sound's classic roster.
It's an unconventional instrumental line-up which they make a vehicle of consistent attack. Mostly this works. Amid the pelting energy, highlights include the speeding punk-funk of "Crocodile" which has an early Chili Peppers vibe about it, the polyrhythmic punk of "Balance", a whopper of a tune, and "It Is What It Is", wherein Gaya pauses the band mid-song for what seems like ages, to ramp up the energy, then lets the beast loose to whoops and shrieks.
After a brief disappearance they return to tie their colours to the musical mast in the encore with a sterling version of The Stooges classic "Now I Wanna Be Your Dog", before closing on the one-two double-punch of "Fix My Life" and "We Are Enough". The former boasts a crowd-go-low-then-bounce-back-up which didn't quite work, but the latter dissolves into an appropriately dissonant hypno-groove as it draws to a close. Melt Yourself Down then retreat, waving and smiling, to well-deserved and raucous applause from the now-boiling hubbub.
My companion argues, as we walk home in misty drizzle, that the set could have done with more light and shade, rather than just relentless freneticism. He has a solid point but it's also clear what the band are doing here. They're having a pure ragin' moment, focusing on honed, snappy, karate-punch bite rather than nuanced flow. It fits these times and, while it was a blast to catch them in a perspiration-sodden small club, I cannot wait to see them tear the lid off a festival this summer.
Below: Listen to "Pray for Me I Don't Fit In" by Melt Yourself Down
An unconventional instrumental line-up which they make a vehicle of consistent attack
rating
Share this article