Interview: 10 Questions for Conor Maynard |

reviews, news & interviews
Interview: 10 Questions for Conor Maynard
Interview: 10 Questions for Conor Maynard
Britain's biggest teen idol talks Ne-Yo, flashmobs, Autotune and much more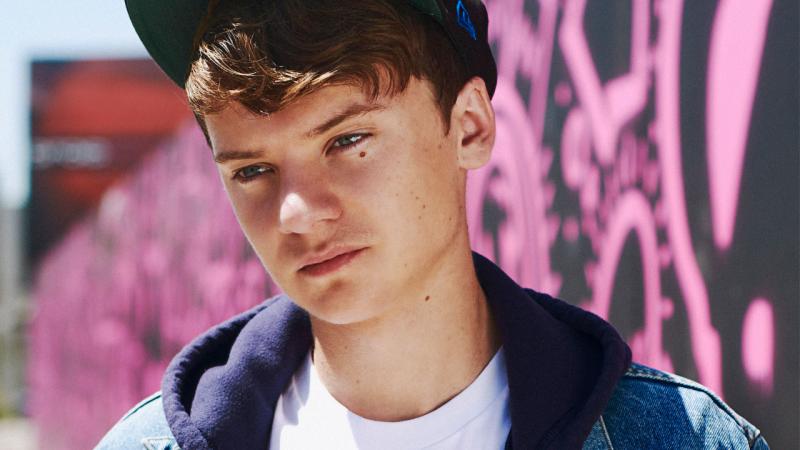 Contemplative Conor
Conor Maynard is a 19-year-old pop singer, originally from Brighton. He first gained a profile by posting YouTube footage of himself covering a variety of pop and R&B songs. His success increased dramatically when he started working with Virginian rapper Anth Melo. Record company attention arrived after he was spotted by the American singer Ne-Yo and in 2012 his debut album Contrast appeared, featuring three hit singles, "Can't Say No", "Vegas Girl" and "Turn Around".
Due to his devoted teenage fanbase, parallels are sometimes drawn with Justin Bieber but, in truth, Maynard is stylistically closer to Justin Timberlake. theartsdesk caught up with him just before the first date of his current UK tour. Originally we were to have a personal audience but Maynard was feeling a tad nervous about the concert so, in the end, chose to speak on the phone as he was driven by car from London to Brighton. His manner is bright and enthused, if opaque in the manner of the media-trained, and he signals the end of each answer by pausing then saying, "So… yeah."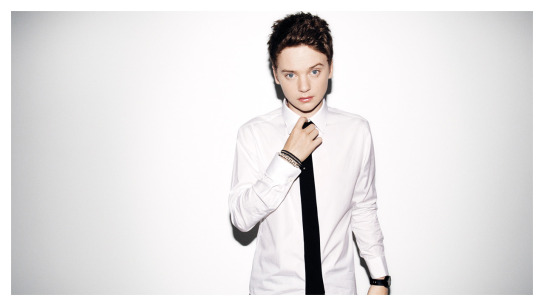 THOMAS H GREEN: On your album's sleeve notes you give a special shout-out to EMI A&R Elias Christidis and to the president of Parlophone, Miles Leonard. Do you hold them in particular regard?
CONOR MAYNARD: They were the ones who believed in me from the start. They really took a step forward and were the people who brought me in. I got along with them the best and they were really positive and confident about me as an artist. They've become friends.
The Invisible Men are a songwriting trio consisting of Jason Pebworth and George Astasio, who used to be in the American pop-rock band Orson, and Jon Shave, who was once part of the Xenomania production team. They were responsible for hits, such as Jessie J's "Do It Like a Dude" and DJ Fresh & Rita Ora's recent No 1 single "Hot Right Now". They also worked with you on your first two singles. Tell us what it was like to work with them.
I definitely liked stuff they'd done in the past. When I first started the album I much preferred working with people I felt comfortable with and the Invisible Men were the first producers who really understood what music I wanted to make. They were really helpful and I connected with them really quickly, worked on a lot of cuts that eventually made the album.
How was it that a Brighton boy originally hooked up with a Virginian MC (Anth Melo)?
It was the power of the internet. Anth found a video I made ages ago [on YouTube], back when I was first doing my covers. It was recorded with quite a good quality microphone. He contacted me about doing a collaboration so I checked out his stuff, thought it was really cool. I said, "Definitely let's do it." We came up with a couple of ideas and ended up doing a cover of "OMG" by Usher. We recorded our parts, sent them to each other and it was all through internet, never met at this point, put it together through Skype and emails. When we uploaded it, it blew up, so obviously we did more and more covers.
Watch Conor Maynard and Anth Melo cover Usher's "OMG"
Broadly speaking, what is your opinion on the use of Autotune vocals in contemporary popular music?
I think it's sometimes misunderstood as to what it is. Sometimes people think it allows you to be able to sing. Autotune doesn't do that, it's an effect on your voice. Some artists, like T-Pain and sometimes Chris Brown, turn it up to its fullest as a stylised effect, where you can really hear it, but with other artists you can't really hear it, there's just something there that makes things sound a bit more sweet. The difference between now and back then is it was all live instruments and live instruments aren't perfect. Things could be slightly out of tune so singing slightly out of tune wouldn't get picked up. It all blended together and made the song whereas now everything is so perfectly in tune through computers that if the voice was just a bit out of tune it would stick out instantly. Autotune sweetens that but obviously when you see an act play live you can see if they can sing or not for real. You can't use Autotune live.
Describe the last time you hooked up with Ne-Yo.
Over in New York last week, still definitely working on music. I see him whenever I'm in New York or he's in London, a really cool guy, almost a mentor in terms of my music. We just chill in the studio, really, talking and eating. I also went along to his little Malibu Red party to hang out so that was cool.
How easy was it for you moving from cover versions to your own songwriting?
Definitely a weird transition as I was so used to singing other people's songs. When it came to writing original material I wasn't even sure what direction I wanted to go in. The first year of me being signed was experimenting in the studio, finding out what sort of artist I wanted to be. I was only 17 when I signed so I was a growing up while finding my sound.
How do you feel about acting? In the small speaking part at the beginning of your video for "Vegas Girl" you seem a bit self-conscious.
It was a weird thing to act and to try and make it normal. Also, until the day of the shoot we didn't know what we were going to be saying so it was a funny situation. It was odd, he [the director] was giving me weird ideas and I was saying, "No I'm not doing that." So it was all about how I could get from meeting the girl in the video to taking her picture. There were some really dumb ideas.
Watch the video for "Vegas Girl"
How did you get a Frank Ocean song for your album?
That was crazy for me. His producers were over in London and they'd seen my covers on YouTube and got in touch with people who worked with me. I met them in a studio and they played me a few songs, some written by Frank, some not, then I heard "Pictures" and thought, "I love that song," and Frank Ocean was singing the demo so that was the one I wanted to record. Annoyingly I never got to meet him but hopefully in the future I will. I feel like he's a rare artist that's allowed R&B to live in the now, like a lot of artists have stopped doing that but he's really continued it.
His revelations about his bisexuality were certainly a new step for someone in that field.
It made people really interested as it's such a rare thing to happen for someone in that genre. He did write about it on his album which sparked a lot of people's interest. I listened to him back when he was doing random mixtapes so it was really good seeing his album do so well.,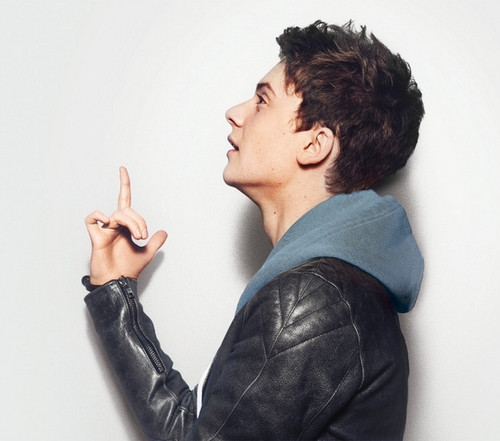 As a 19-year-old man with multiple options open to you, does it get frustrating constantly having to appear squeaky clean all the time?
When you go to events and stuff, maybe like shows, I suppose you've got to think about it. Sometimes you worry about being an artist or a celebrity. You don't want to walk out and a random tabloid pick some random thing. You see it happen to other people and it's not nice. You sometimes feel a bit self-conscious about that. I'm a 19-year-old guy but I think if I was a girl or something like that it would be worse. Luckily I get the less worse end of it. They're being kind to me at the moment. I ignore it.
How was the photo shoot for the album? There's a striking shot of you being pulled along by your tie by someone outside the photograph.
There were two photo shoots done for it, one in London and one in America. We had this photo shoot in London way before album was released and actually went with a picture from that shoot as the cover. Photo shoots are a chance to experiment with looks and ideas. I try and play music I enjoy for a photo shoot to get me in the vibe of having fun in front of the camera, not feeling weird, just doing it. The person pulling my tie - [Laughs] - that's actually a woman named Julia. That photo shoot was taken while I was doing the "Vegas Girl" video shoot in New York and she was my behind-the-scenes camera girl. She's still a close friend now so that's really cool. She had a very good grip on my tie… good hands.
What was the last album you played end to end?
Funnily enough it's probably Frank Ocean's album but I've got Nas's album on right now and I'm about to get to the end of it so it could be that.
Is it true there have been Conor Maynard flash mobs?
Oh, in American I was doing… Mayniac meet-ups, they were called, saying where I'm going to be an hour before I get there and fans show up. In New York it got a bit out of hand when 200 girls turned up at this tiny sweet shop. It was crazy.
Watch the video for "Turn Around" featuring Ne-Yo
When it came to writing original material I wasn't even sure what direction I wanted to go in
Explore topics
Share this article
Subscribe to theartsdesk.com
Thank you for continuing to read our work on theartsdesk.com. For unlimited access to every article in its entirety, including our archive of more than 10,000 pieces, we're asking for £3.95 per month or £30 per year. We feel it's a very good deal, and hope you do too.
To take an annual subscription now simply click here.
And if you're looking for that extra gift for a friend or family member, why not treat them to a theartsdesk.com gift subscription?