Florence + the Machine, Alexandra Palace |

reviews, news & interviews
Florence + the Machine, Alexandra Palace
Florence + the Machine, Alexandra Palace
Pre-Raphaelite poster girl still shouting with style
Tuesday, 22 September 2015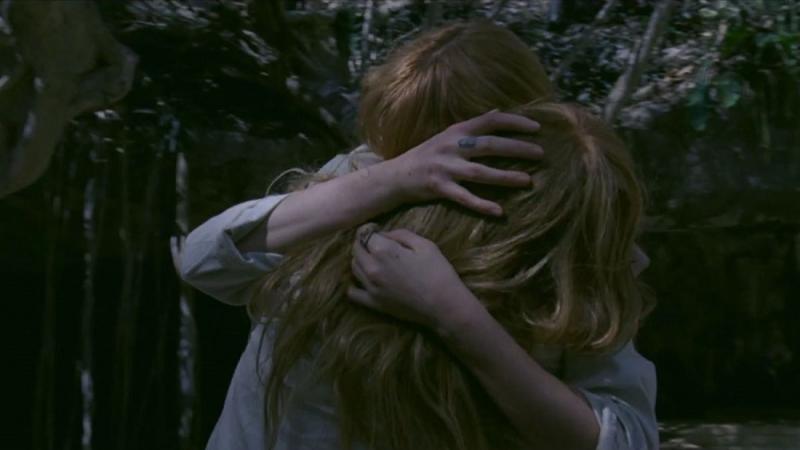 Florence doing a Florence: from the video for 'How Big, How Blue, How Beautiful'
There's a new book out called Red: A Natural History of the Redhead, which gets to the heart of what it is to have the ginger gene, be it Boudicca or Jessica Rabbit. It says coppertops are more prone to bee stings, and perfume gives off a different odour on their skin. And then there are the more hackneyed ascriptions: flaming hair implies fieriness, wildness, total and utter otherness etc.
This is not to solicit a visit from the ginger police, but can anyone picture Florence Welch with a short sensible peroxide crop?
She'd be a much tamer beast than the creature who opened her Alexandra Palace residence with a wig-out anthem about suicide. "What the Water Gave Me" invoked Virginia Woolf splashing into the Ouse weighed down with stones. The aquatic theme continued in the savage blast of "Ship to Wreck", with its fearful images of great whites and orcas. It's a wonder she hasn't yet reincarnated Dante Gabriel Rosetti's drowned Ophelia in song (and video opportunity).
Any allusions to lunacy seemed entirely unintentional, if apposite
An evening with Florence features a daisy chain of pocket psychodramas, funnelled through a nervy foghorn. "Queen of Peace" would be ironic if only Florence did irony. Instead she does bombast in bare feet and a white suit. The relentless melodrama of her performance persona channels an unvanquished inner tot. She scampered and skipped around the stage in pretty twirls and sweet pirouettes. Best of all, after "What Kind of Man" she simply flopped to the floor. Throw in the vuvuzela vocals and easy-to-grasp emoji melodies, and it's a ridiculously entertaining package.
Florence + the Machine have gone up a notch since Welch seized Glastonbury by the scruff of the neck this summer by surfing a wave of bank holiday love. She was still at it here. Like the charismatic leader of a nonconformist sect, she variously urged her people to bounce and hug, to strip off garments and wave them and, for "Rabbit Heart (Raise It Up)", clamber atop shoulders. Twice she mounted the crash barrier to meld with the pleading hopefuls with outstretched arms in the front row from whom she gives the air of having sprung. She still wears the wide-eyed "Is this all for me?" look of a fantasist starring in her own true fairytale.
The appealing aura of perpetual crisis lifted only a little for a quieter acoustic section led off by "How Big, How Blue, How Beautiful". This was written, she advised, during a period when she was "in love with everyone I met". (The vid tells another story of a woman in love with her own reflection made flesh, but hey.) Things got even quieter in "Cosmic Love", in which the harp sounded like the plucked strings of Florence's quivering heart. Normal service was resumed with "Mother", featuring brass trio and glockenspiel.
And on the jumbo tunes came, from all three of her albums: "Shake It Out", "Third Eye", "Delilah", "Spectrum (Say My Name)". Whatever delicacy they may have had in the studio, in concert her robust power pop has been customised to overwhelm big rooms. In "You've Got the Love" the indomitable larynx shared shouting duties with the audience. In "Dog Days Are Over" the whole venue clapped along to the harp, which can't have happened often in the instrument's quiet history, while a full moon rose over the stage. Any allusions to lunacy seemed entirely unintentional, if apposite.
She finished with "Drumming", from her debut album Lungs, about the noise inside her head that's louder than sirens: "I swear that you should hear it," she screamed. "It makes such an almighty sound." We heard it alright, loud and clear.
An evening with Florence features a daisy chain of pocket psychodramas, funnelled through a nervy foghorn
rating
Share this article