Florence + The Machine, Genting Arena, Birmingham review - flying the flag for a hopeful future |

reviews, news & interviews
Florence + The Machine, Genting Arena, Birmingham review - flying the flag for a hopeful future
Florence + The Machine, Genting Arena, Birmingham review - flying the flag for a hopeful future
Florence Welch takes her hippy schtick back on the road with new tunes front and centre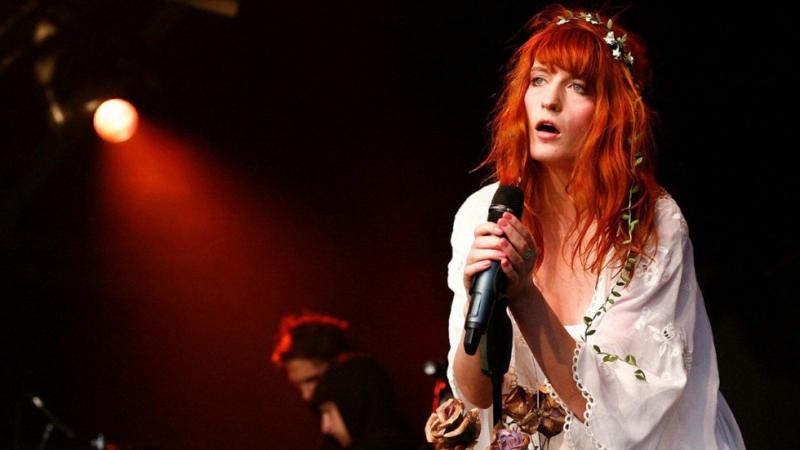 An almost stadium folk set
Many established artists, when out on tour, can get all a bit bashful about their new material. In fact, it's not unusual for bands to hide a couple of new tunes in the middle of their live set with embarrassed mumbling about "you don't really want to hear the new stuff anyway" before launching into a note-perfect rendition of a tune that was a hit several years previously.
This is not the way of Florence + The Machine, whose
High as Hope
tour features a set that pulls almost half of its material from their recent, Mercury-nominated album.
Without even a "hello", Florence Welch and her eight-piece Machine bounce onto the stage of Birmingham's Genting Arena and launch straight into a brace of tunes from the latest album. "June" is a mellow start to the evening, with its slow tempo and understated tune. However, it sees Florence skipping and twirling around the stage in a full-length floaty dress and bare feet. Moving up a gear slightly with "Hunger", the audience may not be dancing like dervishes but they are most definitely on-side.
In fact, pretty much the whole of the first half of the gig was made up of some of Florence's more chilled tunes. From the sublime "Between Two Lungs" from the 2010 debut album to a rendition of "Queen of Peace" which led Florence to proclaim "There's a very good energy in here this evening. Very free and very feminine", things got pretty hippy with Welch's almost stadium folk set. That's not to say that Welch gives the impression of living in a bubble where everything's groovy; before hitting "South London Forever", she reassured everyone not to give up hope in these "messy times".
The tempo picked up with "Dog Days Are Over", which led to Florence imploring people to put away their mobile phones so they didn't embarrass others into not losing themselves in the music and atmosphere of the occasion. Similarly, "Ship To Wreck", from 2015's How Big, How Blue, How Beautiful, had plenty in the audience bouncing around with their hands in the air. For "Cosmic Love", however, Florence was looking for a bit of audience participation and asked everyone to get out their phones again and turn their torches on. What could have been a bit of a cheesy moment, was actually quite beautiful, as the huge barn of a venue was lit up with electric stars from the stage to the back wall, while Welch threw her hair about and pirouetted around the stage. For "Delilah", she dived into the crowd, chased by a couple of security crew, and still singing, managed to neither drop her microphone nor the beat but emerged with a crown of flowers before throwing herself into the anthemic "What Kind of Man".
Returning briefly, for a mellow take on "Big God", accompanied by a shower of confetti from the eaves of the huge room, and a lively "Shake It Out" it was clear from the big smiles around me that Florence Welch had at least managed to restore some hope for a better future in her audience.
The huge barn of a venue was lit up with electric stars from the stage to the back wall, while Welch threw her hair about and pirouetted around
rating
Explore topics
Share this article