Amanda Shires, Woodend Bowling and Tennis Club, Glasgow |

reviews, news & interviews
Amanda Shires, Woodend Bowling and Tennis Club, Glasgow
Amanda Shires, Woodend Bowling and Tennis Club, Glasgow
Fiddle-playing Texan songwriter makes friends on her first UK headline tour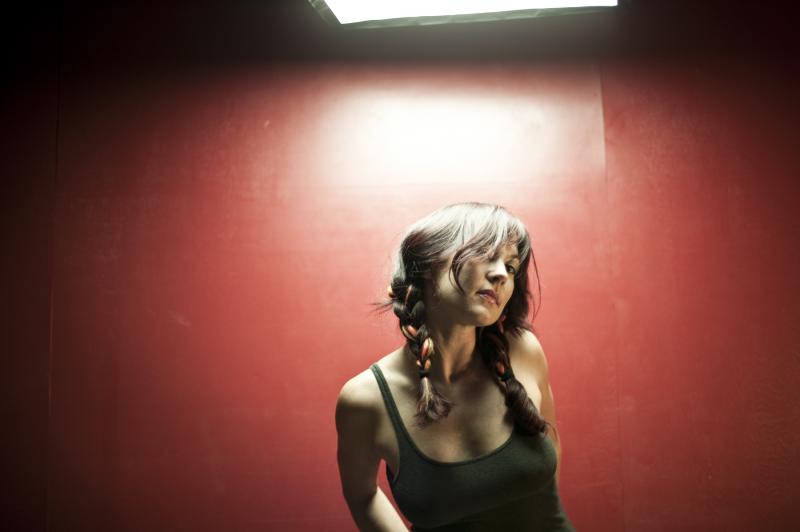 Amanda Shires: fearlessness and fabulous boots
In a members-only bowling club, down a side street in a residential part of Glasgow I'd never visited before last night, Texan fiddle-player and songwriter Amanda Shires stood wearing the most magnificent pair of cowboy boots I had ever seen.
They were a well-worn grey, decorated with the same f-shaped slots as her own instrument, and complete with giant silver buckles that made a satisfying jingle like heavy-duty sleigh bells when she stamped her feet hard enough to be her own backing track. They remind me of a shop sign I saw in Nashville once, offering "two free" when you bought one pair of the boots that seemed to fill every shop window on the Broadway. I thought it seemed like a good deal until my best friend told me how much you'd be paying for one.
It is on the more playful songs that Shires is truly something special to watch
The Nashville connection is a pertinent one actually, because it was there Shires moved to find her voice before the release of her 2009 debut album West Cross Timbers. State lines few cross due to the intense musical rivalry between the two states, Shires explained, both locations permeate her songs - from the delicate finger-picked search for a place to call home that is "Mineral Wells" to the raucous gospel stomp of the singer's first experience of a church that practiced snake handling.
The intimate setting was the perfect foil to Shires' music, allowing her to tease an occasionally raucous Glaswegian crowd as if we were hanging out together in a bar (or 'snug', perhaps, the singer's favourite lexical discovery from a trip which has so far taught her 'higgledy piggledy'). She was joined on stage by long-term collaborators Todd Pertil and Rod Picott,West Cross Timbers the latter of whose "Angels and Acrobats" she covered on her debut. "I sing it better," she said frankly, before performing the song with such beauty and gravitas that even Picott had to concede. "Still, she doesn't have songs about welding and unemployment!" he said afterwards, introducing two of his own about the very same.
Having played violin at some point in the distant past I'd always wondered how a singer could combine an instrument that must be held under the chin with a clear, strong singing voice. It turns out you don't, not really - Shires held what I hoped was the same instrument that her father found for her in a pawn shop like the banjo she played later for the verses, but in between she made it sing. Slow burners from new album Carrying Lightning - "Slow Gin" and "Love Be a Bird" - were granted a dignified, wistful timbre providing a perfect counterpoint to Shires' sweet, expressive voice. Played to great effect, this second instrument of Shires' displayed strength and fragility in equal measure during an incredible cover of Leonard Cohen's "I'm Your Man" before running roughshod over a clear-voiced little country number, possibly about shooting an adulterous husband, that she said she wasn't allowed to play if her grandmother was in the room.
But it is on the more playful songs that Shires is truly something special to watch. "Ghostbird", from the new album, is full of mischief and sparkle and a hummable refrain while the undoubted highlight of the evening is an a capella "Lovesick I Remain" delivered stream-of-consciousness style with dramatic pauses held in time to the finger snaps of her new friends in the audience. We lasted the full four rhythmic minutes, and she seemed delighted by the "because we're Scottish!" banter from the crowd. Bring on the snake charmers, because this bowling club is ready.
Watch Amanda Shires sing "Angels and Acrobats"
Slow burners from her new album were granted a dignified, wistful timbre providing a perfect counterpoint to her sweet, expressive voice
rating
Share this article