Sweet Home Alabama: the Southern Rock Saga, BBC Four |

reviews, news & interviews
Sweet Home Alabama: the Southern Rock Saga, BBC Four
Sweet Home Alabama: the Southern Rock Saga, BBC Four
Surface-skimming look at the late Sixties and Seventies music of the US's southern states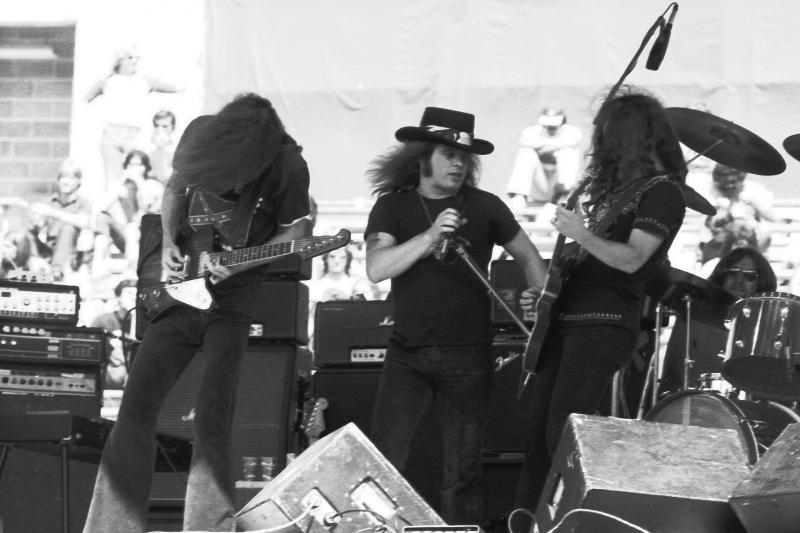 Lynyrd Skynyrd in 1975: 'they just wanted to party'
"Suddenly, all America wants to be a redneck". That might be slightly overstating the impact of southern rock on American culture. Californian ex-actor Ronald Reagan becoming president in the footsteps of Georgia's Jimmy Carter suggests it's an unsound declaration, despite the prime-time scheduling of The Dukes of Hazzard during Carter's tenure. Sweet Home Alabama made the case for the rock music of the south, but failed to convince that it inspired a cultural shift.
Instead, this was essentially the story of two bands: The Allman Brothers Band and Lynyrd Skynyrd. The path traced began with the April 1968 murder of Martin Luther King in Memphis. It ended with Carter's presidency and Lynyrd Skynyrd's "Freebird" becoming a world-wide rock anthem.
You could get killed in the south with long hair if it was over your ears
Clichés about America's southern states were reinforced by Easy Rider hitting cinemas in 1969. Neil Young's "Southern Man" took it further in 1970. Long hairs on motorbikes were ripe targets for pot shots. We were told "you could get killed in the south with long hair if it was over your ears". Adopting the trappings of the counter culture was a tougher choice in Alabama or Georgia than it was in, say, Notting Hill or San Francisco. Yet standard bearer and pioneer Duane Allman ran the freak flag up. The killing of Martin Luther King reinforced divisions between black and white, which meant the pool of studio musicians became less integrated. Even so, Duane Allman played on Wilson Pickett's version of "Hey Jude".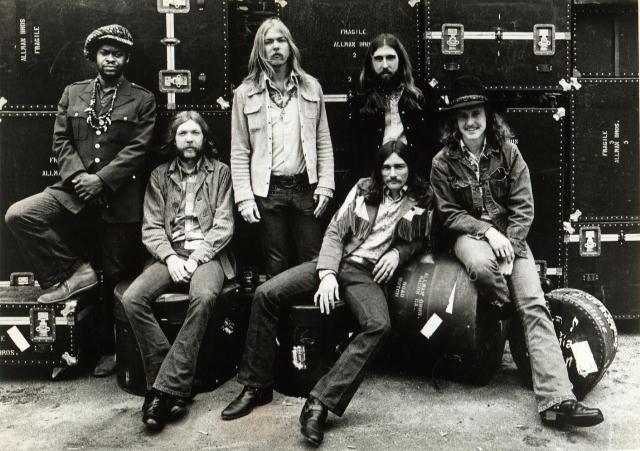 After a few false starts and brushes with the mainstream music biz, Allman formed The Allman Brothers Band with his brother Gregg on vocals (pictured right). Their blues rock was tinged with soul, and about the guitar as much the songs. At this remove, and based on what was seen in Sweet Home Alabama, the early Allman Brothers Band was a sparky outfit with charisma and technical proficiency. But nonetheless, like so many others from this period, they were another gang of blues rockers. You had to be there to get them?
One of their early support bands was Florida's Lynyrd Skynyrd. They were from Jacksonville, described as a "kill or be killed neighbourhood". A bar band, Lynyrd Skynyrd were "jukers" – drinkers, making music for drinking to, presaging Spacemen 3's snappy tagline of "taking drugs to make music to take drugs to". R.E.M.'s Mike Mills commented that Lynyrd Skynyrd "didn't care about making a better world, they just wanted to party".
Without the help of the world beyond the south, this music couldn't have spread
The appearance of Mills, like that of Bonnie Bramlett, was a non-sequiteur. The reason for their presence wasn't explained. It wasn't all that was missing. Sweet Home Alabama worked fine as a gee whiz doc on these two bands, and had a fair try at setting the political and social context. But there was more going on musically - the picture was more complex. Ignoring the place of The Allman Brothers Band and Lynyrd Skynyrd in that picture did them a disservice. Dusty Springfield had recorded in Memphis, Elvis was absent from Sweet Home Alabama, the fabulous Tony Joe White was missing, wilful oddities like Big Star weren't mentioned. There was nothing on Greg Allman's musical and personal liaison with Cher. Why was addressing the question of what Lynyrd Skynyrd meant when they sang "in Birmingham, they love the governor", in reference to pro-segregation governor George Wallace, fudged? What was the impact of this music on R.E.M? There's another, more rounded, documentary to be made on the late Sixties and Seventies music from the south – the birthplace of rock. Contrary to the voiceover, the deep south was not completely off the music map.
Still, we got the awful tragedies which befell The Allman Brothers Band, with the sad, pointless deaths of Duane Allman and Berry Oakley, and the plane crash which all-but wiped Lynyrd Skynyrd out. We also learnt that without the help of the world beyond the south, this music couldn't have spread. Eric Clapton featured Duane Allman on "Layla". The Allman Brothers Band went on to nationwide success after that. It took New York's Al Kooper to recognise the potential of Lynyrd Skynyrd, sign them and become their producer.
Whether or not you can stomach the endless "Freebird" or the clumping "Sweet Home Alabama" is irrelevant. These are classic songs, and will always be so. But Sweet Home Alabama should have gone further. Last year, the British label Soul Jazz released the Delta Swamp Rock: Sounds From the South 2CD set. Its subtitle "at the crossroads of rock, country and soul" caught the flavour of this region's musical melting pot. In dwelling on two rock bands, the frustrating Sweet Home Alabama did not.
Watch Lynyrd Skynyrd perform "Freebird" on The Old Grey Whistle Test, 1975
Adopting the trappings of the counter culture was a tougher choice in Alabama or Georgia than it was in Notting Hill or San Francisco
Share this article