theartsdesk Q&A: Musician Todd Snider |

reviews, news & interviews
theartsdesk Q&A: Musician Todd Snider
theartsdesk Q&A: Musician Todd Snider
The country-rock maverick on drugs, politics, vandalism, and the fine art of storytelling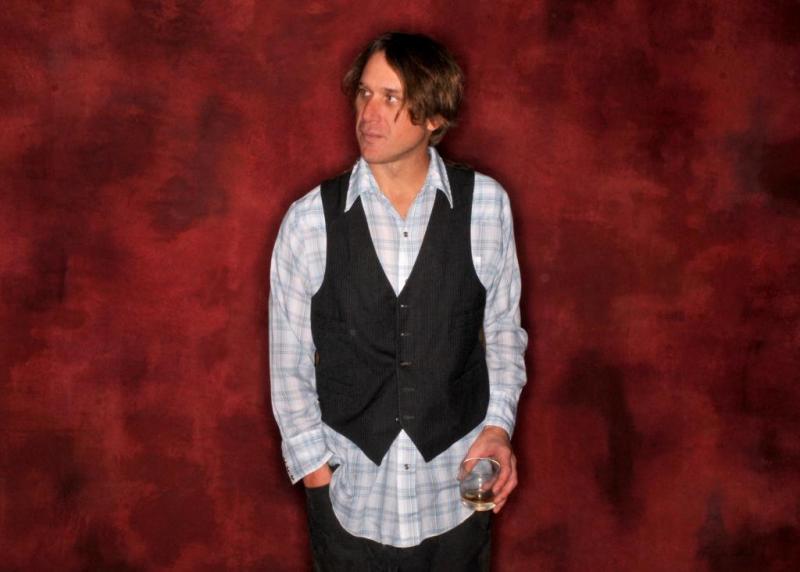 Todd Snider: 'We were all drunk. We usually are'
He has been called "America's sharpest musical storyteller" by Rolling Stone, and has enough talent to give Bob Dylan's talking blues a run for their money. The East Nashville-based singer-songwriter, guitarist, yarn-spinner, troubadour and amiably agnostic stoner has 10 new stories on his 14th album, the title of which acts as a pretty accurate calling card for the Snider experience: Agnostic Hymns and Stoner Fables.
He's also got a raw new band behind him, at the same time as strapping on an electric guitar, blowing a mean, distorted harp through a handheld mic, and delivering some of the most acutely observed tales – whether tall, long or narrow – you'll hear outside of the Leveson Enquiry.
His one-night stand at the Borderline in London at the end of February looked like it had been sold out twice over and was mob deep with the fervent and faithful. On stage he played solo, with an acoustic guitar round his neck and a songbook packed with sharp rhymes and punchlines, the good characters rolling after the bad. Hard times meet high times with the kick of a particularly potent east Nashville bar-room cocktail.
Todd Snider is a mash-up of storyteller, comedian, Dylanesque talking blues singer, and social historian mixing truths and tall stories against some fine chugging riffs that carry it all forward. He's an expansive storyteller between songs, as well as a dramatist inside of them, and it's the long, discursive mix of the realistic and the fabulous in his characters and situations that propels the music.
Agnostic Hymns begins with a fable-like opener about the genesis of rich versus poor and how religion came in to keep the status quo. And it's still here. "New York Banker" approaches the global credit crunch from a lived-in, used-up, semi-domestic, bar-room level with a lyric that spreads out like spilled beer. The likes of "Precious Little Miracles" and "In Between Jobs" are by turns hilarious, chilling, probing character monologues that show a writer tuned in to the discordant tones of 21st-century America, from Occupy all the way through to the Tea Party and the bizarre, Carney-esque chorus of Republican presidential candidates.
There's a circus-like swiftness and a sense of vivid tableaux in Snider's work. This is a man in control of his materials, on a par with veteran lyricists such as Loudon Wainwright III, Gil Scott-Heron, Neil Young, Dylan and - a personal hero of Snider's - Jerry Jeff Walker. Snider embarks on a US tour with his new band later this year, and there are plans and whispers, though as yet no firm dates, for a band tour of the UK towards the end of 2012. If that happens, grab your ticket fast, because this is one storytelling singer you want to see in the flesh.
I write down the things that people say. A lot of my shit is bar talk
TIM CUMMING: Agnostic Hymns and Stoner Fables – when did you come up with that? Before or after recording?
TODD SNIDER: The first song was originally called "Stoner Fable". And "Too Soon to Tell" was called "Agnostic Hymn". I couldn't think of a name for the album, and at the last minute, the cover was done on a bar mat. There was about an hour left to name it and get a cover together. I'd been putting it off and it was, like, 4pm on a Friday and my manager came to my bar and made me name it. A place called Drifters. He's knows I'm there all the time. I've stayed with it through all its name changes. I just like the location of it. It's about five minutes from where I live in east Nashville. Downtown Nashville, on the other side of the river, a real cool neighbourhood, a lot of musicians live there.
Do a lot of the songs come from life in the bar?
A lot of the stuff I get from there; I write down the things that people say. Maybe not there in front of everybody, but a lot of my shit is bar talk. Like "Digger Dave's Crazy Woman Blues". That's made from a friend of mine's trouble in Alaska and he was telling me the story. Different bar, I guess.
It has a great delivery – that mixture of bluesy rap, is there a bit of Gil Scott-Heron there?
That's not deliberate but I do like him. I didn't think of that. I had that song and I didn't know how the music went. I had this thing that I thought was like "Old Man" by Neil Young and we were in the studio and my friend Eric came up with the music for that. I made up the verses and the chorus was this guy that the song's about, and we were in the car in Homer, Alaska, and he sang me the chorus. He was telling the story that the song is about, and I think he made it up on the spot – and I used it.
There's a quote in your bio that you hope your songs inspire people to vandalise their school or punch their stepdad…
I'd been at Drifters for about four hours when I said that…
So what is the Todd Snider school of inspiration?
There are circumstances when punching your stepdad is funny. I'm for vandalising schools, especially if you're spraying "Metallica" on the side of it. I like heavy-metal kids. I'm for vandalism. Haven't done any. The guy who wrote that bio is a drinking friend, Peter Cooper, and he was interviewing me trying to find out what I wanted to inspire people to do. And I was half joking but I stand by it. I don't remember saying it...
I heard Napoleon said that religion was invented to keep the poor from killing the rich, and I wanted to make a story song out of that
In my country, most people come from this place called the suburbs. And the suburbs are awful. They're very contradictory. It's very Republican and very Christian. It seems to me like these very simple herds you can get into, and they're so afraid that they're willing to combine together. A lot of people, in my opinion, are afraid that they don't have anything to offer. So if I hear my nephews are getting arrested, it makes me happy, I think good, they'll leave there. They're getting arrested because they hate it out there. I don't think vandalising a school in the suburbs is the worst idea on earth. I don't like what they're thinking out there. It's Bush country. That's most people. That's where which sweater you wear is important. I haven't been out there in years. I never go to that part. I'm never there on the road, I live in downtown Nashville, and where I play it's always where the hippies are. Those people are violent and bullies, and they don't want gay people to get married. They join fraternities, and become bigger and bigger bullies. They're the people the world sees on TV chanting "USA, USA, USA". That happens in the suburbs. It doesn't happen downtown anywhere.
The first couple of songs, "In the Beginning" and "New York Banker", are about wealth and poverty and entitlement. And "New York Banker" is about systems that are broken, but there's a lot of humour in it. Is it a protest song, or a wake-up call?
You ever hear of a guy called Shel Silverstein? When I write I think of him and how he went looking for something to sing about. With the first song, I heard Napoleon said that religion was invented to keep the poor from killing the rich, and I wanted to make a story song out of that. And hoped when it was done it would say something. And it seems to be a weird point. It's one of them songs with a twist at the end. I hope they're kind of funny.
Is the great divide in America greater now?
I do think that. A lot of the songs I sing are bar talk and I hear that a lot, a lot, a lot. I hear a lot of anger not just at the rich for their audacity, and this "pull yourself up by your bootstraps like my father did for me" culture – third-generation rich people telling the poor to get up off their ass. But you inherited all that you have… That's been going on forever. The rich have aligned themselves with Jesus so tightly, that it's starting to piss off poor people a lot. If you meet a poor person who's a Republican, it's usually because of Jesus. The poor trailer-park people who beat the shit out of each other, they're Republican too, for some reason. What I hear talking about is this anger not only at the elite pretending to be Christian, but they also sold it to the trailer parks, and they've got knives and shit, that part of it is a mess. And that's one folk singer's opinion.
Tell me about the Jimmy Buffett cover, "West Nashville Grand Ballroom Gown".
The record was getting done and I kept thinking of this song, because I'm saying the same thing in a lot of these songs. He did a lot for me in my life, and I hope that he'll be charmed that I did one of his songs. West Nashville is affluent, it can be pretty republican, debutantes, sorority girls. Our side of town is hippy girls. East Nashville is where people come to be in a band, on the west side, they grew up there. One side is pretty artistic, liberal and open-minded, and the other side is country music, real Nashville country. And that comes from and is for the suburbs, very athletic, jock-ey. Country is the place where suburban jocks go for their music.
With these songs, is there a lot of bringing it down – writing a lot and simmering it down?
They always start off a whole lot longer, I change them a lot. There's lots of editing. I'm glad I do it, too. I've never had a moment where I heard an earlier draft and felt, damn, I should've left it there.
Watch Todd Snider performing "Stuck on the Corner"
And where do the rewrites take you? Deeper into the characters, more defined plot? Narrative twists? What are you looking for?
That is a lot of it, waiting for that. Trying to take the poetry out of it if I can. Keeping it plain. This one here, "New York Banker"... there's a guy called Rahm Emanuel, who's a big politician in my country, mayor of Chicago. He comes to my shows sometimes, he's a great guy, and we connect on Jerry Jeff Walker. He told me this story, saying it would be something Woody Guthrie would sing about, and I thought I'd like to try that. And my father-in-law helped me to understand the story. I had three pages and got it down to one page then I had to take out every word that I haven't heard before I started this adventure, there was all kinds of banker shit. Sub-prime mortgage. I replaced them with words I might hear in my bar.
"Precious Little Miracles" and "In Between Jobs" both sound like real character songs - this rage and fear at youth, this anger and hunger...
"In Between Jobs" was gibberish for a long time. There was a line about Alan Greenspan, about how he played saxophone and was a misunderstood guy. My manager Elvis and me wrote that. That's the hardest one – I'm not sure who is singing. They're begging at first, then they're threatening.
I love them both, Mick and Keith, equally. All of them. They're my two favourite songwriters
Is there a moral aspect to your writing?
I hope so. I like it when there's a theme and stuff, if only it's "write Metallica on the side of the school". But maybe I don't have any of that. I don't have any particular religion. I don't know if it's wrong to kill a guy. I can't prove that. It seems wrong, I wouldn't like it if it happened to me or someone I liked.
Do you ever write for the page, like Steve Earle has done?
I wrote a book, and no one liked it. I typed my ass off. And nothing. Couldn't even get a publisher, I did it because people asked me to do it. After the Storyteller live album, because I talk a lot on that one, and an agent approached me and said how many stories you got? I said, I've got a million. I typed 'em. Nothing. Crickets. Maybe I'm not that good. I did it fast, but I guess I didn't do it too good. Maybe I'm a good bullshitter on a stage level, which is easier, I think.
Todd Snider tells the "KK Rider Story"
Was Jerry Jeff Walker a big influence?
Oh yeah. "Mr Bojangles" and living that life. He did the whole thing. A rambler. A Ramblin' Jack Elliot life. I'm on a record of his songs that were all cut in one day. It comes out a month after this record comes out. There's a band from Colorado called The Great American Taxi and they were in town, and Don Was was in town and had a studio and we went over and played all these Jerry Jeff Walker songs all day, smoked weed. It was fun and came out cool.
Does Guy Clark live near you?
Yeah, I've been over to see him a few times. In fact, we were supposed to do something for that tribute album, but we didn't do it for some reason. I love him and I've been to his house a few times, he's got his guitar workshop there, and I sat over there and played songs with him. He's been sick, though. I see him on the road, we've been out on stage a couple of times together. I have a huge admiration for him.
What about literary inspirations?
I like Bukowksi. Hunter Thompson's probably my favourite one. When I was younger I was – he was the one I tried to emulate. Now my brain got kind of mushy and I'm more of a sober person. He was always someone I looked up to. Mark Twain I really like, and one other guy – anybody who used writing to be a fucking drunk, I copied.
You grew up in Portland, moved, then ran away from home? Was that a defining thing or not?
I guess so. My parents weren't getting along and I didn't agree to any of the politics or religion in my house anyway so we'd moved to Houston and my dad had to go back to Portland to get some shit and I told him I'd ride with him. When we got there I got out of the car and said, "You shouldn't have done that!" Then I started being poor. I became known as "the load", I was always on some friend's sofa. That stayed that way until I got a record contract. I remember when I first met Jerry Jeff Walker, it seemed that was what he was singing about, to me. About being free-spirited or a freeloader, the guy on the coach, the guy who's drifting his way, and he was very romantic about it and it really got a hold of me. I thought, I can take that and use my own life, that is sort of what I am already. I really identified with it, more than I did with rock groups. I didn't know how I could fit into that. I just wanted to make up words.
Then you were in Portland and came back to Austin, and a record deal?
Well I rode with a friend down to California, and my brother was working in construction in Austin and he gave me a ticket. I went there. Saw Jerry Jeff. And started doing that. I was about 19. Then I moved to Memphis, because there was a guy I'd read about in a Jerry Jeff liner note, and I knew where he lived so I went there. So he took me in and got me a record contract. I was playing in Memphis. I was at this bar and a record company started coming around. I was 26 or 27. Playing an 80-seat bar.
The band on the record, are they your regular side players?
No, but they're gonna be when I get home and start touring it. We got it together quickly. The girl who plays violin, I met her at the sessions, I like her a lot. I like her records and what she brought to the sessions. We didn't intend for her to sing with me on the album, but it happened on one song and it was great. Kind of Desire-y.
The bio notes say you wanted to go in there and "make a mess" at the recording sessions.
Yeah, it was like, lots of drugs and alcohol. All-night shit, very chaotic, no direction, no arrangements. That's the way I like it. Trying to get people drunk enough to suggest anything or do anything and really start showing off. And it's a lot of fun, even if the music doesn't come out well or isn't really liked by anybody, you still have this great time.
Was it mainly recorded live?
Every one of them has some overdubs, but it's mostly live. A couple of times we would all be so chaotic, the drummer would just do a simple, simple beat so that we would have something there, and then overdub drums later, and play out of time later. Locked in with all the misses. And he'd do it right after, straight after the cut.
You can't have the drummer drunk!
Well, he was drunk, we all were. We usually are.
Is it recorded near your home?
My friend Eric has this house, I can walk there. He doesn't live there. It's his parents' old house in east Nashville, this run-down place. Jack White uses it a lot and that's how I heard about it. We had the same pot dealer for a while. There's a record of mine called East Nashville Skyline, and that was cut there. Originally I went in just to do a guitar and a vocal. And we kept on going. He's in the band now. He's coming out with me this year. He's helped me a lot.
I'm a big Stones fan so I love "Brenda" and that line, "Mick Jagger was born on a Monday morning, Keith Richards was born on a Saturday night" – That's the Stones' biography in two lines.
Me too. That Don Was guy, I met him, and asked, "Well, what are the Stones really like?" "Well, fuck, they do drugs and get fucked up and jam." And I'm like, "You're kidding me!" - and he's like, "Still, at 65, whatever. And if they run out of drugs, they stop." I don't do that all the time, but I thought it was a good way to do this record.
Tell me more about you, the Stones and that song?
They're my favourite group. If one of them hurt someone in my family, I would be, uh, they must've had it coming. That's the fucking Stones, get outta the way. Bobby Keys lives near me, and I get to see him sometimes, in the bar, and that is one of my favourite things in the world. And I love them both, Mick and Keith, equally. All of them. They're my two favourite songwriters. I gotta say, after I read Keith Richards' book, I thought, I like Mick Jagger even more now. He's a great musician and a great writer. I made that song up after I read Keith Richards' book. That's a big thing in my neighbourhood. Everyone loves the Stones. It's just the one thing that no one ever debates. You can debate music in the bar all night, but the Stones – YES. Even the later stuff, yes. The last record? Yes. All of it.
Watch Todd Snider perform "Sunshine" and a snatch of the Stones' "Satisfaction"

When it comes to American dope – you ever have solids, hashish, or is it always grass?
It's very hard to get hash. It's easier to get it here. Pot is a pretty universal thing, especially in the music world. It's not considered a drug really. I'll do whatever, I don't care. I like 'em all. I don't feel bad about it, I don't feel ashamed. I don't have kids, I don't contribute to youth culture in any way. I don't drive near 'em – so fuck 'em. Different bands have their own strain of pot. The Old Crow Medicine show have their own, created by someone who's always on the road with that band, I guess. It comes into town for a couple of months after a band's been through!
Todd Snider's next album, Time As We Know It, is released next month
It ain't the despair that gets you. It's the hope
Share this article