Mass Effect: Andromeda review - 'dialogue trumps visual presentation'
Mass Effect: Andromeda review - 'dialogue trumps visual presentation'
Is the final frontier one step too far for this sci-fi epic?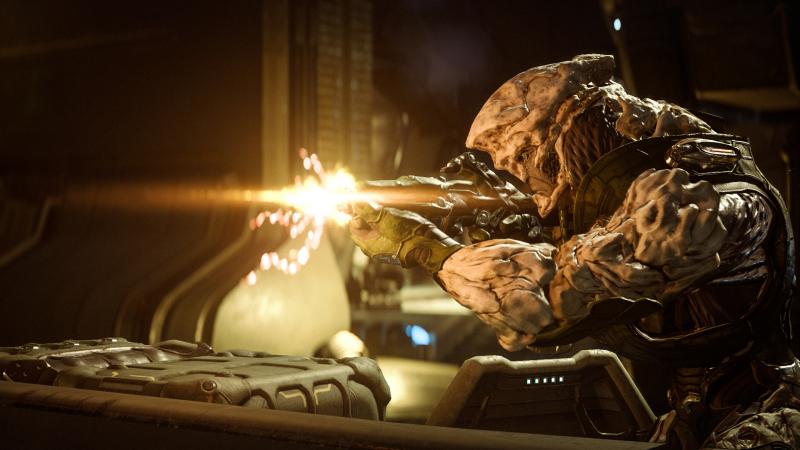 'Mass Effect: Andromeda ': Guns blazing and star-gazing
The latest instalment in this massive open world sci-fi role-playing game joins the 2017 party in full swing, with both Horizon Zero Dawn and Breath of the Wild raising the bar for the RPG genre. But with the Mass Effect games considered the very cream of the crop, the pressure to perform at a new zenith appears a little too much for a trilogy that looks like it has seen better days.
To understand the flaws in this fourth Mass Effect title, you must first take a 600-year commute, from the early 22nd century, aboard an intergalactic pathfinder en route to the Andromeda Galaxy, where humanity hopes to find new planets to populate. You fill the intergalactic boots of Scott or Sara Ryder, a rookie military recruit who wakes up after a 600-year nap, ready to explore the open galaxy that is Andromeda, littered with worlds to explore, friends to make and enemies to engage.
The series is known for character customisation through dialogue choices
The Mass Effect games of old triumphed due to the combination of story (led by dialogue choices that would alter your character's overall personality), ambitious visuals and a sense of epic scale. At times, previous offerings have been near perfect with the balance of story vs. action, but this time the mix doesn't quite work out. Veteran development studio Bioware has added jump jet and dash abilities to the combat sections, which has elevated the mobility aspect of the fighting, but also exposes critical AI flaws in both your computer-controlled comrades and opposing combatants.
Your co-fighters seem to now be hell bent on suicide missions, running up to go nose to virtual nose with opposing forces, and often dying as a result. Frustration comes from having to risk your own neck to revive them – this happens a lot and leads to skewed gameplay.
But worry not! The enemy has its own problems with combat intelligence. The bad guys have now been hard-wired to find cover no matter what the cost, meaning if you charge their spot they often run off to find cover without fighting back, making it something of an extra-terrestrial turkey shoot.
So you're faced with having allies run up and die, or you do the work yourself and chase the bad guys before shooting them as they flee. This type of flawed mechanic makes the fighting a lot less dramatic than it should be, which is unfortunate as there's plenty of it.
Where changes have led to improvements is with the dialogue – a benchmark feature that has got even better. The series is known for character customisation through dialogue choices, but in the past these decisions were very much of a binary nature, leading your digital protagonist down either a "good" or "bad" path. Now you have the option to deliver nuanced responses via a "tone dial" that serves to deliver a richer emotional palette.
Your character now chooses between an additional four emotional responses (such as angry or professional) that allows greater scope and fluidity to deal with the scenario at hand. Dialogue now feels more spontaneous and purports to further develop your character's personality, leading to more unexpected moments, such as the occasional cue to open fire, should the conversation take a dramatic twist.
But great dialogue is only as good as the visual presentation that delivers it; and this is where Mass Effect: Andromeda morphs into a massive mess. The character modelling and facial animations are, at times, atrocious. Inexplicable facial grimaces and gurning, combined with rapidly darting pupils, can make you think your hero is under the effect of an exotic hallucinogen rather than delivering a rousing state-of-the-nation speech or pledging to avenge a fallen comrade. It's distracting and wholly undermines the highly-polished voice acting.
Overall, the latest instalment in the Mass Effect series is not as good as it should be. There's a lot to like – the sheer scale of the gameworld coupled with an almost limitless number of varied and engaging missions is what you come to expect from such a high class franchise. But for every pull-in there's a drawback, ranging from lobotomised AI to startlingly bad character animations. A five-year development cycle from one of the best teams in the business should result in the complete package – and this title falls short of expectation.
Subscribe to theartsdesk.com
Thank you for continuing to read our work on theartsdesk.com. For unlimited access to every article in its entirety, including our archive of more than 10,000 pieces, we're asking for £3.95 per month or £30 per year. We feel it's a very good deal, and hope you do too.
To take an annual subscription now simply click here.
And if you're looking for that extra gift for a friend or family member, why not treat them to a theartsdesk.com gift subscription?