Antichamber |

reviews, news & interviews
Antichamber
Antichamber
Turning mathematical geometry into acrobatics of the mind, this maze is truly mental
Manipulating matters in Antichamber
You have just walked into a large white room. The only thing in the room is a sign on the ceiling. You look up. The sign says, "Don't look down." You immediately look down. Before you have time to run, the floor has melted away beneath your feet and you are tumbling into an abyss as punishment for obeying your reflexes.
A motivational chalkboard sign, one of many you will encounter, awaits you at the bottom. It says, "Too much curiosity can get the best of us." And as you stare at its coyly mocking diagram of a cat about to paw a broken electrical wire, you begin to suspect that if you ever met the game's developer, you wouldn't know whether to buy him a drink or glass him with it.
Antichamber is the result of Alexander Bruce's seven-year labour of love to make a game based on geometry, and for that, kudos must be given because the game is astonishing. From the moment you enter the clinically white, neon-flecked corridors of the maze, you feel like you've entered the Escher-like innards of a Rubik's Cube.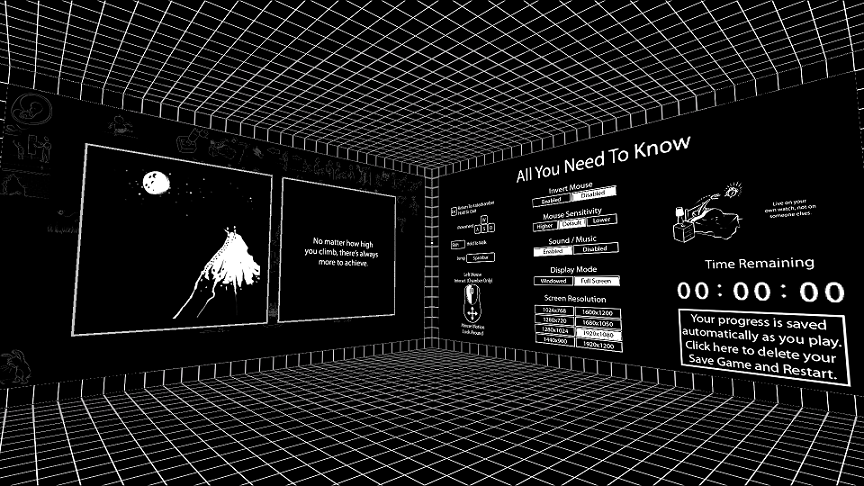 There are gates that only open if you are not looking at them, and where the simple decision to turn around and go back the way you came can be the only way to progress. There are motion-sensitive obstacles such as hovering globular masses which erupt if you approach them too quickly. As you approach a wall too high to surmount, a set of steps is already materialising under your feet. By breaking down the players' expectations of three dimensional space, the path is opened to all kinds of mind-bending non-Euclidean travesties.
But it's not just your spatial awareness which is being toyed with here. As you scurry through the confounding and claustrophobic corridors, your senses are beset by befuddling soundscapes, like the lapping waves of a beach or the dripping slime of some underground cavern. The ambient soundtrack by Siddhartha Barnhoorn begins as minimalistically as the game does, and builds climactically as you head with ever more confidence through the fluctuating catacombs.
And then you get your gun.
The tables finally turn in your favour as you become able to manipulate the matter around you in order to negotiate through the mind-bending space. With its blue, red, green, yellow and black upgrades you are able to suck up various coloured blocks and then fire them out into particular shapes and spaces. Each colour code has different rules of manipulation.
Handily you are able to instantly teleport from anywhere in the maze back to the "homing chamber", a massive relief in a game that would otherwise have you headbutting the keyboard in frustration. To attempt the 90 minute countdown on your first run would be farcical, but the game is designed to be replayed at speed once you think you've perfected your technique and once again stumble down the geometric rabbit-hole.
By combining geometry, space and perception to reveal the entrenched psychology behind spatial awareness, Antichamber doesn't just pull the rug out from under you, it takes the entire floor as well.
Antichamber is developed and published by Alexander Bruce and is available now on PC
Watch the trailer to Antichamber