Knytt Underground |

reviews, news & interviews
Knytt Underground
Knytt Underground
Who would have thought that spelunking and campanology would be the skills that saved the world?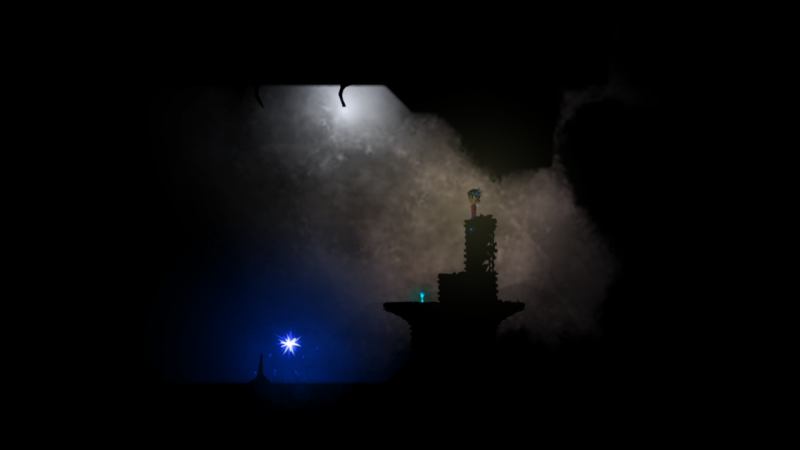 'Knytt Underground': some of the most extraordinarily beautiful background art in platform gaming
In a world populated by magical sprites, fairies, critters and (every now and then) a killer robot, a mute amnesiac sprite called Mi is about to have a really bad day. Her society - built below the wreckage of a long obliterated humanity - has selected her to carry out a ritual which legend claims will avert the end of the world. She must seek out the six bells of fate and ring them before an ancient clock runs out.
Knytt Underground is the third part of the Knytt trilogy from indie developer Nifflas. Combining the two different action dynamics developed in Knytt and Within a Deep Forest, Nifflas presents us with the spelunking, Spider-Man-esque Mi and the bouncing ball Bob, both of whom are on a quest to save a world which can't even agree on whether or not it even needs saving. Yes, even the world of sprites and fairies isn't safe from the philosophical schism between science and religion, between ancient belief and the coldness of reason.
Characters are able to explosively leap into the air or transform into a flying ball of white light
Accompanying Mi are two fairy representatives, one on the side of religion (Dora), and one on the side of science (Cilia) - even bouncing Bob has his own mini-me conscience, Rob. All three provide our protagonists with philosophical musings and different action and speech options according to their own zeal. If things weren't difficult enough with over 1800 rooms to explore in the subterranean catacombs of Mi and Bob's world, their quest has become a moral odyssey as well.
Much of the action of the game is fetch quests for the NPCs who are guarding totem doors, and who often address you with bizarre and cryptic dialogue which you can either interpret as amusing or terrible. Utilising the unique powers given by differently coloured stars, your characters are able to explosively leap into the air, to transform into a flying ball of white light, or fire projectiles to take out obstacles.
There is a lot of toing and froing through the vast expanse of tunnels and caves, but the speed of the characters' actions means that wherever you're going you get there quickly. Also, because both Mi and Bob have entirely different action dynamics they are able to reach places the other cannot, adding an element of replayability. There are hidden paths in silhouettes which you have to fall into to find, and if that isn't enough to be getting on with, the odd earthquake opens up new paths too.
Accompanying the atmospheric music, Knytt can claim some of the most extraordinarily beautiful background art to be found in platform gaming. From the gentle swaying of underground vegetation (leaves and vegetables respectively) to the immensity of giant mushrooms; from complexes of city-like structures to pouring condensation and lava - even the detail of you disturbing moths on the ground is exquisitely noted.
Whether you enjoy bouncing, scrambling, climbing, swimming or shooting through the air as a ball of light, you won't regret the decision to delve into the depths of Knytt Underground.
Developed by Nifflas (Nicklas Nygren) and published by Ripstone and Green Hill. Platform: PC, PS3 and PS Vita