Zoology review - the tale of a tail |

reviews, news & interviews
Zoology review - the tale of a tail
Zoology review - the tale of a tail
Young Russian director Ivan I Tverdovsky offers cryptic commentary on his country today
Tuesday, 26 September 2017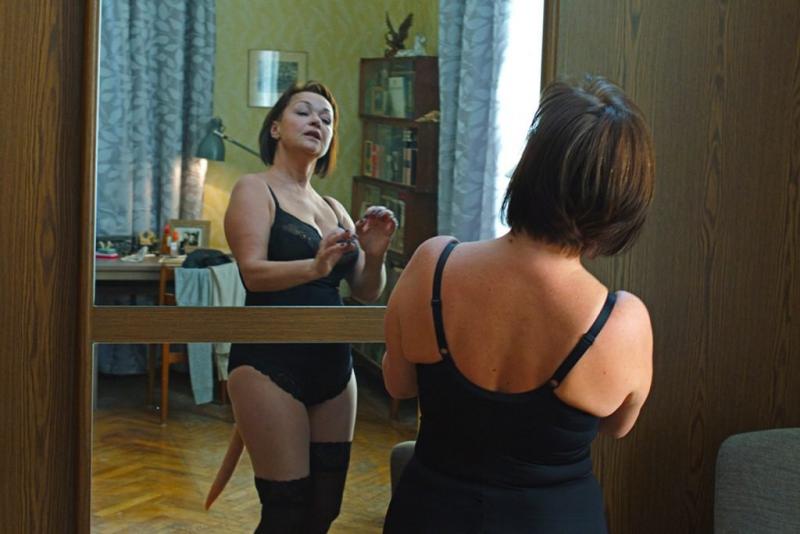 New glamour: Natalya Pavlenkova
Russia has its own rich traditions of satire and the grotesque, but at first glance we may wonder whether in his new film Zoology Ivan I Tverdovsky, a director who, still to turn 30, certainly belongs to the new generation of that country's filmmakers, has borrowed a leaf from another master of such forms, Franz Kafka. Not unlike the change experienced by Josef K in the Czech writer's The Metamorphosis, the heroine of Tverdovsky's film undergoes a grotesque physical transformation: she grows a tail.
Natasha (Natalya Pavlenkova, luminously vulnerable) is a harried single woman working in a deadbeat job in a provincial zoo at an unnamed small coastal town (if it was filmed in Sochi, Russia's premier Black Sea resort has never looked dowdier or more autumnal). Her colleagues – all women, presented almost parodically as a cruel company of harpies – humiliate her at work, while her home life, living alone with her mother, is emptily routine (the two women, pictured bottom right). The closest she comes to contact is with the animals in the zoo, but stuck in their cramped cages they're almost as forlorn as she is.
To explore such depths of pain is somehow to transcend them
But there's something remarkable in Pavlenkova's features, her ability to turn an emotion almost on a pin: she conveys simultaneously a sense of being utterly run-down and depressed, while at the same time admitting a hint that something better may be around the corner. The appearance of her tail – an ugly, pronouncedly phallic protuberance that hangs from the bottom of her back – is as perversely exciting as it is confusing. She visits the doctor, treated there as if nothing is out of the ordinary: the main thing is to stop it wiggling when she is sent off for X-rays (pictured below). That's despite the fact that rumours are going around the neighbourhood that there's a new devilish presence about, distinguished by exactly what Natasha is trying to hide under her clothes.
The only remotely sympathetic person she encounters is a hospital X-ray technician, Petya (Dmitry Groshev). Though he must be two decades or so younger than her, an attachment begins, as he introduces her to his own private excitements. There's lovely scene in which they use tin trays to slide down a derelict concrete slope that looks like it's left over from some cosmic programme, as we witness Natasha's overwhelming fear about doing something new and unfamiliar change into delight. Inspired by that experience, it only takes a new hairstyle and some new clothes to change her completely, turning that haggard face into something youthfully coy.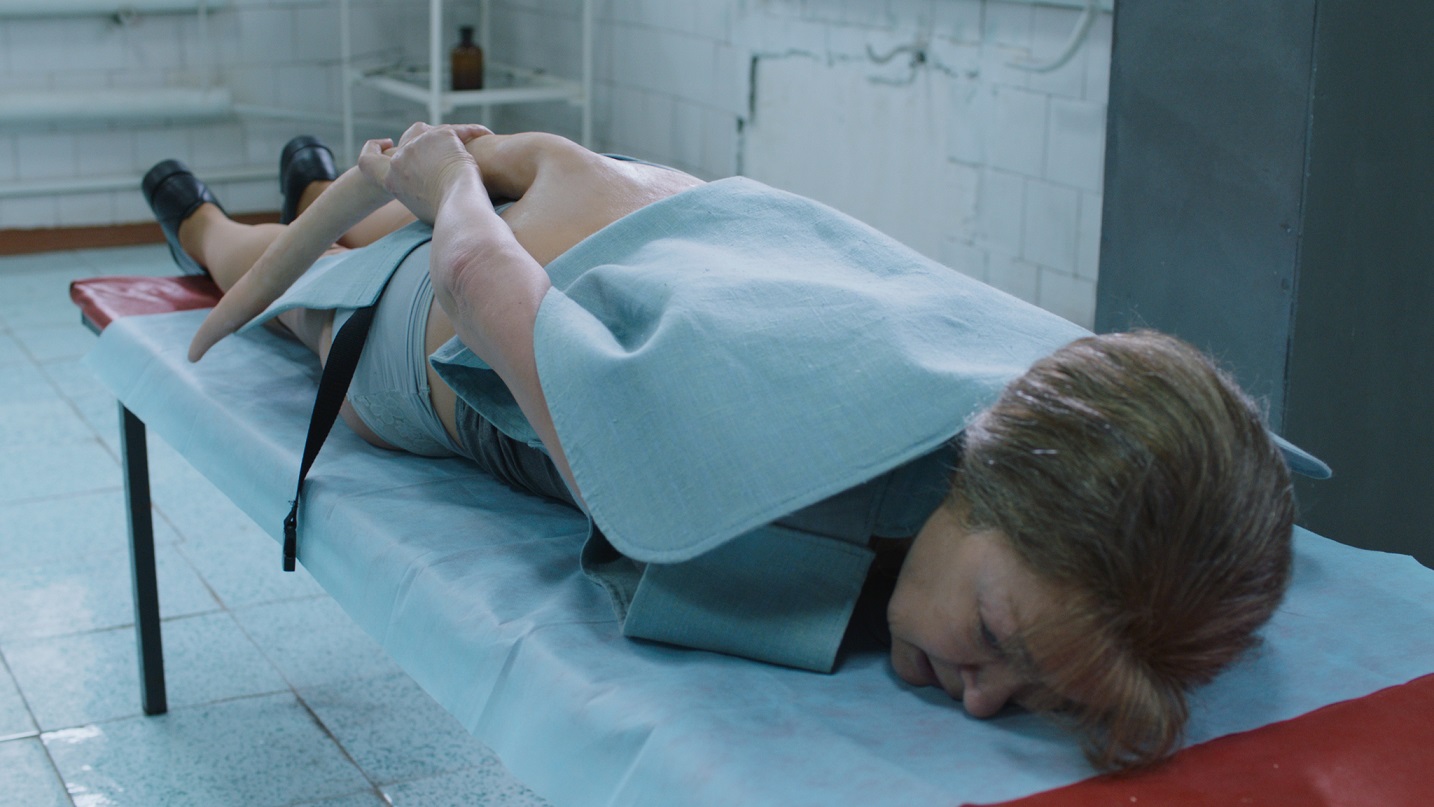 They have one date in a disco so desolate that it looks left over from Soviet days, which ends badly when the concealed tail flops out on its own accord. Another time they attend a self-help group, but leave in hysterics at its overwhelmingly ponderous atmosphere (the attendees are a cast of those who have lost their way in life, vulnerable to any new psychic trend, as was indeed the case in Russia in the Nineties). In another nicely nuanced scene she visits a fortune-teller, trying to discover whether Petya's attachment is serious. The answer to that comes in a night-time zoo scene late in the film, which desolately confounds her expectations even as it disorients ours. What way out can there be? Tverdovsky closes his film with an abrupt cut, as brutal as it is sudden.
We are left to guess at the director's own position. Is Zoology, as its clinically scientific title might suggest, a coldly objective indictment of Russia today, a human landscape in which the desperate individual is left with nowhere to turn? Significantly one of the places to which Natasha looks for comfort first is religion, but the priest rejects her (her mother is a fervent believer too, equally unable to comprehend, let alone accept anything "different" with any degree of sympathy). The state of the Russian Orthodox Church today, as an hierarchic structure more caught up in its own pomp than engaging in any real sense with its flock, is a frequent enough motif in Russian cinema today (it was touched upon in Kirill Serebrennikov's The Student).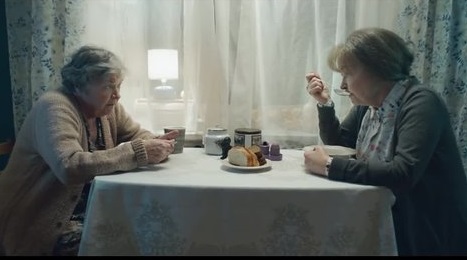 Except in so much as it portrays a society in which the idea of anything like a "national ideology" is bewilderingly irrelevant – ironic, perhaps, that Zoology nevertheless received state funding – Tverdovsky's film doesn't engage with politics directly, in the way that Andrei Zvyagintsev's Leviathan did so potently. Rather it leaves the impression that the sickness portrayed is an exclusively human phenomenon (which actually comes closer to what Zvyagintsev treats in his most recent film, this year's Loveless). Such variations on alienation come up a lot in contemporary, loosely arthouse Russian cinema, often winning international festival acclaim (though not always UK distribution): Zoology took the Karlovy Vary special jury prize this year, and Tverdovsky's feature debut Corrections Class was also a winner there in 2014.
The question that must surely be asked of such films is: "Does it have any sense of life?" Do we feel anything, even as we register a bleakness of subject and an often sardonic directorial point of view. Tverdovsky is not immune on the latter front, the only hint at counterpoint he offers here coming from the film's light and limpidly beautiful piano score. But finally any redemption in Zoology comes from the sheer accomplishment of Natalya Pavlenkova's playing. To explore such depths of pain is, perverse though it may seem, somehow to transcend them.
Overleaf: watch the trailer for Zoology
Do we feel anything, even as we register a bleakness of subject and an often sardonic directorial point of view?
rating
Explore topics
Share this article
Subscribe to theartsdesk.com
Thank you for continuing to read our work on theartsdesk.com. For unlimited access to every article in its entirety, including our archive of more than 10,000 pieces, we're asking for £3.95 per month or £30 per year. We feel it's a very good deal, and hope you do too.
To take an annual subscription now simply click here.
And if you're looking for that extra gift for a friend or family member, why not treat them to a theartsdesk.com gift subscription?