Leviathan |

reviews, news & interviews
Leviathan
Leviathan
Desperation engulfs in the best Russian film this century
Beached: Alexei Serebryakov, the lead in Andrei Zvyagintsev's 'Leviathan'
It's fascinating to catch the moment when an already great film director moves onwards and upwards, to another level. Russia's Andrei Zvyagintsev has been collecting major festival prizes for more than a decade, since his debut feature The Return won the Golden Lion at Venice in 2003.
After that he became a regular at Cannes, with his follow-ups
The Banishment
and
Elena;
his latest film,
Leviathan
, came away from the Croisette this year with the best script award. Many critics there felt that it merited something more.
Because Leviathan marks a change of direction for Zvyagintsev, a move towards a heightened sense of social engagement that his first three films (somewhat) skimped on. His film-making has become more muscular. How that change came about is likely as much a question for his co-scriptwriter Oleg Nemin, who's been working with the director on his last three films, as it is for Zvyagintsev himself.
You might not expect it, but there's considerable comedy in the process
With its distinctive local slang and expletive-rich script Leviathan has already encountered problems with its Russian release in next year. It's a challenge on the subtitling front, too, though one largely managed in this English-language release. But not quite: there are so many nuances to the Russian language and the richly demotic form that Zvyagintsev and Nemin are working in that losses are inevitable. Some of them are incidental: if you didn't know that Russians use the verb kommunizdit, alluding to their country's great social experiment of the last century, as slang for "ripping off", it's a loss in humour, but little more.
But there's also the use of a word, "Fabergé", in Leviathan that I'd never come across before in this sense: Zvyagintsev himself has said that he picked it up from encounters with members of Russia's power elite (I doubt, however, that he spends much time in such circles). We know Fabergé of course from the jewelled Easter eggs of the Russian imperial court. In Russian "eggs" is the same word as "balls", that crucial element of the male anatomy. So when you've got someone by the balls, which is a situation we see rather often in this drama of power, you've got them by the Fabergés. If we were in locations Hispanic rather than the northern, almost Arctic landscapes of Zvyagintsev's film – he's a poet of the northern landscape to match Bergman or some of the Icelanders – the term would surely be cojones.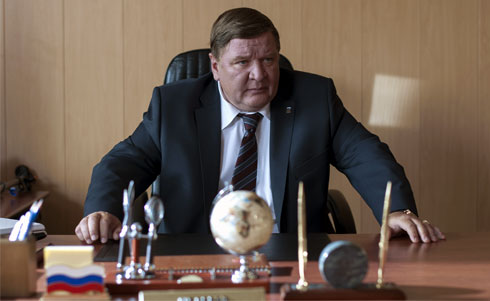 And in his new film Zvyagintsev has got his native land right by the cojones. Kolya (Alexei Serebryakov, main picture) is a weather-beaten local hero who's built himself and his family a decent way of life, not to mention a rather attractive two-storey house (Zvyagintsev does enjoy the architecture of the buildings constructed for his sets, with recollections of The Banishment in this new one). It's all in jeopardy, however, as his spot has attracted a compulsory purchase order from the local mayoralty (Roman Madyanov, pictured above right, plays that despot with Rabelaisian energy and accompanying foul mouth).
Serebryakov's character attempts to defend his interests, with the help of an old army comrade-turned-successful Moscow lawyer Dmitry (Vladimir Vdovitchenkov). Nothing works out. And then the real emotional melt-down of the story kicks in. It affects most of all his wife (a gut-wrenching performance by Elena Lyadova, pictured below left) and son. Zvyagintsev and Negin's script is more than laconic, and surprises viewers on a number of occasions. But its dénouement is inexorable.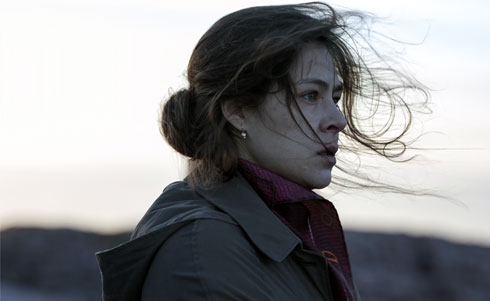 However, it comes only after we've seen the sheer fabric of this northern life, its everyday details, and smelt the vodka on the breath of its players, in the uneasy but human relationships that bridge the gap between the film's outsider-protagonist and the structures that surround him. The supporting roles are completely convincing, including all those who make up a wintry birthday party excursion to the Arctic coast, which involves a shooting match (the closest the director gets to obvious political allusions) and a punch-up (we don't see that). The collusion of the local Orthodox church high-ups in the film's ongoing story is so pronounced as to be almost parodic. Almost: Russia's reality can be stranger than any fiction. Just watch the court judgment scenes.
The waves of despair here run deep, embodied most of all in Lyadova's fate (another nuance that's left challengingly open in the script); the tragedy here is exactly that everyday life will continue somehow, its power structures buttressed, at least for the moment. It's the individuals who come to tragic ends. Arguably the script goes a step too far in a dogmatic direction in its allusions to the Biblical tale of Job (not to mention the Hobbes reference in the film's title). But Leviathan is rinsed in the brine of Dostoyevsky, as much as the harsh local sea-air of its setting, in which whales (pictured below) as well as derelict Soviet-era fishing fleets are beached on this enormous coastline.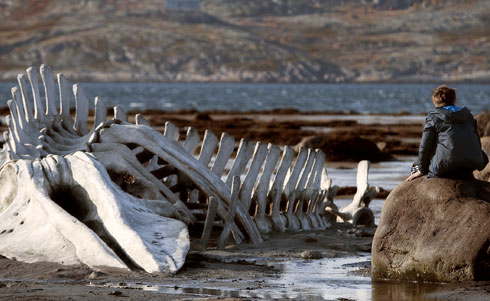 You might not expect it, but there's considerable comedy in the process (Madyanov as the mayor-monster has a ripe old time). And there's such pristine beauty in the cinematography of Mikhail Krichman – he's been Zvyagintsev's collaborator on all his features to date – with its relish of dark blues and greens, the colours of autumnal nature. Zvyagintsev leaves silence, and the sound of nature, to speak for itself most of the time, but when he chooses music it's from his composer of choice, Philip Glass (with snatches of the latter's Akhnaten).
We can only wonder in which direction Andrei Zvyagintsev will move in the future. Whether he will stay in his homeland and work there – if he's allowed to – or depart for Europe. And whether he could find such rich material anywhere else outside Russia. What is certain is that Leviathan is the strongest piece of cinema to come out of Russia this century.
'Leviathan' is rinsed in the brine of Dostoyevsky, as much as the harsh local sea-air of its setting
rating
Share this article