Wreckers |

reviews, news & interviews
Wreckers
Wreckers
Indy debut finds something rotten in the fenlands
Tuesday, 13 December 2011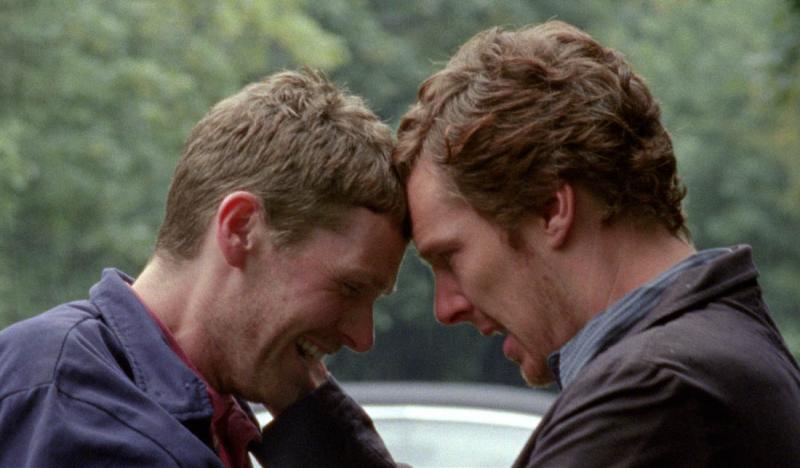 Nick (Shaun Evans, left) and David (Benedict Cumberbatch) enact brotherly bonding ritual
There's quite a bit to admire in DR Hood's debut feature. There's the cast for a start, headed by nascent superstar Benedict Cumberbatch alongside Brit-dram It-girl Claire Foy.
Beguiling, too, is the piece's setting in the fenlands of East Anglia (quite near Mildenhall airbase, one would guess, judging by the eerie shots of American aircraft drifting overhead). It's countryside which never quite makes its mind up whether it's starkly beautiful or menacingly primitive.
The same fault line of doubt runs down the middle of the marriage of Dawn and David (Foy and Cumberbatch). The opening passages suggest optimism and young love, with the couple trying for a baby in their recently acquired rural home in the village where David grew up. David goes out to work and plays the energetic breadwinner, while Dawn seems to be settling calmly into the landscape, whose plants and insects are singled out for almost Attenborough-esque attention by cinematographer Annemarie Lean-Vercoe. Their tumbledown, barely furnished home seems to represent the start of a great shared journey.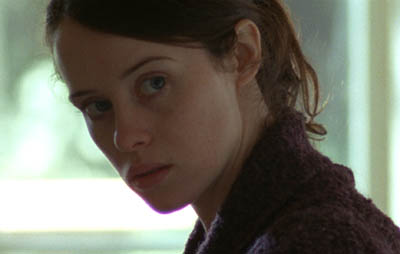 But this doesn't last long, and the spell is broken by the unexpected arrival of David's brother, Nick (Shaun Evans). We learn, in scattered fragments of narrative, that Nick has been with the Army in Afghanistan, and that he and David haven't seen each other for an age. However, their shared history has clearly been intense, and their sudden eruption of brotherly bonding leaves Dawn (pictured above) feeling excluded and uncomfortable.
Nick is handsome and charming, but he's also damaged goods, implicitly suffering from post-traumatic stress. He sleepwalks, erupts into sudden destructive rages, and seems to have a few scores he'd like to settle with the locals. There's particular tension between him and Gary (Peter McDonald), because Shaun has always had a thing for Gary's wife Sharon (Sinead Matthews). You can guess how that turns out.
The thrust of the story is the way that David and Dawn's apparent fresh start is steadily hemmed in and broken down by the cramped small-mindedness of the village. The more Dawn gets to know about Nick, the more she realises how little she really knows her husband, who has been shiftily offloading his own guilty secrets onto his too trusting sibling. The claustrophobic nature of the place is embodied in the local choir in which Dawn and Gary sing. They rehearse in the village church, their delicate harmony singing throwing a temporary camouflage over seething personal tensions. At times, Wreckers seems only a few knuckle-dragging yokels short of a Straw Dogs.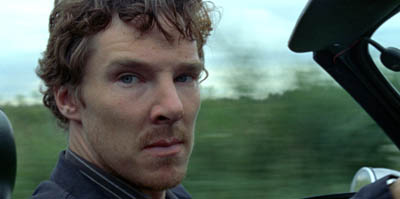 But gravity, in the shape of a tiny budget and an inexperienced crew, gradually pulls it down. You can't help but become increasingly aware that the bare landscapes and derelict buildings aren't just elements of the plot, but also incur no shooting costs. Long takes of worried faces or characters walking across fields would surely have been fewer and shorter if there had been some more interesting locations to photograph and a bit more going on in the plot department. The cast leverage as much as they can out of the material they've been given, but they're never stretched.
Having said that, Wreckers lingers in the mind. It's to do with the way it evokes a deceptively brutal milieu where ambition has curdled into resentment and relationships choke on their own rotten roots. Inside this modest production, there's a richer, fuller film struggling to get out.
Watch the trailer for Wreckers
Nick sleepwalks, erupts into sudden destructive rages, and seems to have a few scores he'd like to settle with the locals
rating
Share this article