Wonder Woman review - Gal Gadot shines in uneven superhero yarn |

reviews, news & interviews
Wonder Woman review - Gal Gadot shines in uneven superhero yarn
Wonder Woman review - Gal Gadot shines in uneven superhero yarn
Timeless warrior queen goes to the Western Front
Gal Gadot as Wonder Woman: given life by Zeus
After dipping a toe in the new-look DC Comics universe to brighten the otherwise leaden Batman v Superman, now Gal Gadot's Wonder Woman gets a chance to shine in her own Hollywood movie. Gadot makes a pretty fine job of it too, bringing a bit of soul and empathy to the proceedings, but sometimes it's more despite than because of the production surrounding her.
Even in this rationality-defying context, WW's origin story is one of the more implausible. She was raised by the Amazon women on the island of Themyscira by her mother, Hippolyta (Connie Nielsen, pictured below), with plenty of help in the war-fighting department from her aunt Antiope (Robin Wright, looking ready to go the full 12 rounds with Wladimir Klitschko). Actually the opening chunk of the film, where we see the Amazons earnestly engaged in improving their ferocious warriors' skills with swords, spears and bows amid idyllic scenery with spectacular ocean views, works well in its own self-contained right. The device of using animated classical paintings to fill in a bit of mythical background is particularly successful.
However, when a German monoplane from World War One inexplicably appears overhead and crashes into the sea, the two-worlds-collide effect is a little too much to cope with, and it knocks the movie permanently a couple of degrees out of whack. Diana (which is Wonder Woman's given name) plunges off a cliff into the sea and rescues the drowning pilot, though as she drags him ashore the Amazons are nonplussed to see boatloads of angry Germans rowing towards them from their warship. There's no attempt to explain how or why the Germans got here, although somehow they've stumbled into Themyscira's private space-and-time bubble.
Anyway, Diana is so appalled by the stories of carnage and horror she hears from pilot Steve Trevor (Chris Pine, pictured below with Gadot and pals ) – he's American, but he stole a German aeroplane – that she vows to go to the war herself and sort it out. She instinctively knows that Ares, God of War, is to blame, and since he's her predestined adversary, he's gotta go.
Daft? Exceedingly. But some of the movie's best moments come when Steve and WW are sailing off towards the European war, and they're trying to get to know something about each other. She's never seen a man before, so there are a couple of naked-body jokes, while Pine smoothly assures her that as men go, he's an above-average specimen.
And what about her? Who was her father? "I had no father," she explains. "I was moulded from clay and Zeus gave me life."
It's surprising to find that the Great War is presented in fairly serious detail, with some unpleasantly realistic trench warfare, mud and shellfire, though this gruelling actualité has the perverse effect of making an Amazonian super-woman in her customised antique warrior outfit look all the more bizarre. When Marvel made Captain America: The First Avenger (2011), what they did so skilfully was to depict not so much an authentic World War Two, but the way the war was portrayed by Marvel Comics in the 1940s. DC's Wonder Woman was also originally launched in a World War Two setting, but it was screenwriter Allan Heinberg's idea to push the story back to the earlier conflict. Apparently he sees parallels between the dangerous nationalism of that era and the situation today. Is a CGI comic-hero movie really the best forum for this stuff? And how do the Germans feel about being the baddies in a whole new era of villain-hood?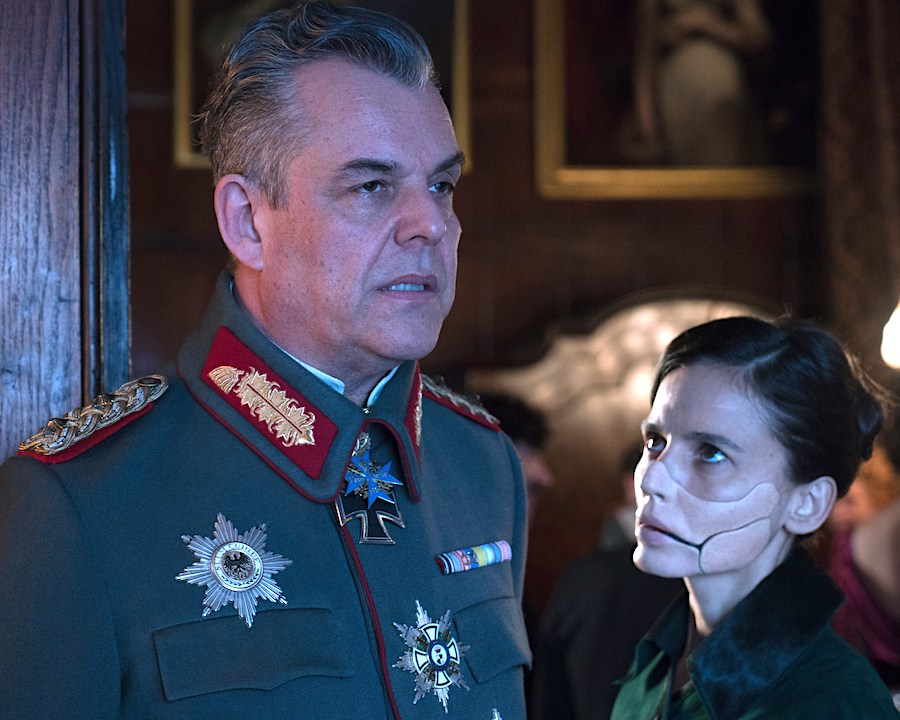 Whatever, there's loads of super-enhanced derring-do as WW and the boys go in pursuit of a laboratory manufacturing an appalling new chemical weapon. General Ludendorff (Danny Huston) is the evil mastermind, aided by the despicable and disfigured "Doctor Poison" (Elena Anaya, pictured right with Huston), though as it turns out he's only the subsidiary evil mastermind. This means the film builds to a climactic super-battle where Wonder Woman finds herself hurling thunderbolts at a Magneto-style adversary, which is unfortunate because the same could be said for any number of superhero flicks.
And our panel said: Gal Gadot, si! The movie as a whole, a bit 50-50.
The Amazons are nonplussed to see boatloads of angry Germans rowing towards them
rating
Explore topics
Share this article