Shazam! review - refreshing super-goofiness |

reviews, news & interviews
Shazam! review - refreshing super-goofiness
Shazam! review - refreshing super-goofiness
DC's overblown superhero franchise lightens up
Kids' stuff: Freddy (Jack Dylan Grazer) and Shazam/Captain Marvel (Zachary Levi) fail to grow up
The DC Universe continues to back out of its dark dead end with this satiric kids' film about the other Captain Marvel.
In reality sulky 14-year-old Billy Batson (Asher Angel), he stays a callow
teenager
inside when the
magic
word Shazam transforms him into an invincible superhero, a contrast which allows winning
goofiness
almost throughout.
Drawing on the veteran character's 2011 comic-book reinvention, director David F. Sanberg and screenwriter Henry Gayden slip between the origins of Batson and his eventual nemesis Dr. Sivana (Mark Strong) with sly sleight of hand, beginning with the villain's childhood trauma on a snowy upstate New York road, and failed audition in a Wizard's cave to become pure-hearted champion Captain Marvel (which copyright conundrums prevent him being named here). Billy is meanwhile orphaned after losing sight of his mother at a fairground, a powerful memory of abandonment later revisited through his parent's less idealised eyes.
Teenage Billy is a perennial runaway in search of his lost mum, deposited as a last resort in the Vasquez family's rambling Philadelphia foster-house. This convincingly lived-in home for their five existing kids is the film's emotional heart. "I'm a Foster Mom What's Your Super-power?" Rosa Vasquez's bumper-sticker asks, and this earthy perspective in a tough city roots the daffiness. So does Freddy (Jack Dylan Grazer), the quick-witted, disabled superhero fan who becomes Billy's best friend there when he inherits the Wizard's power, and has no clue what to do with it.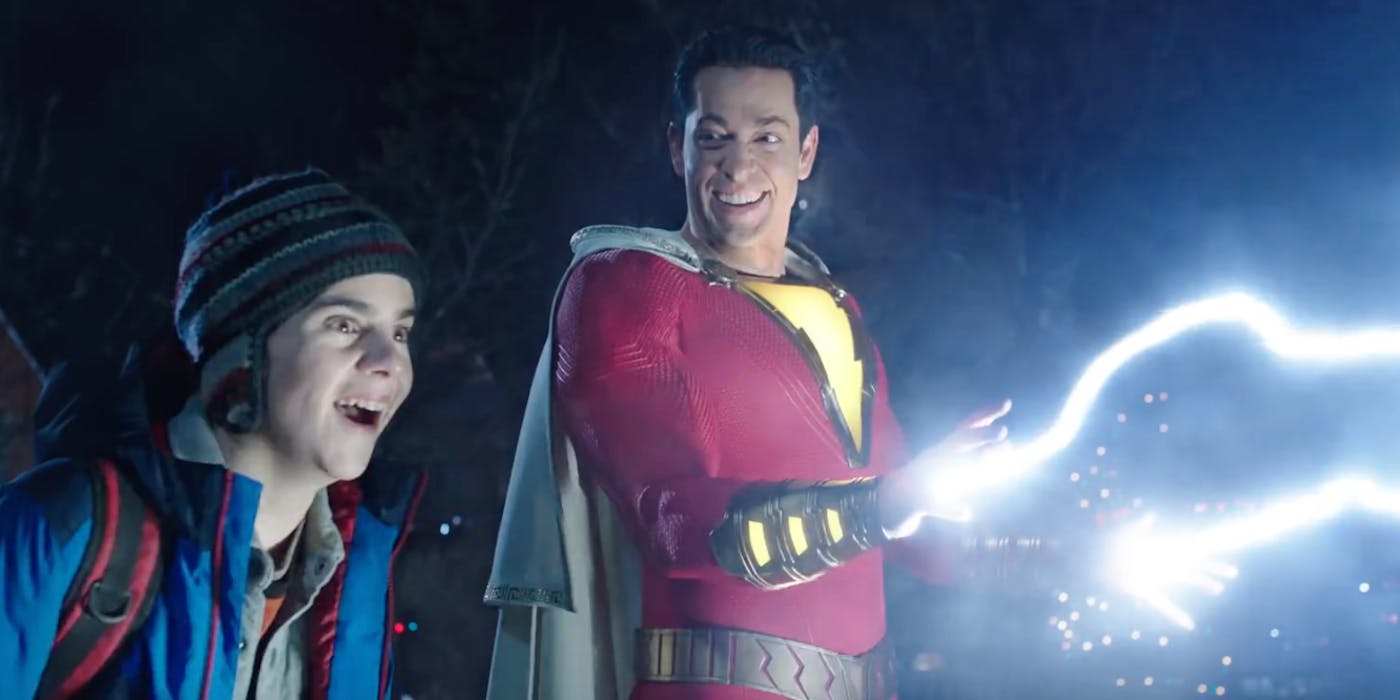 As the muscle-bound, ridiculously costumed hero who Billy becomes with a word, Zachary Levi is irrepressibly immature. The only power which interests him is looking like an adult: cue beer-buying, strip-club visits, soda binges and super-prowess Youtube uploads and paid selfies. Levi and Grazer's double-act has a loosely improvised, unconcerned feel which spreads like a slow smile. Shazam! resembles family fare from no later than the Spielberg '80s, belying its budget with a modest, network TV look and lightly worn effects.
DC had to force darkness on Superman and co. in the '70s, in response to Marvel's hiply witty, relatively realistic teen melodramas, before Frank Miller's apocalyptically gritty '80s Batman comics became their movie model, digging a grim hole for an escapist genre. Captain Marvel was originally from another rival company anyway, and under artist C.C. Beck breezier and brighter than Superman. After Patty Jenkins' limber, graceful Wonder Woman, Shazam! is even better-placed to let the fun bubble back.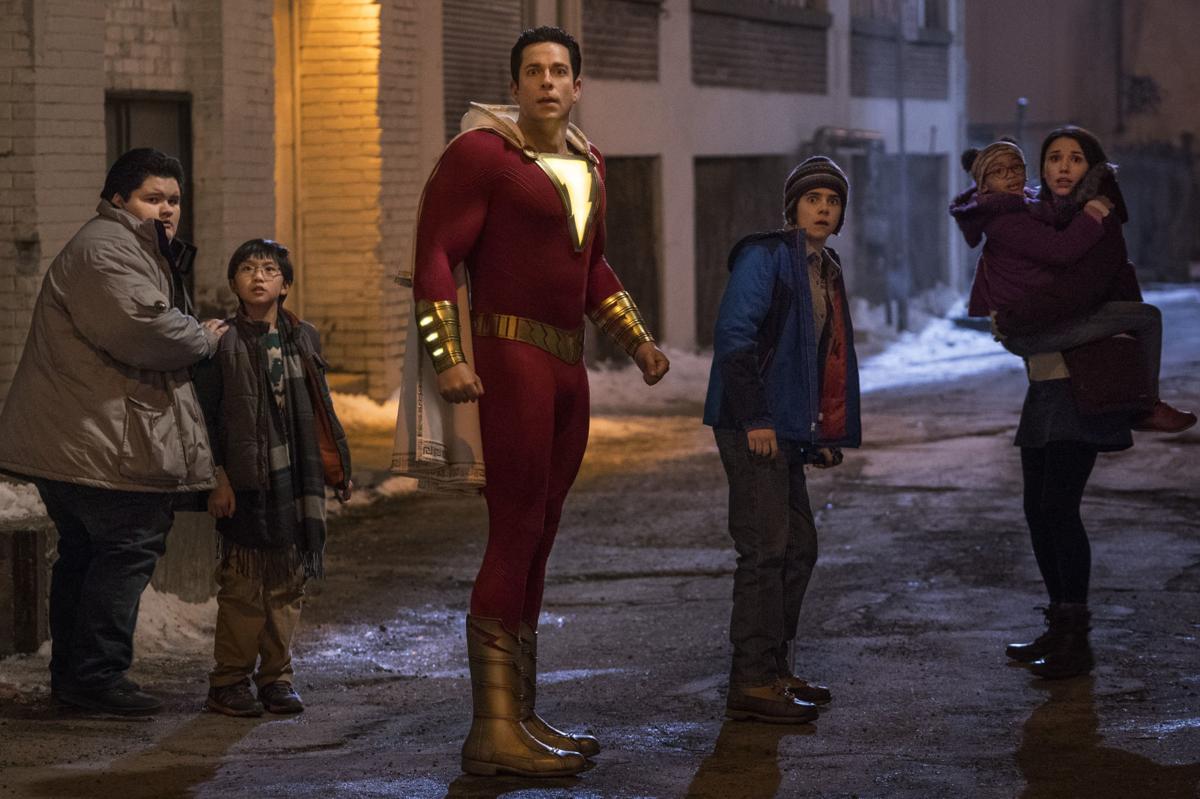 Maybe it just shows the genre limits which studio superhero films work under, but the eventual showdown with Sivana is an interminable, banal punch-up, easily outclassed by an earlier scene when our panicky hero accidentally saves a slowly slipping busload of people. Benjamin Wallfisch's Superman-style epic score feels effortful as Billy/Marvel/Shazam repeatedly thumps lightweight foes. The transformation of his foster-siblings (pictured above) into a Marvel Family is more in tune with the shameless old-school fun of the film at its best.
It's odd that after decades of superhero comics and films striving to prove they're not just for kids, remembering a more innocent desire to be just that should be so refreshing. But there is some mild magic and kind laughter here.