White Noise review - sprawling riffs on love and death |

reviews, news & interviews
White Noise review - sprawling riffs on love and death
White Noise review - sprawling riffs on love and death
Noah Baumbach's audacious, effortful DeLillo adaptation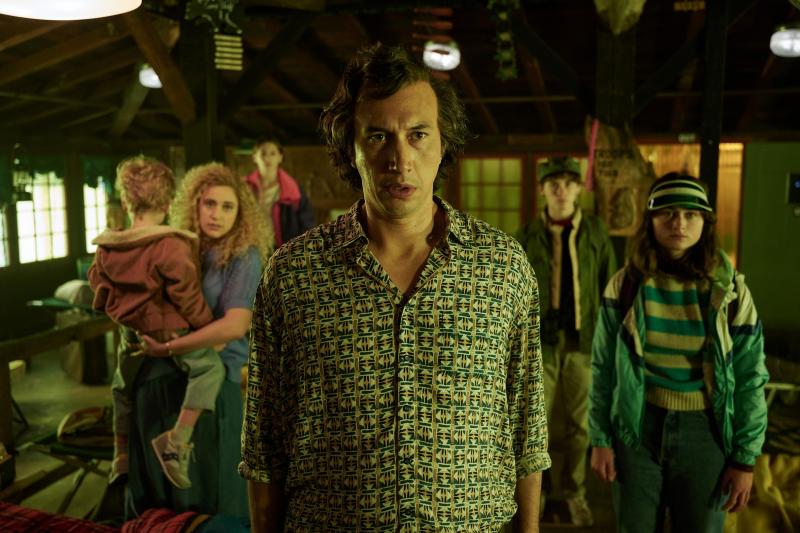 Marriage story: Greta Gerwig, May Nivola, Adam Driver, Sam Nivola and Raffey Cassidy
This is Noah Baumbach's most capacious, overreaching work, corralling Don De Lillo's novel of catastrophising, neurotic academia into a film jazzily dependent on rhythm, hooked on language and wildly diverse in tone.
Jack Gladney (Adam Driver) is a paunchy, middle-aged professor of Hitler Studies in a small Midwestern city in 1985, married to Babette (Greta Gerwig), with three kids who act as a hyper-articulate Greek chorus. He dreads death, suffering nightmares of a foreign figure in his bedroom, and closer still, beneath the suffocatingly stretched bedsheet where his wife should be, scenes of effectively clammy horror.
Baumbach retains DeLillo's three-part structure, hinging on "The Airborne Toxic Event", when a truck's fiery crash into a freight train sends a black cloud of poisonous chemicals moving like judgement through the state. A quirky campus comedy morphs into a disaster movie, with contrails of Three Mile Island, The China Syndrome (1979) and the nuclear nightmares of a recession-hit, World War Three-fearing decade anxious in again familiar ways. The closing section focuses on Babette's secret addiction to a death-defying pill, marital schisms, and a climax of Lynchian noir in a sleazy motel.
A scene of students arriving on campus teems with people, and elevated DeLillo dialogue collides in Altmanesque layers. Driver finds his rhythm riffing long, nervy lines of intellect and neurosis, chewing words with a New York Jewish tang signalling modest, recent privilege. Gerwig, lured in front of the camera for her romantic partner Baumbach after eight years of great directorial success, plays Babette with dimming brightness, the bold optimism of her perm belying drugged depression at inevitable death.
Baumbach brought his concern with disintegrating families to a climactic pitch with the autobiographical, Driver-starring Marriage Story (2019). This is as much a story of such a union as his previous film, and as tilted to the fears and resentments of Driver's husband, playing out the emotions of the divorced director in the midst of more knotty, ineffable DeLillo themes.
Individual set-pieces are fierce or funny, with fine performances as through-line. Don Cheadle's professor of Elvis Studies, Murray (pictured above, right), is the film's underused marvel, grizzled and diffidently hunched, talking and moving with padded gentleness. His lecture duet with Driver's Jack – who swoops and crouches in a vampire academic's cloak, transporting his audience with rhetorical flights intercut with Adolf rallies and Elvis gigs – is pyrotechnically brilliant.
Baumbach has stretched his writing and directing style, borrowing texture from Eighties films he would never make (check the Police Academy 2-style action slapstick). Such business is frenetic and effortful when it's not productive. White Noise is an unwieldy film, fine in detail, but a strategic slog. It seems a typical Netflix commission from a major director, handing a valuable name his head with no questions asked.
The closing credits sequence turns White Noise into an LCD Soundsystem-soundtracked musical in the primary-coloured supermarket aisles where its characters find solace. It recalls David Byrne's film True Stories (1986), and its rousing Talking Heads paeans to surreally regular smalltown folk.
Baumbach attempts a similar celebration and salve for ordinary (if here academically tenured), pained humanity. "We are fragile creatures," Babette mournfully notes, "surrounded by hostile facts." But profundity and emotion peter out by the end. Gerwig offers an almost fourth wall-breaking shrug, forgetting to act, in a film somewhere between sprawling art epic and audacious home movie.